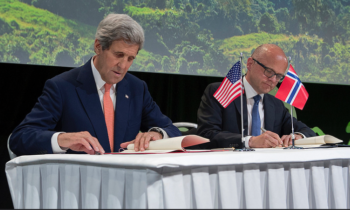 Norway will support the forest information and monitoring system Global Forest Watch with 115 million kroner for the period of 2016-2018. The Norwegian minister for Climate and Environment, Vidar Helgesen, announced this today at the opening of the Oslo REDD Exchange – the world's largest conference on climate and forests.
-"Global Forest Watch is a groundbreaking tool for increased transparency around the state of the world's forests. Information regarding where deforestation is happening is crucial if we are to halt tropical forest loss. With the support we are announcing today, we will also contribute to the development of tools to monitor the effectiveness of private companies' commitments to stop deforestation from happening in their business operations. Several large companies, including Unilever, Mondelēz, Cargill and Mars, have used GFW technology to monitor their supply chains," says Norwegian minister of climate and environment, Vidar Helgesen.
The Norwegian Ministry of Climate and Environment has already supported Global Forest Watch with 68 million Norwegian kroner for the period of 2013-2015. The support has been provided through the Norwegian Climate and Forest Initiative. Global Forest Watch is today the largest independent information hub on the state of the world's forests.
-"Today Norway is demonstrating once again its global leadership in protecting the world's forests. Norway has consistently made bold long term commitments, linked rigorously to results, with great effect. It was the first major donor to see the potential of Global Forest Watch in bringing radical transparency to land use change in real time. Today, GFW is being used by most national governments, and by tens of thousands of businesses, NGOs, community groups, journalists and researchers. It is changing the debate. Now the bad guys have nowhere to hide, and the good guys can be recognized and rewarded for their stewardship", said Andrew Steer, President and CEO of World Resources Institute.
The world's three largest rainforest nations – Brazil, the Democratic Republic of Congo and Indonesia – have all published information about their land use on Global Forest Watch. Private companies have used Global Forest Watch for sharing information about their operations, e.g. where the agricultural products used in their products are being produced. Information from Global Forest Watch has also been used by civil society organizations and the press to debate official deforestation numbers in countries like Indonesia and Peru.
Norway's International Climate and Forest Initiative has been the principle donor during the development of Global Forest Watch, but the USA, the UK and other donors are also providing resources. Actors like Google, Esri, Imazon, the United Nations Environment Programme and several academic and civil society institutions are contributing technology, analysis and information.
Global Forest Watch (GFW) is administered by the organization World Resources Institute (WRI). GFW gathers information about tree cover loss, land use and greenhouse gas emissions, and presents this information through a user friendly website, aided by cloud computing technology from Google, mapping technology from Esri, and other tools. The information on the Global Forest Watch website is open and free for the public to access and use.
Many rainforest countries are still building the capacity and tools to monitor their forests, detect illegal activities and stop deforestation before it spreads further. Global Forest Watch can assist these countries, making it increasingly difficult to clear forests without being detected. Through Global Forest Watch, anyone with internet access can assist in detecting illegal deforestation in near real time and alert responsible authorities.
Take a look at World Resources Institute's video about Global Forest Watch:
https://youtu.be/lTG-0brb98I
Read more and visit Global Forest Watch at www.globalforestwatch.org