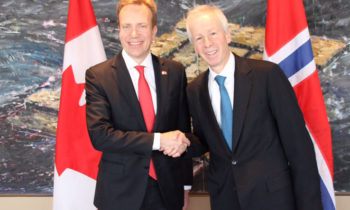 'Transatlantic ties are more important than ever as we navigate today's security policy landscape. Few countries have more in common than Norway and Canada – geographically, in terms of resources, and in what we believe to be important.
Our countries have shared values and experience that can be valuable in resolving the major global challenges of our time,' said Minister of Foreign Affairs Børge Brende.
Mr Brende made an official visit to Ottawa today, and met Minister of Foreign Affairs Stéphane Dion, Minister of International Development Marie-Claude Bibeau and Chair of the Standing Committee on Foreign Affairs Bob Nault. He also attended a working meeting with leading foreign policy think tanks.
One of the key topics discussed during the talks was security in the north.
'Ensuring that the Arctic remains a peaceful region requires greater situational awareness and a stronger presence. At the same time, it is in our interest to maintain good relations with Russia in the north and continue our practical cooperation in areas such as nuclear safety, search and rescue and fisheries. I therefore welcome Canada's signals of willingness to resume the dialogue with Russia on Arctic issues,' said Mr Brende.
Norway and Canada also have a common approach to a number of international issues. Action to achieve the UN sustainable development goals is high on the agenda in both countries. Like Norway, Canada has stepped up its contribution to training local forces in the fight against ISIL. Both our two countries also provide substantial humanitarian aid in Syria and the neighbouring region.
'Promoting development in fragile states requires an integrated, long-term approach that uses a combination of political and military tools. Norway and Canada have a similar line of thinking in this field,' said Mr Brende.
Foreign Minister Brende also took the opportunity to express his sympathy in connection with the massive wildfires in Alberta. More than 90 000 people have been evacuated so far, and Canada's total oil production has been cut by a quarter.
'I am impressed by the way the Canadian authorities have dealt with the difficult situation and by the determination and resilience ordinary Canadians are showing,' said Mr Brende.