Kosovo's Caretaker minister of Health, Arben Vitia, hosted on Monday Norwegian Ambassador to Kosovo, Jens Erik Grondahl.
The Kosovo's Ministry of Health in a statement said that Grondahl commended the ministry of Health for managing the coronavirus crisis in Kosovo which is challenging the most advanced health systems all over the world. He also said that the people of Norway in addition to a 500-thousand-euro fund as part of the European Union aid for Kosovo, are ready to help public health of Kosovo if needed.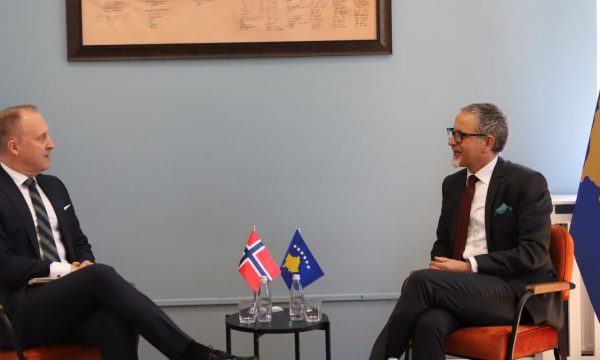 Vitia thanked Norwegian Ambassador for the contribution and said the good teamwork helped in containing further spread of coronavirus pandemic. Minister of Health also informed Ambassador Gronahl n current capacities of Ksovoo and preparations to increase these capacities to cope with all potential scenarios. Currently in Kosovo there are 145 people who are teste positive with coronavirus. 24 patients have recovered and 3 have died.
(GazetaExpress)