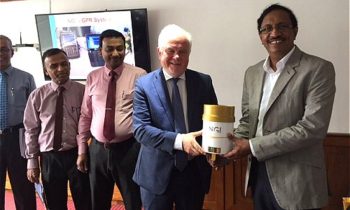 The Norwegian Government has handed over state-of-the-art landslide monitoring equipment worth 55 million rupees to the Sri Lankan Government to carry out geological surveys.
Norwegian Ambassador to Sri Lanka Thorbjørn Gaustadsæther handed over the modern landslide monitoring equipment to Minister of Disaster Management Anura Priyadarshana Yapa yesterday at the Ministry.
Norway is supporting Sri Lanka on a project to reduce the risk and impacts of landslides which is considered to be one of the major natural hazards in hill country of Sri Lanka.
Project activities are conducted under the technical cooperation between Norwegian Geotechnical Institute (NGI) and National Building Research Organization (NBRO) which operates under the Ministry of Disaster Management.
According to Minister Yapa, the equipment which included a ground penetrating radar which can probe 30 meter deep within the earth and several automated rain gauges to monitor rainfall, soil moisture, temperature and other parameters, can uncover important information on the nature of the earth's interior.
The Minister has noted that earlier they needed to excavate the ground to get information but with the new equipment measurements can be done efficiently from the surface without having to excavate.
The Minister added that the National Building and Research Organization would now be able to help the people to build their houses in secure places.
(N.Sethu)