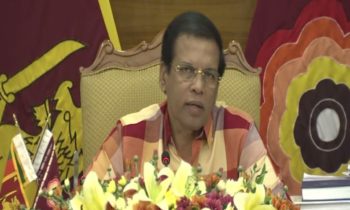 The Sri Lankan President's Media Unit says Norwegian experts will arrive in the country to inspect the Uma Oya Multi Purpose Project next month.
The communique was issued following a meeting presided over by President Maithripala Sirisena on Friday night.
The discussion took place with the participation of persons who have been severely affected by the Uma Oya Project, and their public representatives.
The president had instructed that the needs of the people be prioritised, and that the future course of action that needs to be taken with regard to the project, be looked into.
The communique also noted that issues surrounding houses, water, and farmlands, should be swiftly resolved with the assistance of the relevant ministry officials.
"We got a message from Norway that a group of experts will arrive in the country in the first week of next month", the president said, "We will be able to reach a decision based on the advise that we obtain from these experts".
The President said that a Norwegian Specialist team is scheduled to arrive in Sri Lanka at the first week of August and a specialist from Germany has already started to investigate the environmental impact of the project.
He said that adding according to their ideas and suggestions, the Government will consider the possibility of taking forward this project while resolving the existing issues, minimizing the damages and utilizing the modern technology to a maximum level.
The residents claim that over 7,000 homes have been damaged by the construction of the massive underground tunnels being dug for the project and the fresh water springs and reservoirs have dried up in many areas in the Uva Province.
The multi-purpose project involves the construction of two reservoirs on tributaries of the Uma Oya, which flows down from central hills and join the Mahaweli River, and one tunnel on the Uma Oya to divert water to a power generator further downstream.
The water will be diverted to Kirindi Oya basin which will take water to Hambantota through the 25 km long underground tunnel across mountains in Bandarawela by creating a dam at Puhulpola in Welimada and a reservoir in Diaraba.
The project at an estimated cost of US$ 529 million was launched by the previous government in 2012 with a US$ 450 million loan from Iran.
Ministers Mahinda Amaraweera, Harin Fernando, Vijith Vijithamuni Soysa, Uva Province Chief Minister Chamara Sampath Dasanayaka, Uva Provincial Councilor Samantha Vidyarathna, Secretary for the Mahaweli Development & Environment Anura Dissanayake, Deputy Project Director of the Uma Oya Multipurpose Development project P.B. Amarasekara also participated in the meeting.
(N.Sethu)