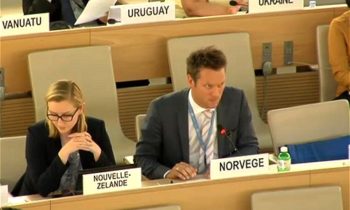 While acknowledging Sri Lanka's progress that has taken place in implementing the resolution since its adoption in October last year, Norway called on the government of Sri Lanka to adhere to the resolution and include international judges and lawyers in the recommended judicial mechanism to investigate the allegations of war crimes.
"We acknowledge the progress that has taken place in implementing the resolution since its adoption in October last year," Norway said in its statement to the 32nd session of the United Nations Human Right Council in Geneva on Wednesday.
Norway noted that since the adoption of the UNHRC resolution in October last year, the two countries have had "good and frank exchanges of views" on these issues on a number of occasions, including during visits by our Foreign Minister Brende to Sri Lanka and last week by Sri Lanka's Foreign Minister Samaraweera to Norway.
Norway said its understanding is that progress is happening steadily, despite the fine political balance that needs to be kept in making these achievements. The latest concrete result being the cabinet's approval of the Office of missing Persons.
"We are aware that there is political opposition to the government's initiatives to implement the resolution and that concessions need to be made in order to achieve progress. Nevertheless, we see the need to keep the momentum from the government's side."
Norway expressed hope that the ongoing process on the new constitution will result in the crucial basis for a nation that acknowledges its ethnic and cultural diversity and for achieving reconciliation.
Norway also appreciated Foreign Affairs Minister Mangala Samaraweera's announcement in Oslo during the World Congress on the Death Penalty last week to seriously consider abolishing the death penalty in the new constitution.
"We encourage Sri Lanka to work hard to keep the tight time schedule for the process on the new constitution," it said.
"It is further our expectation that Sri Lanka adheres to OP 6 in the resolution, regarding the planned judicial mechanism to investigate allegations of violations and abuses of human rights and violations of international humanitarian law, and of the importance of participation in the judicial mechanism of Commonwealth and other foreign judges, defense lawyers and authorized prosecutors and investigators."
All initiatives for reconciliation, accountability and human rights in Sri Lanka should continue to be based on inclusive consultations with victims, civil society and the general population, the statement said.
"Norway has been able to assist Sri Lanka recently in amongst others the return of internally displaced persons and reconstruction in the conflict affected areas of the Northern and Eastern provinces of Sri Lanka. We will continue to assist the Government of Sri Lanka in promoting a peaceful, inclusive and democratic nation."
(N.Sethu)