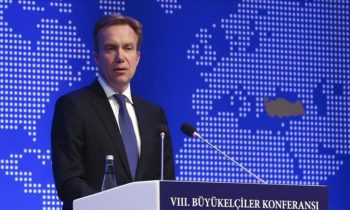 The coalition fighting terrorism in Syria and Iraq should do more to combat ISIL, Norway's foreign minister said during a visit to Turkey that coincided with a deadly suicide attack on Istanbul's tourist district. Borge Brende said the fight against terror should be stepped up as he made a trip to capital Ankara on Tuesday — the day a suicide attack in Istanbul's Sultanahmet district killed ten people, mostly German tourists.The attack, in which a Norwegian national was slightly injured, according to the country's Foreign Ministry, was blamed on ISIL by Turkish Prime Minister Ahmet Davutoglu.
Condemning the attack, Brende told Anadolu Agency: "We are of course concerned that again ISIL is behind this.
"We have to step up in fight against terrorism. The coalition against ISIL has to do more in fighting terrorism."
Norway is part of the coalition and has a training mission in northern Iraq. Last month, the U.S. asked for support from the NATO member in Syria.
The minister, a member of Norway's center-right Conservative Party, was in Ankara to speak at a conference of Turkish ambassadors where he met Turkey's President Recep Tayyip Erdogan, Foreign Minister Mevlut Cavusoglu and EU Minister Volkan Bozkir.
"I was visiting on a very sad day though, due to what took place in Istanbul, the terrorist attack," he said. "I had the chance to convey my most deep condolences to President Erdogan and also to the foreign minister."
Brende said instability in the Middle East was a crucial concern for Norway and stressed Turkey's "very important" role in the region.
Referring to his meeting with Turkish officials, Brende said: "I used the opportunity to thank the government of Turkey and the Turkish people for your hospitality and the way you have received millions of asylum seeker and refugees from Syria to your country."
Turkey has taken in around 2.5 million Syrian refugees since civil war broke out across its southern border in 2011. The country has also taken in hundreds of thousands of refugees from countries such as Iraq, Iran and Afghanistan.
Brende said the refugee crisis was a challenge for the wider world, not just Turkey, and pointed to an upcoming summit on the issue to be held in London as a sign that governments are tackling the problem.
"It is so important to step up the humanitarian relief but, in addition, we saw last year 1 million asylum seekers coming to Europe," Brende said. "Germany and Sweden have taken many of these but Norway is also among the countries that received the most asylum seekers."
The Syrian conflict has led to more than 250,000 deaths, according to the UN, and turned the country into the largest source of refugees, with nearly 8 million internally displaced and more than 4 million having fled to neighboring countries.
"I think what is more urgent than ever is to make sure that there is peace in Syria and that we find a way out of this impasse," Brende said.
Calling for an inclusive government in Damascus to allow Syrians to take full control of their country, Brende emphasized that a political solution was essential.
"There must be," the minister said. "There is no alternative. It cannot continue like today."