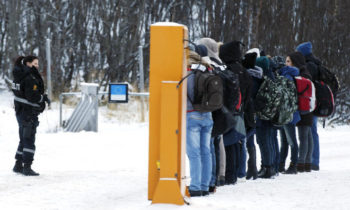 As most European countries grapple with stopping unwarranted and at times suspicious asylum seekers from flocking to their territories,Norway has come up with a new legislation meant to solve that problem.
Norwegian parliament has adopted legislative amendments that restrict asylum seekers from easily getting entry into their country,which is renown globally as one of the most peaceful countries in the world and revered by many of those fleeing atrocities in their countries especially those with which it shares borders.
The new legislation gives immigration authorities in Norway mandate to deny entry to asylum seekers at borders with Nordic countries during a crisis with extraordinarily high numbers of arrivals.
The law now requires that without a visa,asylum seekers from Russia and any other Nordic countries who belong to the category whose applications may be refused for individual consideration, are not entitled to enter the country especially during a crisis with extraordinarily high numbers of arrivals.
The new legislation has scrapped the provision in the old laws that states that it must be 'not unreasonable' to direct a foreign national to seek protection in another part of his country of origin.In the current immigration act, foreign nationals may only be directed to internal displacement if it is 'unreasonable'.
The deadline for lodging an appeal following the rejection of an asylum application has been reduced from three weeks to one week for asylum seekers who do not meet the conditions for being granted protection or are otherwise protected from return.
Also, a decision to refuse individual consideration of an asylum application may be implemented immediately if it is clear that there are grounds for this. Unlike before,it is now possible to expel foreign nationals in cases where an asylum application is refused individual consideration and also represents misuse of the asylum system.
In order to improve checks of identity of foreign nationals,amendments have been made providing wider authorization for the collection and storage of bio-metric personal data in the form of facial images and fingerprints in immigration cases have been adopted.
Another significant area in the legislative amendments adopted by the include a new provision that will make it possible to refuse certain applications for family reunification in cases where the sponsor has been granted subsidiary protection in Norway.A requirement that both parties must be at least 24 years old is being introduced in family establishment cases to avoid forced marriage.
Since integration is regarded highly in Norway,the amendment now requires that to qualify for permanent residence,the foreign nationals must have been self-supporting in the preceding twelve-month period in addition to having a minimum level of spoken Norwegian language and having passed a test in social studies in a language they understand.
Any applicant who shows any signs of fraud ,or tries to tell lies on his or her identity since arriving in Norway will be disqualified immediately. Foreign nationals who are granted collective protection after a mass flight will not beeligible for permanent residence until they have been in Norway for six years,yet in the old law it has been only 4 years.
It is likely that some asylum seekers may look at the amendments as Draconian and meant to deny them entry to Norway,but given the threat of terrorism in most parts of the world any country that takes measures to secure its territory and citizens should be applauded.