Nobel peace laureates Nadia Murad and Denis Mukwege said Sunday they hoped their award would help them push the international community to act to end rape in conflict and deliver justice for victims.
Yazidi activist Murad and Congolese doctor Mukwege will be jointly presented with the prize in Oslo on Monday for "their efforts to end the use of sexual violence as a weapon of war and armed conflict".
Murad, 25, who was taken hostage in Iraq by the Islamic State group (IS) in 2014 but escaped, said the prize was an honour for all of her Yazidi community, and "a sign" for the thousands of women still held by jihadists.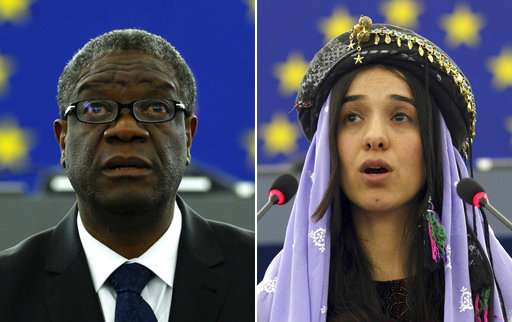 "This prize, one prize cannot remove all the violence and all the attacks on pregnant women, on children, on women and give them justice," she told a press conference in Oslo.
But she said she hoped it would "open doors so that we can approach more governments", to bring the perpetrators to court and "so that we can find a solution and actually stop what is happening".
Fellow laureate Mukwege, who has spent two decades treating rape victims at his hospital in conflict-torn eastern DR Congo, said the Nobel spotlight made it harder for the world to ignore sexual violence.
"We cannot say that we didn't act because we didn't know. Now everyone knows. And I think now the international community has a responsibility to act," he said.
He said the prize was not a "victory", but could be seen "as the start of a new struggle, a new struggle against this type of evil".
Murad has spent the years since her escape campaigning for the Yazidis, a Kurdish-speaking community that follows an ancient religion and was targeted by IS as it swept through her homeland.
More than 6,800 Yazidis were kidnapped, of whom 4,300 either escaped or were bought as slaves, while 2,500 remain missing, according to a recent report from the International Federation for Human Rights (FIDH).
The United Nations is due to send a team into Iraq next year to investigate atrocities, following a Security Council resolution in September 2017 to bring those responsible for IS war crimes to justice.
The UN has described the massacre of the Yazidis by IS jihadists as possible genocide.
Murad, now a UN ambassador for victims of human trafficking living in Germany, said the "steps towards justice" had given her hope.
But she stressed that "not a single ISIS terrorist" has appeared in court, adding "this injustice will continue in this world if it is not dealt with now".
(SBS)