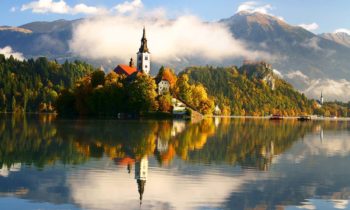 Norway and Slovenia are signing MoUs on funding totalling EUR 37.7 million for the new funding period for the EEA and Norway Grants. The main focus areas are climate and education.
'Norway has a good deal to offer when it comes to education and adaptation to climate change. It is therefore natural for us to help Slovenia to address challenges in these areas, which are important for sustainability and competitiveness throughout Europe,' said Minister of Foreign Affairs Ine Eriksen Søreide.
State Secretary Audun Halvorsen is in Slovenia today to sign the MoUs on behalf of Norway.
The Norwegian Environmental Agency will play a key role in the climate change programme, which will focus on adaptation to climate change, renewable energy and energy efficiency. Education is the other main priority. Efforts in this field will include grant schemes, exchanges, professional development of teachers, and cooperation between the education sector and the business sector. The Norwegian Centre for International Cooperation in Education will take part in the cooperation in this area. Innovation Norway will be involved in a fund for decent work. In addition a separate fund for supporting civil society in Slovenia will be continued.
'These MoUs also represent good opportunities for Norwegian actors in the education and business sectors. I am pleased that the EEA and Norway Grants scheme will, in this way too, further strengthen the close ties between our countries,' said State Secretary Audun Halvorsen.
Norway cooperates with Slovenia in NATO, the UN and other international forums. Slovenia and Norway share common values and similar views on many of the important issues of our time.
Norway has played a part in reducing social and economic disparities in Slovenia through the EEA and Norway Grants since the country became an EU member in 2004. Education, climate change and environment have been top priorities all along.
Facts about the EEA and Norway Grants
Under the EEA Agreement, Norway is part of the European internal market.
The EEA Agreement sets out the common goal of working together to reduce social and economic disparities in Europe and to strengthen cooperation between European countries.
Norway contributes to this through the EEA and Norway Grants.
EUR 2.8 billion is available under the grant scheme for the period 2014-2021, to be distributed among 15 beneficiary countries.
Norway provides some 98 % of this funding; the remainder is provided by Iceland and Liechtenstein.
See the fact sheet for an overview of the programmes that are to be implemented in Slovenia.