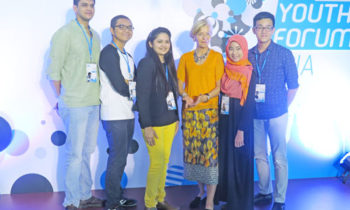 A young Myanmar man will be representing his country and his region in Oslo, Norway in December, thanks to his eloquence and debating skills.
Ko Phyo Thura Htay, one of three young Myanmar to attend last week's Asia Youth Forum in Bangkok, was invited to the World Youth Forum after his presentation on unemployment.
The May 25-26 forum brought together 27 young people from 13 Asian countries. Arkar Min Aung and Ma Hsu Wai Soe also represented Myanmar.
Ko Phyo Thura Htay and four team-mates from India, Pakistan, Thailand and Malaysia drew on their personal experience, including the suicide from depression of a family member, to illustrate the effects of joblessness on young people.
A veteran of such events, Ko Phyo Thura Htay also attended the 2015 World Youth Forum.
"We were given the assignment to talk about unemployment last month. Now we will polish our arguments and present them again in Oslo," said Ko Phyo Thura Htay.
Liv Torres, executive director of the Nobel Peace Centre who served as a mentor to the winning group, said she had been impressed by the young people's enthusiasm.
"I don't think they want to go Oslo for the sight-seeing, but to develop their ideas. They are very ambitious young people who want to contribute to their communities," she said, adding that the team members would be keeping in touch as they continue to exchange ideas for their presentation.
UNICEF senior adviser on innovation Tanya Accone said the need to make the presentation put a lot of pressure on the participants. "I know about the IT development and job opportunities in Myanmar and young people's interest in project management, so each participant can share ideas and support each other," she said.