The latest Bollywood film puts Norway in a tight spot as it sheds light on the Nordic country's invasive child protection policy, which is being compared to state-sanctioned child abduction.
Tonje Omdahl, a 20-year-old Norwegian, is anxiously waiting for 'Mrs Chatterjee vs Norway', an Indian movie releasing worldwide on March 17.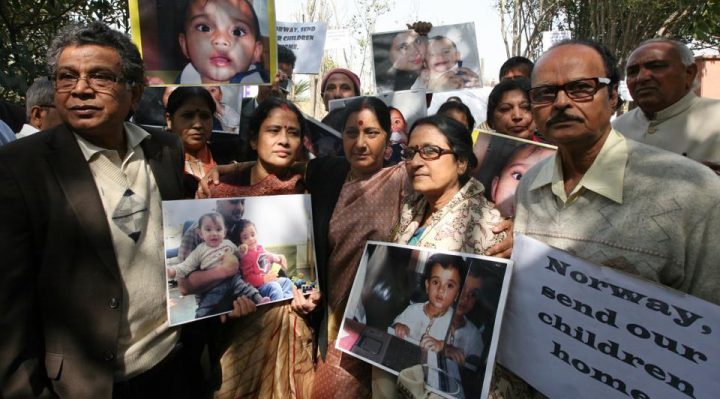 Over the weekend, she will join hundreds of others for the screening in Stavanger, a city known for its wooden houses and the Norwegian Petroleum Museum – one of the distinctive features reflective of the Nordic nation's transformation from a Nazi-occupied land to an independent oil-rich country.
The Bollywood flick is based on the struggle of Sagarika Chakraborty, an Indian immigrant mother, whose children were forcibly removed and put into foster care by the Norwegian authorities in Stavanger. Known as Barnevernet, the child protection service has faced stringent criticism globally in recent years with parents accusing it of tearing apart families on dubious grounds.
Norway is a small country with a population of 5.5 million, which is less than 6 percent of Germany's. Yet, among European peers, it is facing the highest number of legal complaints at the European Court of Human Rights. Most of them pertain to the grievances of parents.
Some children forced into foster homes have now become Barnevernet's vocal critics. Omdahl is one of them.
"I think it's fantastic that someone has finally made a movie on the problems of the Norwegian child protection system. It's a foreign movie that will put Norway under international spotlight," Omdahl says.
"The Norwegian press rarely writes about individual cases and even if they do, authorities don't do much about them."
Omdahl, whose large green marble-like eyes sparkle as she speaks in a barely audible voice, was moved into foster care for six months when she was a teenager. 
Her teenage awkwardness was construed as "neglect and abuse" that she faced at home.
"They accused my father, a single parent, of abusing me. But that wasn't true at all. I was constantly bullied in primary school. Just the thought of going to school gave me stomach cramps. My father complained and wanted the school to do more to stop the bullying. Instead, the administration told child protection service that I acted differently and something wasn't right in my home."
The experience of living in foster care, she says, has left her traumatised for life.
"It's time to get back at them," Omdahl says, referring to the Bollywood movie that has rattled Norwegian officials. Norway's ambassador to New Delhi even wrote an op-ed in an Indian newspaper complaining the movie paints Norway's child welfare service negatively.
What's a good parent?
'Mrs Chatterjee vs Norway' has created buzz in Norway and other countries in part because of its cast which includes Rani Mukerji, a famous Bollywood actress.
Chakraborty, the real-life Mrs Chatterjee, immigrated to Norway in the late 2000s with her husband, a geologist working for an oil services company. The movie is based on a book she later wrote.
Like Omdahl, Chakraborty was caught up in the obtrusive web of Norway's child protection service, which has over the years taken tens of thousands of children under state's care, telling courts that parents are not fit to raise them, activists say.
In 2011, Barnevernet (pronounced: Bar-Nay-Var-Na) intervened and took custody of their son Abhigyan – then two – and infant daughter, Aishwarya, after raising doubts about her ability to raise them.
"The authorities never gave any specific reason for taking away the kids," says Suranya Aiyar, a family rights activist and a trained lawyer who spearheaded a campaign for the return of Chakraborty's children. They are close friends now.
"You'd laugh at the things they said."
As with many other aggrieved parents, Chakraborty's troubles started with her son's kindergarten. She had told the teachers that she was concerned about Abhigyan not making eye contact and throwing tantrums. Little did she know that she had been marked.
Barnevernet representatives started visiting Chakraborty's home a month prior to the birth of Aishwarya in December 2010. They claimed that they were there to provide additional assistance around the apartment. However, they did not provide any help and instead sat on chairs, making notes that were later presented in court during the custody trial.
"Sagarika (Chakraborty) and her husband were a middle-class couple trying to make a good life in another country. You know how it is with us, we become humble around white people and try to be nice," says Aiyar, the activist, who runs an online portal documenting abuse of powers by state-run child protection services.
The day her children were taken into foster care, Chakraborty and Anurup Bhattacharya, her husband, had an argument in the presence of a Barnevernet case worker, who was on a routine visit. Chakraborty complained to Bhattacharya why he wouldn't help her set up the table.
"The case worker said 'why don't you guys talk it over and I will take the baby girl out for a walk'," says Aiyar.
Instead, the caseworker drove away with their baby girl. Another Barnevernet official picked up Abhigyan from school. Under Norwegian laws, Barnevernet has been granted powers to take custody of kids without seeking permission from a court. Known as an 'emergency care order', Barnevernet uses these powers when case workers think a child is in 'danger'. 
A few months later, when the matter went to the court, Barnevernet defended its actions highlighting a host of concerns with regard to Chakraborty and her husband's style of parenting. Barnevernet told the court: Chakraborty fed the kids with her hands (a common South Asian practice); she made a threatening gesture to her son (she showed the palm of her hand when he was throwing food on the floor); she left Aishwarya alone while changing her diaper.
While her children were in foster care, she was allowed to see them for a few hours once a week. During one such meeting, she broke down and became hysterical because someone in Barnevernet told her she won't be able to reunite with her children until they turn 18.
Later, a judge cited Chakraborty's inconsolable state as one of the reasons why her defence was unreasonable.
"Can you believe this? It's all there," says Aiyar.
Barnevernet doesn't talk about individual cases.
Research has shown that the top reason for putting kids into foster care is not the use of drugs or alcohol and has nothing to do with a toxic environment at home. Barnevernet cites a vague lack of parental skills as the main reason for its intervention.
"Lack of parental skill. You can find this phrase in lots of those judgments. Nobody can tell you what that really means. Norway is using it to justify the abduction of children. In 90 percent of the cases, we have never seen any specific reason for taking the child," says Maurius Reikeras, a Norwegian human rights councillor advising dozens of aggrieved families.
The Norwegian Directorate for Children, Youth and Family Affairs (Bufdir), which controls Barnevernet, says it doesn't have the data on reasons why children are placed in foster care.
In response to TRT World's query about how many parents have been convicted for abuse of children, a Bufdir spokesperson says,"I can only refer to incidence studies on children exposed to violence from surveys. One recent survey states that 1 in 5 Norwegian children have experienced physical violence from an adult in the home at least once. One in 20 have experienced serious physical violence such as being kicked or beaten up by an adult in the home."
The big emergency
Immigrant families are more likely to get caught up in the bureaucratic red tape of Barnevernet, which operates in 400 municipalities across Norway.
By the end of 2021, as many as 9,938 children up to the age of 17 were living with foster parents or institutions, according to Bufdir.
Around 3,561 or 37 percent of them are those with some immigrant background, a disproportionately high figure as immigrants make up only 16 percent of the total population.
After months of protests, which made headlines in India, and New Delhi's diplomatic intervention, Chakraborty was reunited with her children.
Gunnar Toresen, the former Barnevernet head in Stavanger municipality who signed off the emergency care order, is still not happy about the return of children to their mother.
"The case was politicised. People were calling the Norwegian embassy in Washington. They said Norway will lose industrial contracts. Barnevernet had never experienced anything like it before," he tells TRT World.
Torsen, who retired two years ago, says he cannot discuss the specifics of Sagarika Chakraborty's case because he's bound by confidentiality clauses.
"But the allegations, which the parents made and carried in the media like we took the children because they were sleeping in the same bed or they were fed with the hand, that's all rubbish. There was much more going on between the parents."
Toresen says there were concerns about the development of the boy and the parents weren't getting along. "It was an arranged marriage and they had a large age difference between them."
Chakraborty and her husband separated after Barnevernet took away the children and were in a legal battle for custody of the kids in India under full media scrutiny. Bhattacharya still lives in Stavanger, according to his LinkedIn account. He couldn't be reached for his side of the story.
"The law is designed to protect children from the different ways in which they can be harmed by their parents and it's not true that you are more likely to lose your children if you are a foreigner," says Toresen.
Toresen still wonders why Chakraborty's case got so much importance. "I spoke to Indian journalists that spring and I asked them: 'I don't understand something. Why is there so much interest in ( Chakraborty's) children when children are dying every day on the streets of Calcutta?'"
Chakraborty and her ex-husband were never charged or even accused of maltreatment or posing any danger to their children.
Barnevernet case workers often accuse parents of sexually or physically abusing children when they exercise their powers under emergency care orders. But anti-Barnevernet activists say most of the parents are never charged for those allegations because of the lack of evidence. Experts say Barnevernet has been given too much power.
Trouble in paradise
Maurius Reikeras, a Norwegian human rights councillor advising dozens of families, says the Norwegian child protection system is designed to increase the state's footprint in family life.
"The judges, the lawyers, the social workers, and the psychologists, everyone focuses on the rights of the government. They don't care about a family's rights."
In Norway, every case involving a child's removal into foster care first goes to a County Board, a quasi-court made up of a legal expert, who is not necessarily a judge, an ordinary citizen and a Barnevernet-appointed psychologist.
"These boards have this tendency to vote in favour of the government in 95 percent of the cases. It's not an independent body. It's a political organ, super loyal to the system."
A case then goes to city court, followed by the court of appeals and ultimately the Supreme Court. But the process can take years and all the while the child remains in foster care. Even if the judgement does come in favour of the parents in the end, it's too late.
"By then so many years have gone by that the judge says it's better for the kid to remain in foster home and away from the biological parents," says Reikeras.
Norway, one of the world's wealthiest countries, prides itself on having a social welfare system that looks after children's health and education and spends billions on assisting parents.
In surveys, the Nordic country ranks amongst the happiest in the world.
But Reikeras says international perception has slowly changed after the European Court of Human Rights began looking into human rights cases involving the Norwegian state. Dozens of parents have approached ECHR after failing to get their kids back in Norway.
"A country of 5.5 million people has more convictions when it comes to child protection cases in the ECHR than the rest of Europe." ECHR has passed 15 judgments against Norway – more than the rest of Europe combined.
Reidar Hjermann, a child psychologist, and former Ombudsman of Child Welfare in Norway says Oslo could have handled the Chakraborty case better.
"I think they didn't communicate to the world what child protection service is really about."
In the last few years, Barnevernet has tried to become more culturally sensitive, like for an immigrant child it now tries to find a foster family of similar ethnic background, he says.
Barnevernet must spend more resources to address the problems that a biological family faces before putting the child in foster care, says Hjermann.
"Removing a child should only be a last resort like when a family has a drug problem or there's violence."