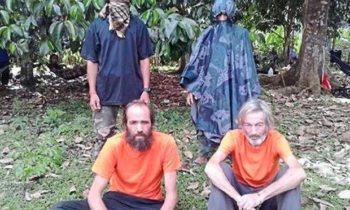 The Abu Sayyaf has announced that it will be beheading its hostage, Norwegian Kjartan Sekkingstad, if Presidential Peace Adviser Jesus Dureza insists on the non-payment of ransom.
"There is no more ultimatum, we are going to behead this Norwegian anytime today," said Abu Sayyaf spokesman Abu Rami, who called a couple of journalists here on Sunday night.
Rami said the beheading will be done following reports of Dureza's pronouncement of the government's no-ransom policy.
The Abu Sayyaf has been demanding 300 million pesos (RM25.5mil) in exchange for Sekkingstad's freedom.
Rami said they were aware that ransom was already set for delivery, and they were just waiting for someone to deliver the money.
Sekkingstad is one of four victims who were taken from a marina in the Island Garden City of Samal in Davao del Norte in November last year.
Rami's announcement came two days after the body of beheaded Abu Sayyaf kidnap victim, Canadian Robert Hall, was found in Sulu on Saturday morning.
Hall was beheaded by the Abu Sayyaf on June 13 after the bandit group failed to receive the ransom money they had demanded.
His head was found on the same day in front of the Jolo Cathedral.
Hall was the second kidnap victim the bandits had decapitated after fellow Canadian John Ridsdel, who was killed in April.
Filipino Marites Flor was freed on June 24. — Philippines Daily Inquirer / Asia News Network