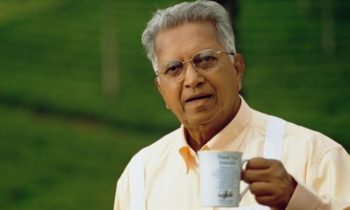 Dilmah Tea Founder Merrill J. Fernando will be one the five Honourees of the 2015 Business for Peace award of the Oslo based Business for Peace Foundation. Nominated by the Ceylon Chamber of Commerce through the International Chamber of Commerce, Fernando will be bestowed with this honour on Saturday which happens to be his 85th Birthday.2015 Oslo Business for Peace Award is an annual event and recognizes the exceptional global business leaders who, through their own actions and commitments truly are business worthy, promoting socially responsible and ethical business practices in an outstanding way, and standing out as examples to the world. Honourees are selected by an independent committee of Nobel Prize winners in Peace and in Economics, after a global nomination process through its partners International Chamber of Commerce, UN Global Compact and UNDP.
Fernando,who started his career as a tea taster, established his own tea brand Dilmah in 1988 which is today Sri Lanka's single known brand of world repute and soon became a capable competitor with multinationals.
Twenty-five years after the launch of Dilmah, its single-origin, unblended teas are now sold in nearly 100 countries.
(DN)