The opening ceremony of the 16th Eurasian Media Forum was held on Thursday in Almaty, Republic of Kazakhstan. The three-day forum, which is taking place on May 22-24, has attracted more than 600 government officials, scholars and journalists from more than 50 countries to share their opinions on acute global issues.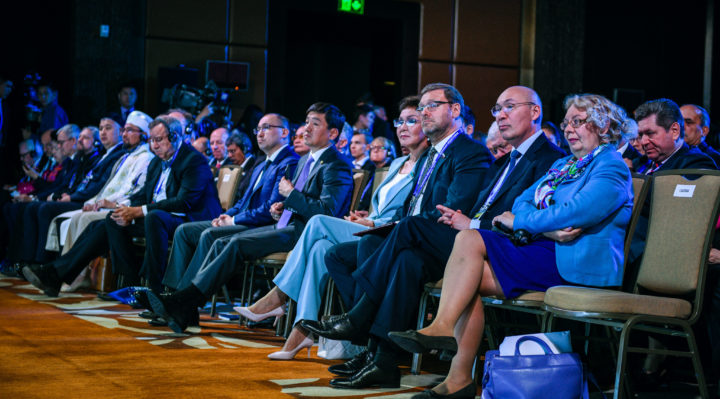 Kazakhstan's Minister of Information and Communications Dauren Abayev, spoke on behalf of the President of the Republic of Kazakhstan, welcoming all delegates to the forum during a welcoming speech at the opening ceremony.
"The world community expresses deep concern over the issues of protecting people from unauthorised information leaks. Digital interference in elections and political processes is being actively discussed. People need to be immune to new phenomena and threats," Information and Public Development Minister Dauren Abayev said.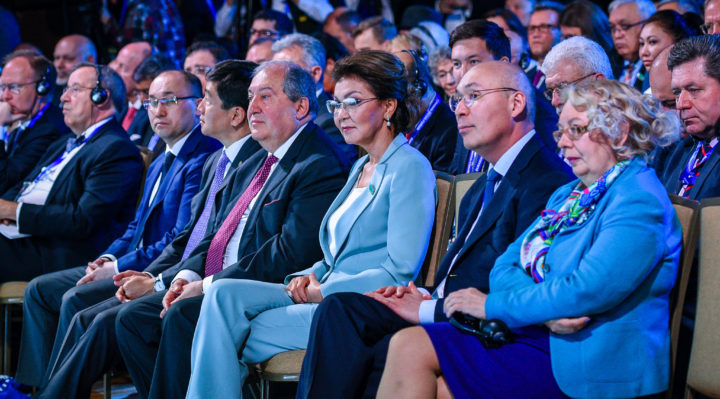 These and other problems should be studied by the media in order to find comprehensive answers Tokayev stressed, while also adding that "As the current president of Kazakhstan, I am committed to holding honest and democratic elections. Therefore, I welcome the participation of representative delegations of international observers and the media."
he has urged the international media community to examine threats posed by the new digital reality so that people develop immunity to them.
"One of the central themes of this forum is a new digital reality. The international community is concerned about protecting people from unauthorized information leaks the president said.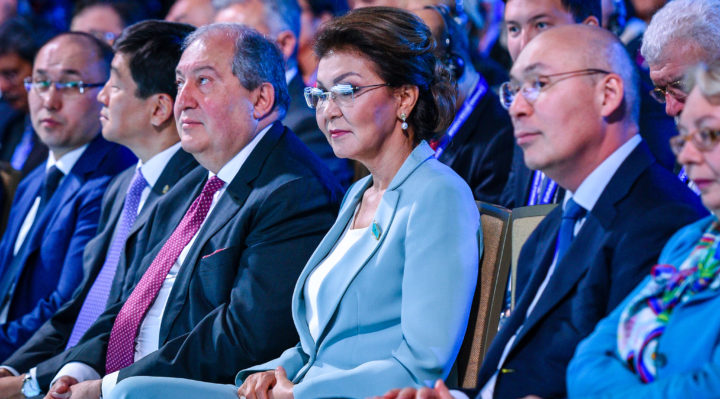 Welcoming delegates to Almaty, Mayor Bauyrzhan Baibek said Almaty had been an established city with its own currency 800 years ago. He desceribed it as a «golden bridge» between East and West – as well as the birthplce of the apple.
In 2019 more than 600 delegates from over 50 countries were attending the Forum and he wanted to thank the organisers and the Forum's creator, Dr. Dariga Nazarbayeva.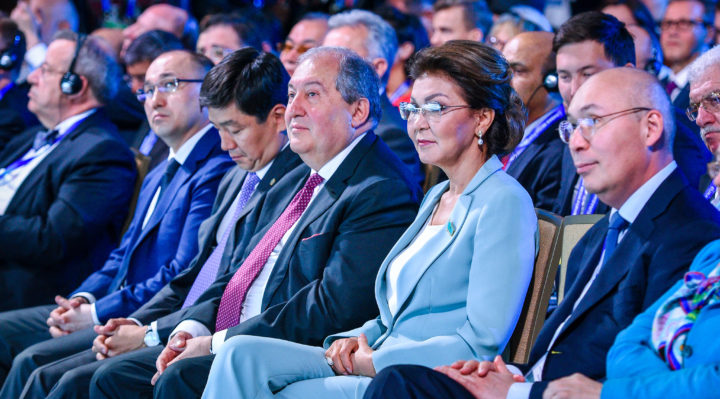 Describing the growth of Almaty, Kazakhstan's former capital and now its southern commercial hub, he said international business and trade had grown to such an extent that the city's GDP was now larger than that of some neighbouring countries.
Host Riz Khan, independent television presenter and producer, then invited delegates to continue the Forum's great tradition of stirring debate and conversation as he introduced the panel for the first session.
The 16th Eurasian Media Forum opened in Almaty earlier on Thursday with the participation of the Kazakh and international media community representatives. "This platform, where the journalistic community exchanges views on a wide range of the most topical issues, emerged more than a decade and a half ago. Every year, the media forum discusses the most acute and topical issues on the international and regional agenda," said Minister of Information and Social Development of Kazakhstan Dauren Abayev at the welcoming address.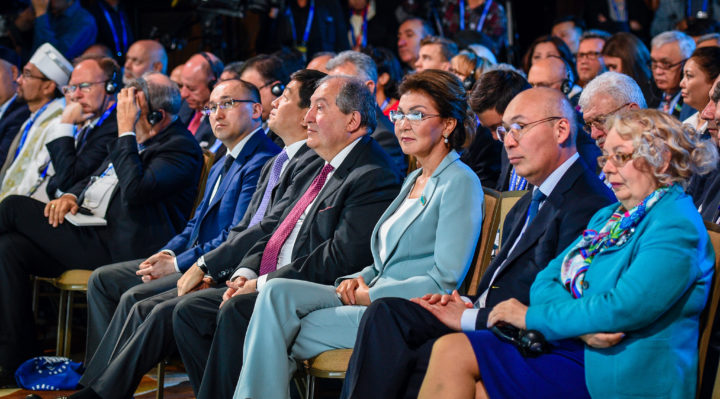 In this context, the forum covered a wide range of sessions and discussions including regional integration in Central Asia, new development models, consumption crisis, the age of AI, global power balance and the marijuana issue. In addition to sessions and panels, there are a series of master classes from world media experts. Master classes include training for journalists on environmental journalism, film producing, creating inclusive realities, freelance journalism, news visualization, mobile journalism and generational peculiarities of audiences in TV and digital media. These thought-provoking classes are good opportunities for journalists worldwide to share their opinions and experiences.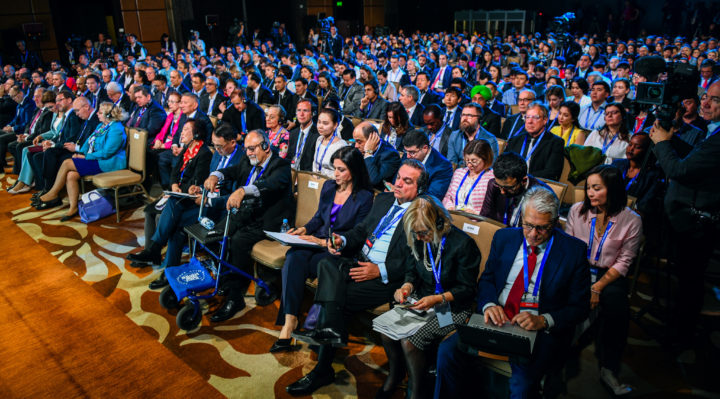 Russian Upper House Speaker Calls Independent Media Alternative To Global Mainstream Media
Independent media outlets play a crucial role in providing information to the public about a wide variety of opinions on certain events and are an alternative to global mainstream information, Russian upper house speaker Valentina Matviyenko said.
Matviyenko's message to the 16th Eurasian Media Forum, which is currently taking place in Kazakhstan, was read out by the head of the Russian upper house's Committee on Foreign Affairs, Konstantin Kosachev.
"Today, an alternative to the global information mainstream is more important than ever since it is the diversity of opinions that guarantees the basic human right to free access to information," Matviyenko said in a statement.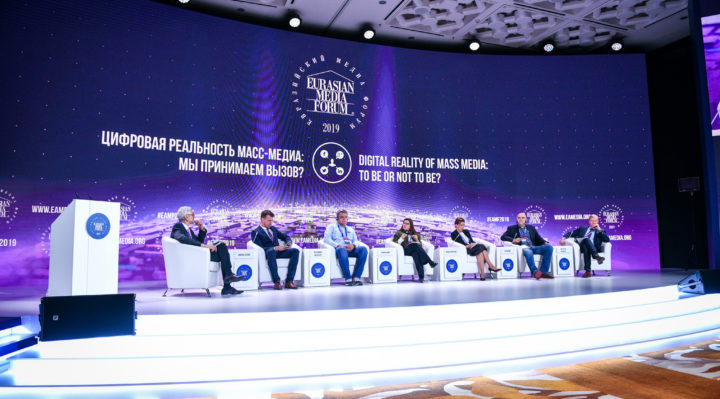 Armenian President remarks at Eurasian Media Forum.
President of Armenia Armen Sarkissian participated in the opening ceremony of the 16th Eurasian Media Forum in Almaty, Kazakhstan.
The annual Forum, which this year is being held under the title 'The World Today: Transforming Reality?', has gathered over 600 delegates from 60 countries of the world, including politicians, economists, Nobel Prize winners, businessmen and experts.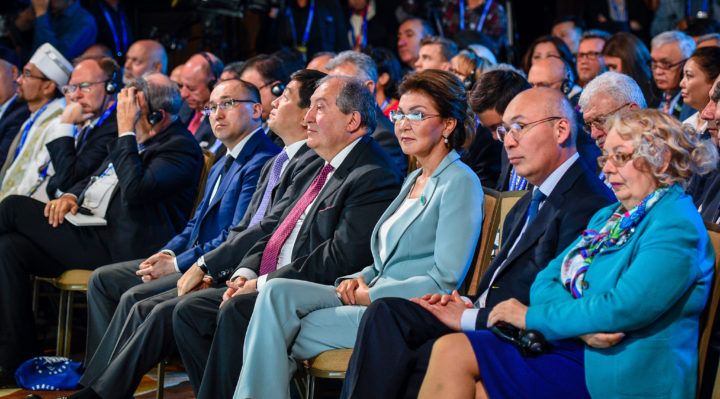 Kazakhstan's President Kassym-Jomart Tokayev, Chairwoman of the Federation Council of the Russian Federal Assembly Valentina Matviyenko and the Almaty Mayor delivered welcoming remarks at the Forum.
The Armenian President congratulated the participants on the launch of the Forum. He said he played a role in the creation of the Forum in early 2000s. "I can call this Forum as an institute that greatly affects not only the journalistic environment, but also the Eurasianism concept and the whole media in general. When I think about the Eurasian Media Forum, of course, two-three ideas, concepts come to my mind. The first one is called Eurasia. What is Eurasia? It is not only a geography, but also is the great history of civilizations born millennia ago. Some of them didn't survive to our times, but some today became really powerful civilizations", the President said, adding that today Eurasia is the center of the great development and events taking place in the world.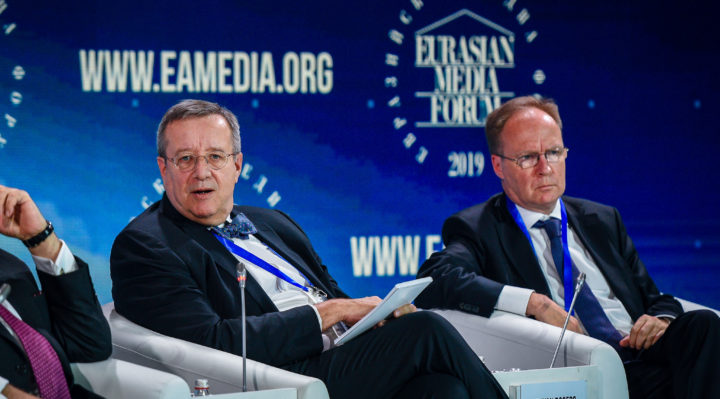 "When we talk about Eurasia, we also should think about Kazakhstan because today it is located just in the center not only physically, but also politically and economically. It is no coincidence that the ideas on economic cooperation were born here which became a reality in the post-Soviet region. The Eurasian economic cooperation has become a reality, which, we hope, will become another bridge to serve the main goal we think of. It is the mutual friendship of peoples, cultures and civilizations. And I want to see the day when the Eurasian economic cooperation and the European Union will launch serious talks on deep partnership", the Armenian President said.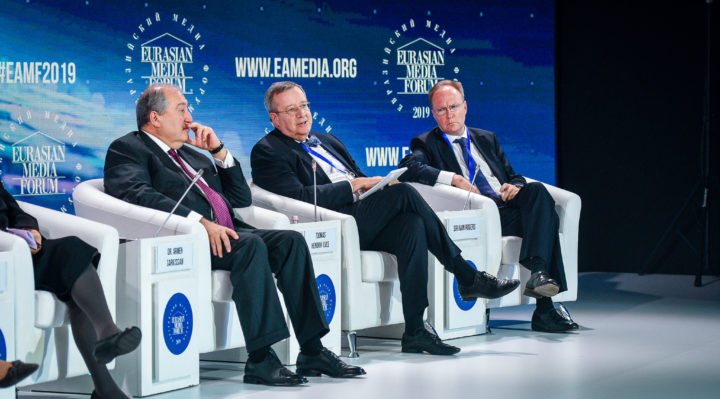 Armen Sarkissian also touched upon the second concept – the media, stating that the idea of media has undergone many changes in the past year. "When we were talking about a media forum in the past, that forum was viewed as a platform for journalists. But look how media has changed within 20 years. Now when we say media, we don't think about reporters only. I think that the future of the Eurasian Media Forum is the real media, the virtual life we live. Each of us spend several hours, some even more hours in the virtual space which has become much more comprehensive, than just the news, journalism or report of information. This is a part of our life. This is the small tool or production of the industrial revolution which includes information about our life, economic relations, our photos, family and our financial relations with banks", Mr. Sarkissian said, noting that this virtual life changes people's perception on different phenomena.
"The role of media, virtual space has a great impact on how the civilization, the ideas are born and become a reality. The media, which we started 20 years ago, is no longer the previous one. This media is the second virtual world we live in. It more and more affects the real life we live in physically, and in some sense they are being merged. Many important human values, including those on how we react to this universe, the democracy, will also change. We should be ready to the world we are going to have 20 years later", he said.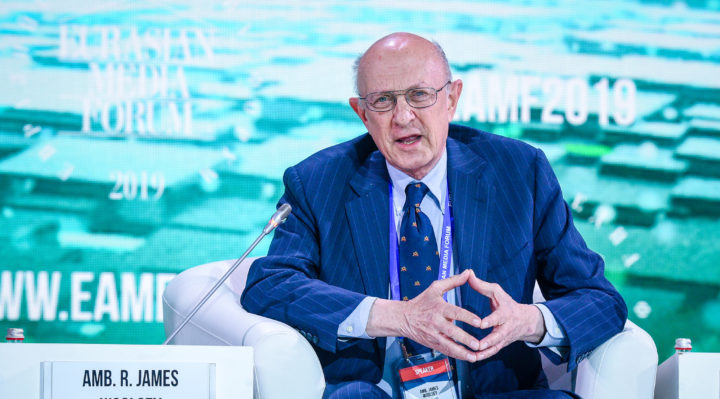 And as a third concept, he touched upon the Forum and thanked its organizers, in particular, Dariga Nazarbayeva and the Kazakh government. "Of course, the forum is the people who established it. I want to thank you all and those who created this Forum, wishing to all of us that the Forum continues long because the problems we and the humanity face are huge and change every day", the Armenian President said.
According to Tokayev, social institutions are concerned about the destructive influence of the internet and social networks, including on the younger generation.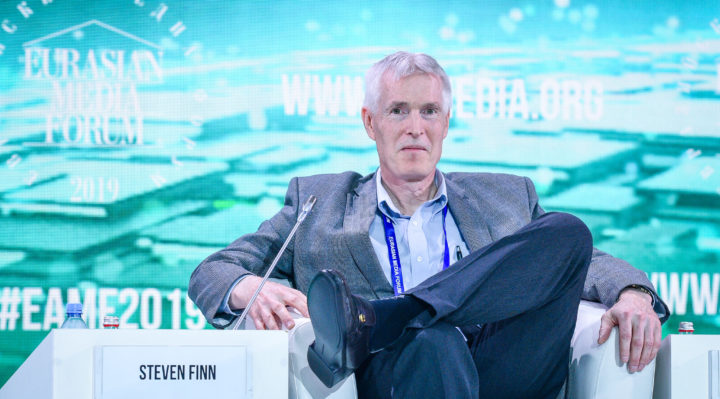 The Eurasian Media Forum started its activity in 2002 and has become an international discussion platform, which annually brings together more than 600 delegates from 60 countries.
When international journalists gather for Kazakhstan's annual Eurasian Media Forum, they can expect lively wide-ranging debates about pressing issues facing the global fourth estate and the world in general.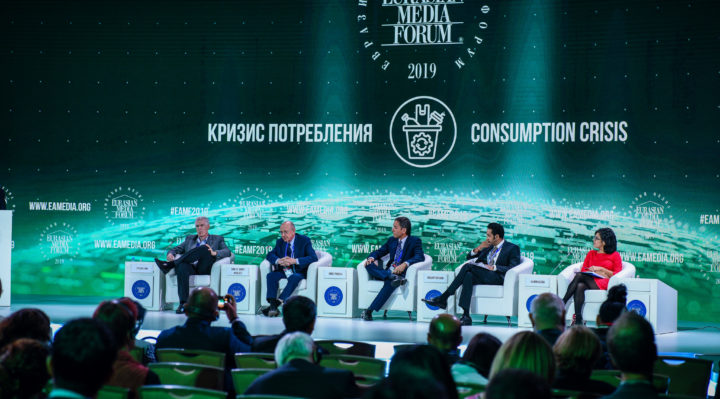 Debates at the forum taking place at the Ritz Carlton Hotel in Almaty on May 23-24 range from globalization and the legalization of marijuana to fake news, media competitiveness in the celebrity-focused 24-hour news cycle and the role of bloggers as "rock stars of the virtual world."
But there were no sessions related to press freedoms in Central Asia in general.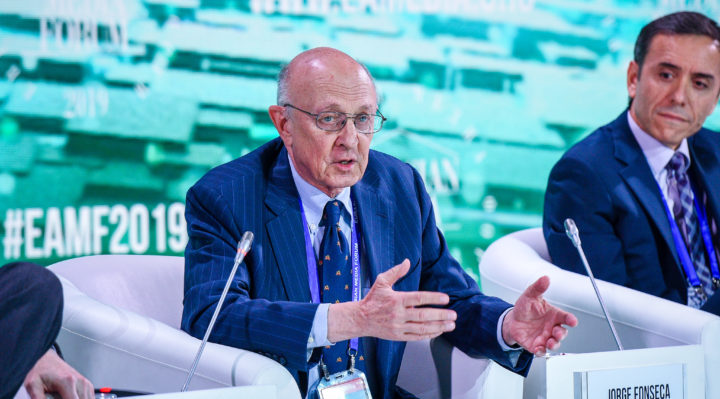 NEWS MEDIA INSPIRE YOUNG PEOPLE TO HELP SAVE A PARAGUAY FOREST AND AN INDIAN CITY
A Paraguayan series of captivating stories that targeted young audiences via low-data "scrollytelling" and then spurred action to help save part of a vanishing forest has won The Planet Award category of the 2019 Global Youth & News Media Prize. Initiatives from India and Denmark also received recognition.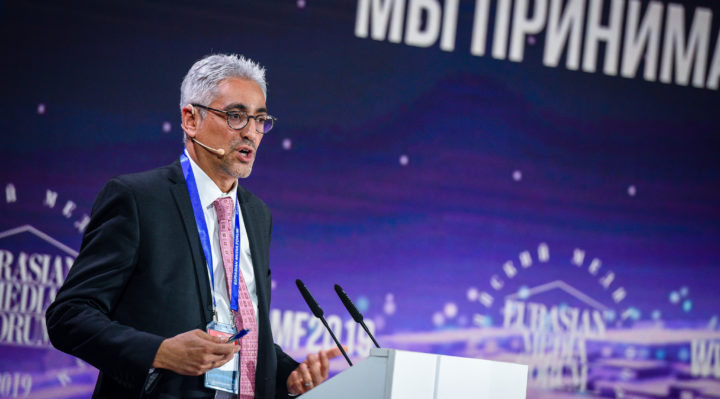 The Planet Award category honors actions that excel in providing young audiences with information and hope for saving the Earth and that strengthen engagement between news media and young people while reinforcing the role of journalism in society.
The digital news team at El Surtidor in Paraguay told a highly visual 4-part story about how and why the vast Gran Chacos forest was losing a hectare of trees every minute. The team began with mobile content in a "scrollytelling" style using both scroll and swipe to show compact chunks of content, then tailored elements distributed on multiple channels, such as posters for Twitter, avatars for Facebook, videos for city buses, etc. Its considerable young audience was a key to pushing the new president to take action toward stopping the deforestation. This video describes the project (in Spanish with English subtitles), and this website shows the content.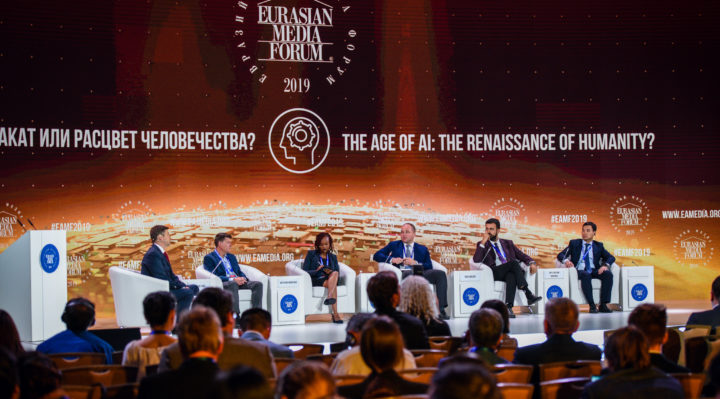 The jury said: "This project has everything. It takes into account the local context young people confront, activates youth civil society with the focus on deforestation and explains why anybody should care. It's impactful, innovative and inspiring."
In addition, Dainik Jagran of India is receiving a silver award for galvanizing young Indians to help save their choking city, and Young Reporters for the Environment, based in Denmark, is receiving a special commendation for inspiring 340,000 student reporters in 38 countries to do multi-platform solutions reporting.
The 2019 Planet Award is in partnership with The Eurasian Media Forum, with presentation on 23 May in Almaty Kazakhstan. This annual meeting offers an international discussion platform for more than 600 delegates from around the world.
"The Eurasian Media Forum is pleased to host the inaugural Planet Award," said Dr. Dariga Nazarbayeva, who heads the EAMF organizing committee. "Our partnership with the Global Youth and News Media Prize to launch this award recognises the growing importance of the voice of youth when it comes to saving the planet and securing their future"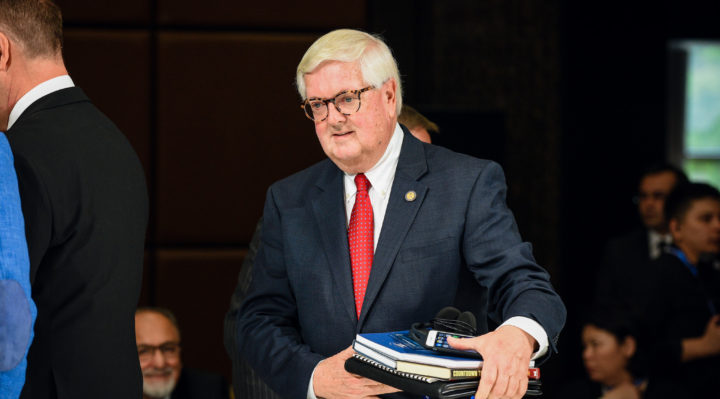 The Planet Award is part of the Global Youth & News Media Prize, which was created to give recognition to news media organizations around the world that effectively innovate in the quest to serve, support, attract and learn from young audiences. The prize is supported by News-Decoder, the European Journalism Centre, and the Google News Initiative.
The 2019 edition of the prize will include two other core categories, which will be awarded at NewsXchange in November in Paris: The Journalism Award and The News/Media Literacy Award. The competition for these awards will open on 1 June with a deadline of 25 June.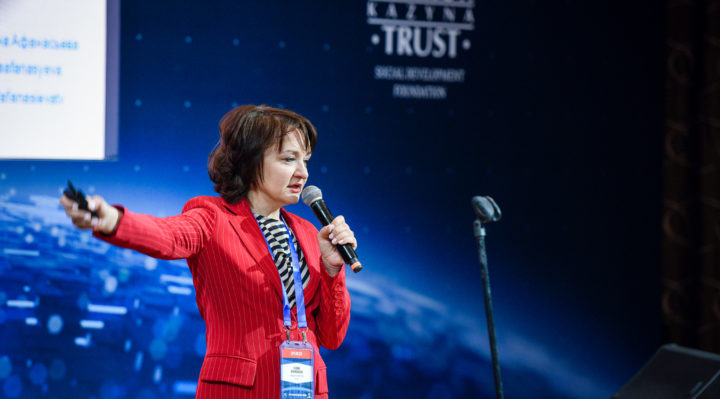 SESSION NO. 1 [DE]-GLOBALIZATION: THE WORLD IN SEARCH OF NEW DEVELOPMENT MODELS
In its first session, the Forum launched into a high-level discussion on whether, after years of globalization, the world was headed for a reverse process of 'de-globalization'. The six panellists generally rejected the suggestion, predicting instead a kind of 'new globalization'.
Moderator Ghida Fakhry, Presenter TRT World/Moderator Doha Debates, introduced the debate by sketching a picture of «an increasingly fractured and chaotic world that feels more dangerous even than in the time of the Cold War.» Given a reported backlash against globalization, was de-globalization the answer? she asked the panellists.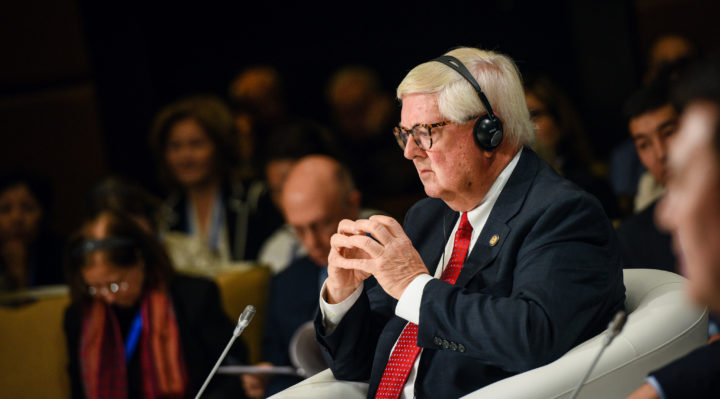 President Armen Sarkissian of Armenia, speaking first, said he did not believe in the concept of de-globalization. Despite concerns about trade wars and rising populism, globalization was not over. If anything it would continue at a faster rate.
The Armenian leader pointed out that globalization was not new. It started in a sense with Alexander the Great and the old Silk Road. He was proud to say that Armenians all over Eurasia had played a big part in the process in the past and would continue to do so.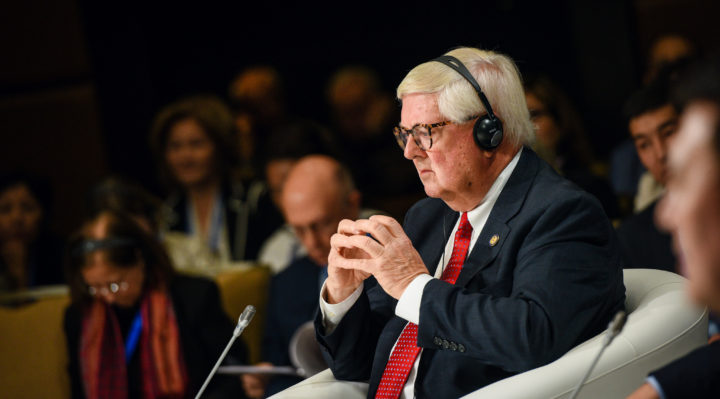 «In the new world everybody is connected through digital systems. This is why globalization will continue to grow. The fact that we don't know how to manage it is another question,» he said.
Asked by the Moderator about Armenia's relations with Russia, given its closer contacts with the European Union, Dr Sarkissian said his country was a crossroads, a small state but a global nation. «We know how to work with other nations, our friends.»
Armenia had very good relations with Russia and Eurasia and saw no contradiction in having an agreement wiuth the European Union. «Use Armenia as a bridge,» he declared.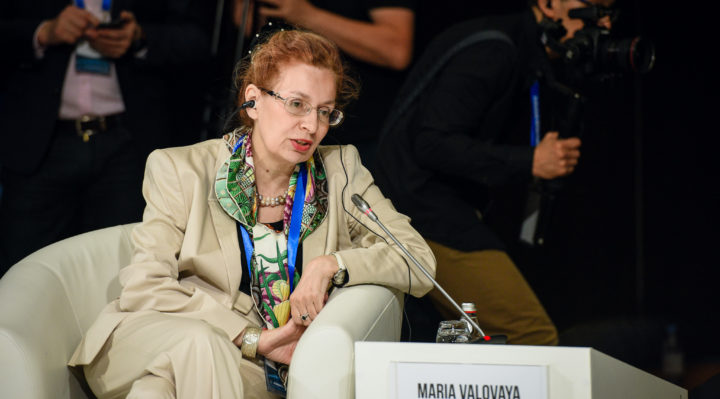 Dr Baige Zhao, Vice Chairwoman of the Foreign Affairs Commission of China's National People's Congress, said she preferred to call the current state of development in international relations 'new globalization' rather than 'de-globalization.' Technology was changing the world very fast, with huge opportunities for growth. Developing countries had had no access to information just a few years ago but now they had the tools for independent development.
The new challenge was to develop principles for this new international society, establishing a basis for spiritual value.
Toomas Hendrik Ilves, former President of Estonia, said there was no single answer to the question of whether globalization had stalled. Since the appearance of the Smartphone in 2006/7 there had been an incredible explosion of access to the internet, now reaching four billion people. «That reduces the chance of de-globalization,» he said.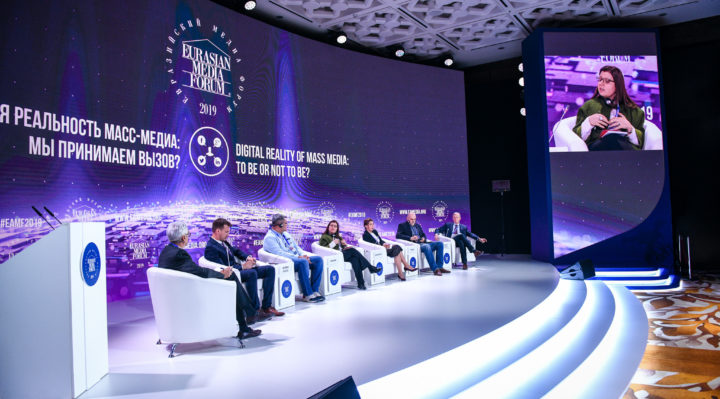 On the other hand, new technology promotes disruption and can lead to a new kind of assymetric warfare. Together with populist politicians, robotisation and artificial intelligence, there could be a risk of damage to industralisation and global trade, he warned.
Tatyana Valovaya, Minister in charge of Development and Macroeconomics, the Eurasian Economic Comission (EEC), said she did not believe in deglobalization any more than in a crisis of civilizations. «We never had real globalization. We have global markets, global companies, global media, but no global government,» she argued.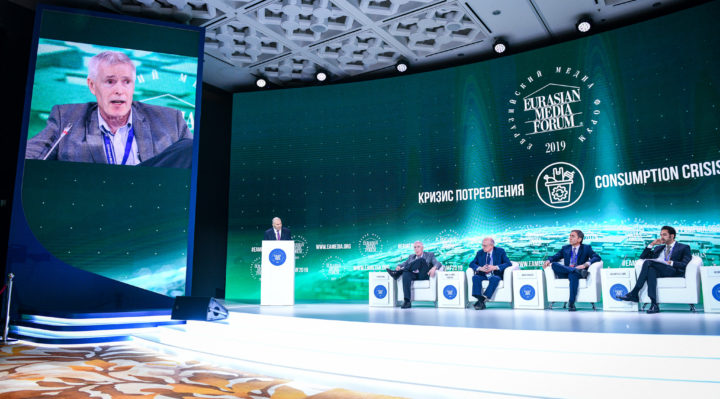 There was a reaction against the old form of globalization but attempts to fight real globalization would fail. «I foresee a difficult but positive road to new globalisation,» she said.
A good example was the growing partnership within Greater Eurasia and the re-commecting of Asia and Europe through China's Belt and Road initiative and other developments, she said.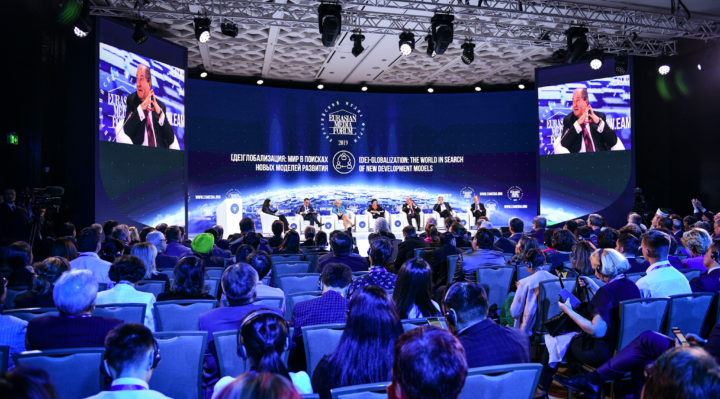 Ghida Fakhry then asked Sir Ivan Rogers, the United Kingdom's former Permanent Representative to the Europen Union (EU), to comment in the context of de-globalization on Britain's referendum decision to leave the European communiy.
Sir Ivan said this was a genuinely difficult situation because the EU was the deepest union of countries on the planet. No developed country had ever taken such a decision and the British authorities were struggling with the technical complexity.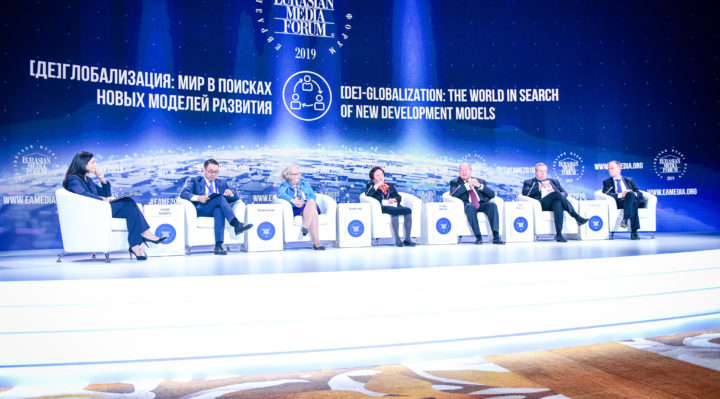 The referebndum reslt had been a consequence of the financial crisis. Ordinary people had become out of tune with the political elite. A lot of discontent had built up particularly about social inequality, which poorer people tended to blame on globalization. Those wanting to leave the EU had a powerful slogan – 'Take Back Control' – but there was no agreement about where they wanted to go, with great arguments begtween proponents of globalization and de-globalization.
Asked about the prospects for a second referendum, Sir Ivan said: «I am not sure it would be useful in the currently bitterly divided political environment, which is more brutal and conflictual than I have ever seen it,» he said.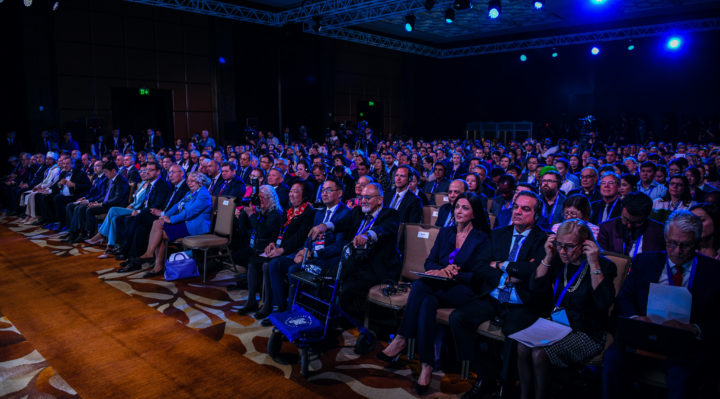 Yerzhan Ashikbayev,Kazakhstan's Deputy Minister of Foreign Affairs, said that Kazakhstan, as the biggest landlocked country in world, was not well placed to play an active part in de-globalization. On the contrary, his country had faced a huge challenge after the break-up of the Soviet Union and had had to reach out to the outside world.
This was not not just about infrastructure, but even extended to introducing English as a third langauge. «This is a testament to our anbition to be part of global development.» he said.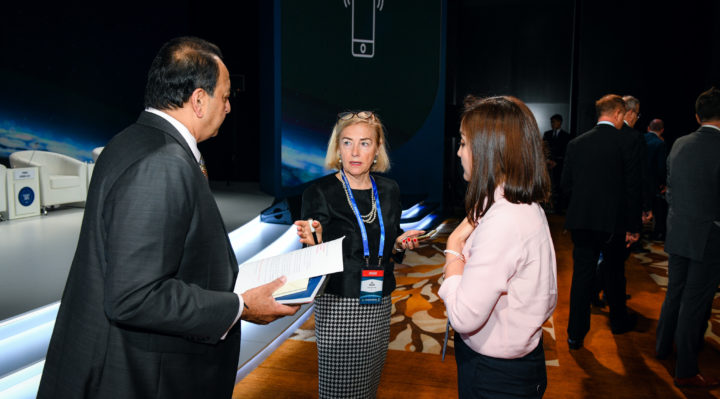 Asked about Kazakhstan's ability to retain a reputation for stability, he said that the presidential elections scheduled for June 9 wold give gurantees of predictability for foreign investors. Compared with the threat of protectionist trends in the world, Kazakhstan was a model of a harmonious society, he said.
«Kazakhstan favours dialogue of integration, which is only possible with trust and confidence, not fear and suspicion.»
SESSION NO.2 CONSUMPTION CRISIS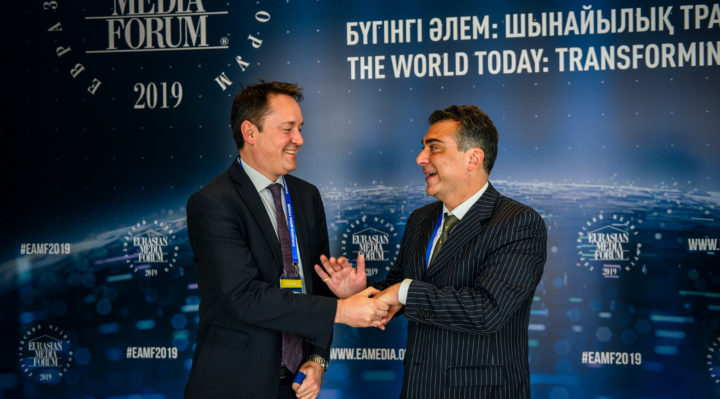 Conference host Riz Khan introduced this session by telling the audience that the rich were getting richer, the poor poorer – "meanwhile the developing world increases its demand for food, energy and water threatening to strip our planet or possibly destroy it."
Jazmin Acuna, Editor of El Surtidor Paraguay and winner of this year's Planet Prize for Global Youth and News Media, said powerful players were involved in the world's food crisis and their economic interests were putting people at risk and into poverty. "Our role as journalists is to let the public know who those people are."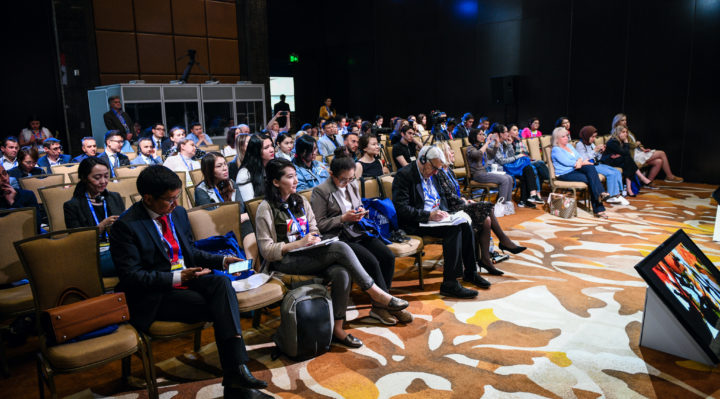 She explained that she had been campaigning in the Chacos region of Paraguay which has the highest rate of deforestation in the world. European meat consumers were accelerating that deforestation. Big landowners were clearing forest to put more cattle to pasture or grow soya beans for export to China for example. El Surtidor had been campaigning hard to reverse this, but "while it has never been so easy to launch a new media site, it has never been so hard to catch people's attention, but we have to make an extra effort to draw attention to these issues."
Steve Finn, Vice President of Food Waste Prevention for Leanpath, USA said we still had to face the global challenge of feeding 10 billion people by 2050.
"800 million of them are already going hungry but we need to feed another 2 billion people in 20 years."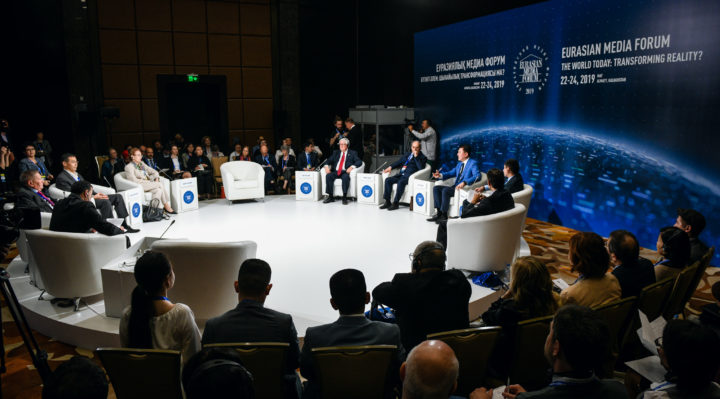 People in the developed world expected food to be available 24/7 and relatively inexpensive so there was inevitably a lot of waste.
"We have lost touch with the value of our food and what it takes to produce it. In the US we waste 30-40% of our food and globally the figure is 50%. These levels are not sustainable.
Basant Rathore, Senior Vice President of Strategy and Brand at Prakashan Ltd., India, said crisis should really be regarded as a natural part of progress. We have to be willing to fight and push back and the media had a significant role to play in publicising the problems and helping to solve these crises.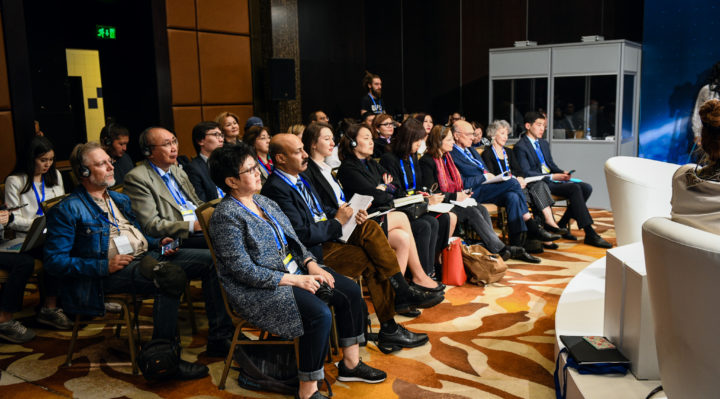 Moderator Todd Baer, Global Director at Blomberg, UK asked Ambassador R .James Woolsey, a former Head of the CIA and energy conservation expert, if the crisis included energy consumption.
Ambassador Woolsey replied that in the US there was a completely different problem from 10-15 years ago because the development of fracking in West Texas meant it was possible to produce natural gas in a relatively clean and effective way. It was also possible to search the deep ocean where there had been plant life hundreds of millions of years ago, drill and produce oil and gas from it.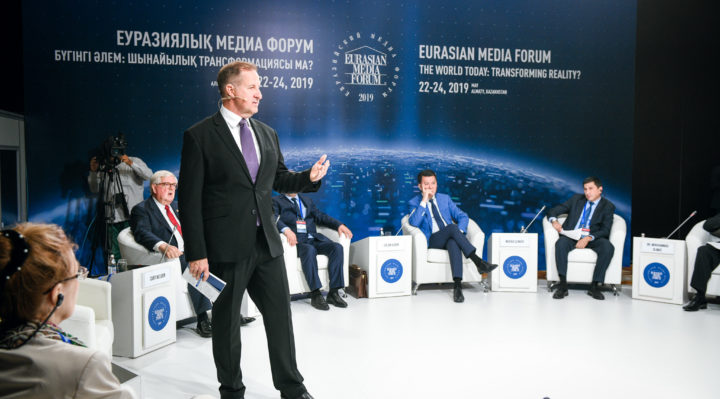 Natural gas was so abundant that for a while the people that produced it recently decided it was cheaper to give it away free – but only for a month or so. An even greater help for green energy in the future was solar power because of the development of new batteries and solar cells. The distribution of solar power and natural gas around the world had made the situation look much better than it had a few years ago.
Returning to food overproduction, Steven Finn said air travel was a good example of the problem.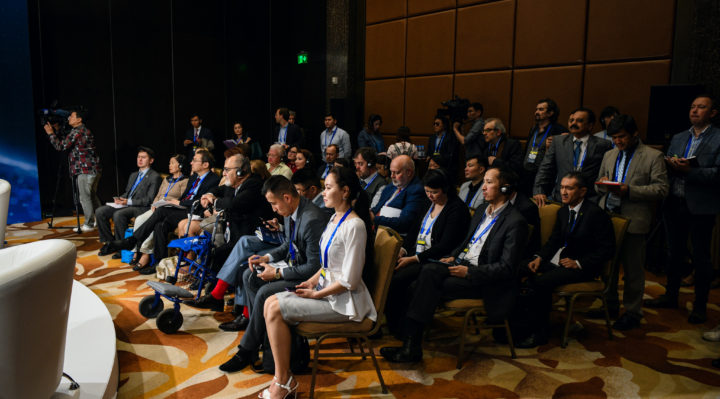 "You are always being offered food. It is always there. We also expect tremendous variety which leads to a lot of stocking and a lot of waste. It is a developed world problem, critically an American problem but also in the United Kingdom and other developed countries."
The richer classes in developing countries were also beginning to copy the western diet wanting meat, protein and other items.
The FAO (Food and Agriculture Organisation) was pushing for a 20% reduction in food waste by 2030. "We have a lot of work to do.
Basant Rathore mentioned one of the ways his company had managed to help in India.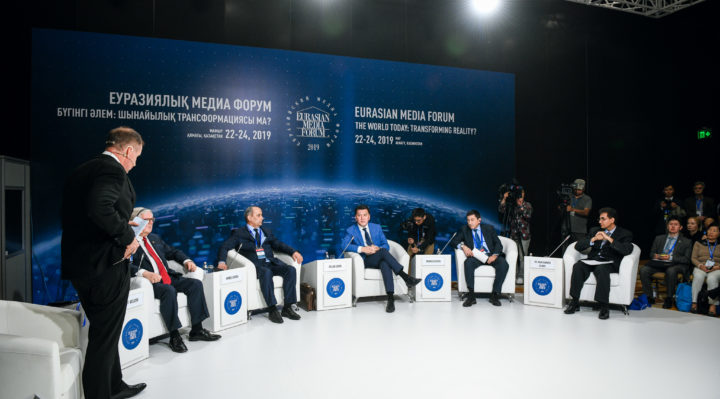 "There is a custom in India to give any guest a full glass of water although people usually do not drink half."
They went round every restaurant in the city and asked them only to provide half a glass for 30 days. They then put the same message around students asking them to give guests only half a glass of water for 30 days.
"At the end of the month millions of litres of water had been saved."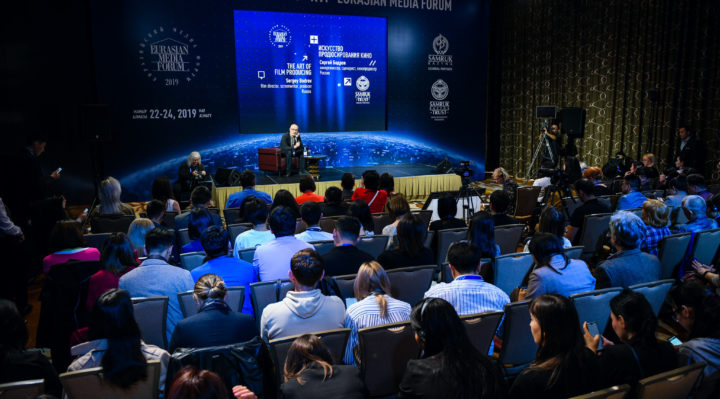 Jorge Fonseca, Coordinator of the FAO UN Food System Strategic Programme in the USA, said that food consumption was part of the culture. In Saudi Arabia where he had worked he noticed that restaurants always gave guests 700 grams of rice with their main dish. He asked if it could be reduced but was told that people expected it, there would be complaints and they would lose business if they did not get it. Such measures had to be organised collectively.
Returning to energy Ambassador Woolsey said he had written a paper about making oil like salt.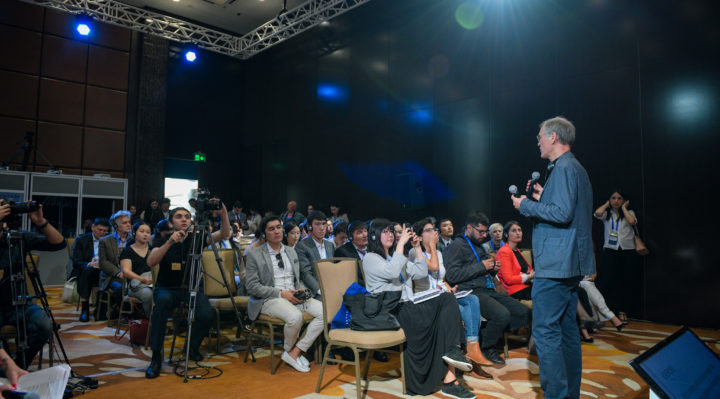 Before refrigeration salt had been a precious commodity – the only way to preserve meat. Roman soldiers were paid in salt, the word salary was derived from salt. It was only with the advent of electricity and thus refrigeration in the 1890s that it began to lose its value.
"Today everyone has a fridge and salt has almost no value. What we have come to realise is that the value of a substance can change radically, that technology can make a product redundant. We can make it possible for people to treat oil like they treat salt."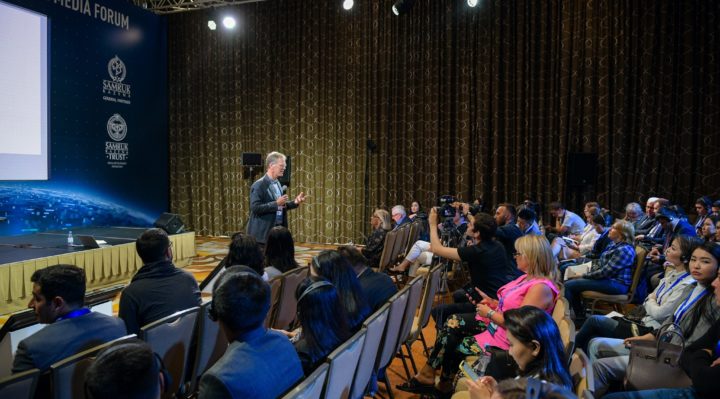 Turning to the food consumption crisis, Ambassador Woolsey said you only had to walk down a street in the United States to see there was an obesity crisis with too much food and too much sweet food being consumed, with the resultant increases in diabetes and heart disease that had been mentioned.
"We have a problem of the first order. We are talking about major diseases in my country and the western world as a whole."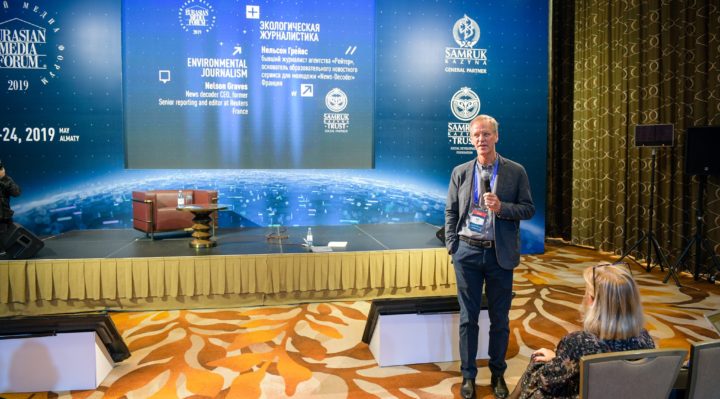 The media forum was due to be headlined by Steve Bannon, former chief strategist for Donald Trump who is renowned for his strong nationalist positions. He has spent much of his time lately in Europe trying to forge a global alliance of far-right groups.
( Photographs courtesy of Motown Archives)