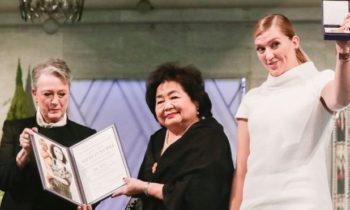 OSLO/LOS ANGELES, December 10, 2017—The 2017 Nobel Peace Prize Concert today announced joining forces with one of the largest and most innovative providers of visual effects and immersive experiences, Digital Domain. The multi-year partnership between Digital Domain and Nobel Peace Prize Concert producers Gyro AS and Warner Bros., will bring innovation and creative technology to share the Nobel Peace Prize Concert content from Oslo with the world.
The Nobel Peace Prize Concert in Oslo, Norway on December 11th at Telenor Arena, honoring the Nobel Peace Prize laureate, ICAN, the International Campaign to Abolish Nuclear Weapons.
The concert event takes place in Oslo on 11 December 2017, and in virtual reality headsets and immersive platforms everywhere.
Digital Domain is the only global studio with a legacy of award-winning visual effects expertise that leads innovations in virtual, mixed, augmented realities and technology bringing premium content experiences to the consumer.
"We're very happy that the test we did last year with Digital Domain can lead to a new successful partnership at this year's Nobel Peace Prize concert", said the concert´s producers Odd Arvid Strømstad and Kristian Kirkvaag.
"The collaborative efforts of two established entities like the Nobel Peace Prize Concert and Digital Domain will bring quality content to an audience who expects nothing less," said Alireza Saifi, VP, Global Business Development, Digital Domain. "To use our innovative technology and creativity to help share a united message of peace and celebrate the laureates is an honor."
(N.Sethurupan)