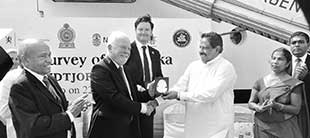 After about 40 years, the world's most advanced Norwegian marine research vessel, RV DR. FRIDTJOF NANSEN, arrived in Colombo to survey Sri Lanka's territorial waters.
Welcoming the research vessel to Sri Lanka at the Colombo Port, Fisheries and Aquatic Resources Development Minister Vijith Wijayamuni Zoysa said the first Nansen vessel surveyed Sri Lankan waters in 1978 and 1980. Since then, no such comprehensive survey on Sri Lanka's marine environment had taken place.
Explaining the importance of this survey to Sri Lanka and for the sustainable utilization of marine resources, Minister Zoysa noted that the survey would help to gather information about the fish as well as other marine resources and to form a basis for knowledge based sustainable management of the country's marine environment and resources.
According to the Food and Agriculture Organization (FAO), the research work in 2018 by the Nansen vessel started in January in Durban and was expected to end mid- October in Thailand. The ship would sail around Sri Lanka for 26 days, surveying oceanic conditions and fish stocks.
During the observation tour of the Nansen vessel, Research Group Fisheries Dynamics Senior Engineer Tom Williams told the media that the Nansen would lay nets and carry out experimental trawling at various points. The fish and other creatures caught in the nets would be analysed for detailed information on species, sizes, and catch quantity. Acoustic methods would be used to estimate the quantity of fish found in those waters while sailing on a pre-defined path around the Sri Lankan coast.
The on-board researchers would collect data on water parameters, sea temperature, and salinity, and would map the sea bed using powerful eco-sonars, Senior Engineer Williams said.
Meanwhile the FAO elaborates that the programme seeks to address the multiple impacts of human activities, including overfishing, climate change and effect of pollution on fish stocks in particular and the marine environment in general to preserve the productivity of the oceans.