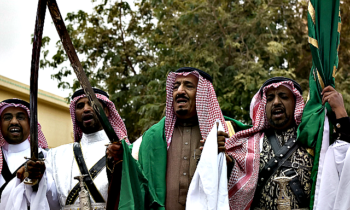 Norway's former ambassador to Saudi Arabia claims the Gulf kingdom has had "a tremendous influence on the spread of the Islamist ideology", but fears that the West is turning a blind eye.
"That Saudi Arabia has had a tremendous influence on the spread of the Islamist ideology is quite clear," said Carl Schiøtz Wibye, speaking to the Norwegian daily newspaper Aftenposten. "But apparently very few want to talk about it."
In a new book, Kingdom of Terror, the diplomat claims that the Saudi state religion "is not even a religion, but a cult built on fanatical fantasies of a power-hungry desert preacher in the 1700s".
The preacher in question is Muhammad Ibn Abd al-Wahab, founder of the Wahhabi branch of Salafi Islam. Salafism calls on Muslims to emulate the first three generations of believers, known as the salaf, who rode with Mohammed and conquered Jerusalem, Persia, and Spain.
Wibye alleges the Saudis have used their oil wealth to fund the spread of Wahhabism worldwide and argues that Norway must tackle it head on.
He suggests that one method of checking extremism might be to revive a Progress Party proposal to ban regimes which do not subscribe to the United Nations' Universal Declaration of Human Rights from funding religious and political institutions.
"To block the influence of Wahhabism, we must provide an overview of this ideology and weed out local influence wherever it comes from, be it through financial support, literature or videos by preachers who say terrible things online," he said.
"In addition, we require that all imams should speak Norwegian, so we can better understand what is happening in the Muslim community in Norway."
Wibye would not speculate on whether Saudi Arabia also funds Islamic State, as former U.S. Secretary of State Hillary Clinton alleged in a leaked 2014 email, saying that the theocracy's "transactions are hidden".
He also called for a ban on full-face veils in Norway. "The niqab is not part of Islam," he claimed. "It is an interpretation that emerged in recent years … to keep women in their place."
(breitbart / Sethurupan)