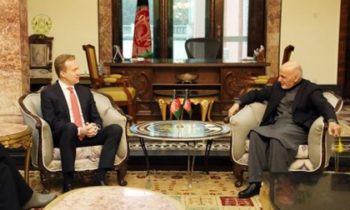 Afghanistan President Mohammad Ashraf Ghani on Saturday said controlling the country's waters was his government's priority and sought help in this regard from Norway, a statement from the Afghanistan presidential palace said.
The president was talking to Norwegian foreign minister Borge Brande, who called on him at the palace on Saturday afternoon, the statement said.
Brande welcomed the removal of Gulbuddin Hekmatyar's name and his party Hezb-i-Islami from the United Nations Security Council (UNSC) sanctions list.
The visiting dignitary said the move would help in bringing durable peace and stability to Afghanistan.
He appreciated what he said unexpected increase in Afghanistan's annual revenue said his country was ready to help Afghanistan's different sectors. The president hailed Oslo support with Afghanistan in different fields specially the European country's military support.
President Ghani also thanked Norway for supporting Afghanistan during the Brussels and Warsaw summits. The president said control over river waters was Kabul's priority and in this regard he sought Oslo support. Brande said his country had good experience in water controlling, revenue collection and fighting against corruption and would share its experiences with Afghanistan.
He also pledged to help the Afghanistan education sector. The Norway foreign minister invited President Ghani to attend next Oslo conference.
Regional issues, development, security and peace process also came up for discussion during the meeting.