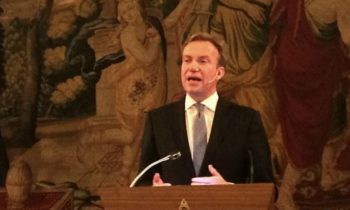 Foreign Ministry Director General Dore Gold thanked Norway on Sunday for stating that it will not transfer money to the Palestinian Authority that will be used to support convicted terrorists or their families.
Gold expressed "Israel's appreciation" to Norwegian Ambassador Jon Hanssen-Bauer over the decision made by Norwegian Foreign Minister Borge Brende, according to a statement by Foreign Ministry spokesman Emmanuel Nahshon.
"It is outrageous that killing Israelis has become a source of income for many in the PA. This completely contradicts what peace is all about. These payments incentivize terrorism and must be stopped," Gold said, according to the statement.
Earlier this month, Brende met with PA President Mahmoud Abbas and brought up the issue. Abbas told Brende that none of Norway's aid contribution was going to terrorists or their families.
"In the meeting I emphasized that this funding, where financial payments increased by the length of prisoners' sentences, was unacceptable and should be abolished. I emphasized that with the political and economic challenges that Palestinians now face, it pays to abolish this scheme," Brende said, according to Norwegian daily Dagen.
Abbas told Brende that Norwegian funds were not being used to fund the prisoners' salaries, a claim Brende said he accepted.
"Norwegian support to Palestine goes to state-building and institutional development, as it is in everyone's interest that this continue," he was quoted as saying in a May 4 Bladet report. "This is also emphasized by Israeli authorities."