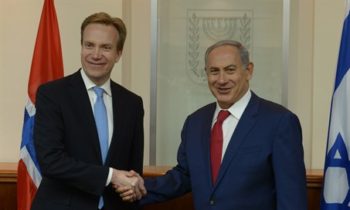 Foreign Ministry Director-General Dr. Dore Gold thanked Norwegian Ambassador Jon Hanssen-Bauer for his country taking Palestinian Authority (PA) Chairman Mahmoud Abbas to task over his use of foreign funds to pay jailed terrorists.
Palestinian Media Watch (PMW) late last month released a report revealing Abbas's ploy to fool the West and continue receiving its annual budget from abroad for over $1 billion.
The report detailed that despite the West back in 2014 conditioning its funding on having the PA stop using the funds to pay the salaries of terrorists jailed in Israel, the PA merely moved its ministry tasked with the salaries to the Palestine Liberation Organization (PLO), and increased its funding to the PLO by the exact amount of the prisoners' budget.
PMW showed that the PA remains the organization funding the terrorists' salaries and making the budgetary decisions, in an open breach of its promises to the West made to keep the funding going.
In light of the revelations, Norwegian Foreign Minister Borge Brende made it clear to the PA that it would not continue to give funds that would be transferred to jailed terrorists and their families, and for that Gold thanked Ambassador Hanssen-Bauer.
"It is outrageous that killing Israelis has become a source of income for many in the PA. This completely contradicts what peace is all about. These payments incentivize terrorism and must be stopped," Gold said.
Brende two weeks ago spoke with Prime Minister Binyamin Netanyahu in Jerusalem and then with Abbas in Ramallah during a visit to the Middle East, and in Ramallah he confronted Abbas, according to his own accounts later revealed by blogger Elder of Ziyon.
Three weeks ago Norwegian MP Hans Olav Syversen raised the matter of the PA's terrorist salaries in a question session at parliament, and Brende promised to pressure Abbas at the next opportunity.
Brende has confirmed that two weeks ago on Tuesday during his meeting with Abbas he discussed the issue.
"In the meeting I emphasized that this funding, where financial payments increased by how long prisoners were sentenced, is unacceptable and should be abolished. I emphasized that with the political and economic challenges that Palestinians now face, it pays to abolish this scheme," said Brende.
Abbas responded by promising Brende that Norwegian funds are not being used to pay the prisoners' salaries, although PMW's report cites numerous official PA sources as well as statements by officials in the organization clearly showing that claim is false.