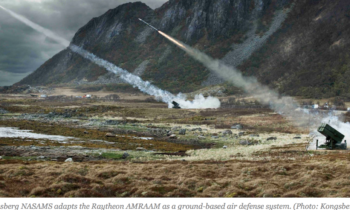 Indonesia has become the first country in Asia to acquire the Kongsberg Norwegian advanced surface-to-air missile system (NASAMS) , a medium-range surface-to-air missile system based on the Raytheon advanced medium-range, air-to-air missile (AMRAAM). Announced on October 31 by the Norwegian arms maker, the $77 million contract will be for one complete unit of the NASAMS, including "command posts, radars, launchers, radios and integration, and training and logistics support."
Although it is unclear how many launchers were requested, Kongsberg literature suggests that a standard network consists of four launchers each containing six missile-launching canisters. NASAMS also consists of an AN/MPQ-64F1 Sentinel active 3D radar, and a passive electro-optic and infra-red sensor.
The sale to Indonesia comes just five days after Lithuania announced a similar deal worth $126.5 million.
The AMRAAM missiles will be sold from the U.S. via a "government to government" Foreign Military Sales (FMS) deal. Of note, the missiles used in NASAMS are dual-use, meaning they can be surface-launched or air-launched. In 2016, the U.S. approved the sale of 36 AIM-120C-7 AMRAAMs to Indonesia for the country's F-16 fighters.
Speaking to Indonesian media earlier this year, Air Vice Marshal Yuyu Sutina, commander of the National Air Defence Command, said that Indonesia requires a missile system that could cover a 100 sq km area. The plan was to deploy such a system initially to defend the capital city Jakarta, before more systems are acquired and gradually deployed elsewhere.
The procurement is part of Indonesia's Minimum Essential Force Stage 2 (MEF II) to boost the Indonesia Armed Forces capabilities to defend the archipelago. Once the system is delivered, Indonesia will join Singapore and Vietnam in possessing a high-to-medium-altitude air defense (HIMAD) system in the region.
NASAMS would be used to protect key installations along Indonesia's very long borders, rather than as a nation-wide air defense umbrella. Beyond the capital city, NASAMS could be fielded in military installations such as the Natuna Islands in the South China Sea, where Indonesia plans to deploy F-16 fighters and AH-64E attack helicopters in the future.
The largest NASAMS deal, worth $1.28 billion, was signed by Oman in January 2014. The system was also down-selected by Australia in April this year for the Land 19 Phase 7B project, in a variant that aims to launch both the AIM-120 AMRAAM and AIM-9X Sidewinder Block II from a common rail.