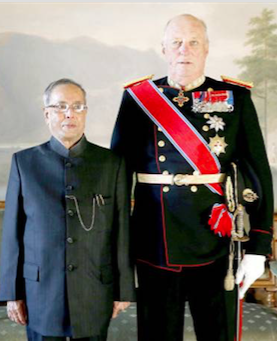 Indian president Pranab Mukherjee on Monday extended his greetings and felicitations to Norwegian King Harald V and his people on their Constitution Day.
In his message to the king, the president said: "On behalf of the government, the people of India and on my own behalf, it is with great pleasure that I extend warm greetings and felicitations to Your Majesty and to the people of the Kingdom of Norway on the occasion of your Constitution Day.
"India and Norway enjoy warm and friendly relations, which have steadily acquired greater substance and significance in recent years. Substantive political and economic content has been added to our bilateral relations, which have now been transformed into a multifaceted relationship."
Mukherjee also expressed his confidence in growth of bilateral relations, saying that "the positive momentum in our bilateral relations will be sustained in the future for the mutual benefit of our two peoples".
"I take this opportunity to convey to Your Majesty my best wishes for your good health and well-being and for the continued progress and prosperity of the friendly people of the Kingdom of Norway," he said.
Norway celebrates its Constitution Day on May 17 to mark its independence from Denmark and adoption of its constitution in 1814.