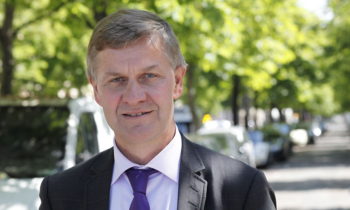 'I would like to congratulate Erik Solheim on his nomination as Executive Director of the United Nations Environment Programme (UNEP). UNEP will be gaining a deeply committed leader with long experience and extensive knowledge of environmental and development issues. I look forward to working closely with Mr Solheim in his new position,' said Minister of Foreign Affairs Børge Brende.
UN Secretary-General Ban Ki-moon has announced his intention to appoint Erik Solheim as new Executive Director of the United Nations Environment Programme. The Norwegian Government has actively supported Erik Solheim's candidacy for the post. Mr Solheim will take over from the present UNEP Executive Director, Achim Steiner, when he steps down on 1 July this year.
'Norway would like to see a strong UN when it comes to the environment. Mr Solheim will take over the leadership of UNEP at an important crossroads. 2015 was the warmest year globally since records began. It was also the year when world leaders reached agreement in Paris to work together to reduce global warming to well under two degrees, and also adopted the UN Sustainable Development Goals (SDGs) for the period up to 2030. UNEP has an important role to play in the work to achieve these goals in the coming years,' said Minister of Climate and Environment Vidar Helgesen.
Norway has been a staunch supporter of UNEP, both politically and financially, since its establishment in 1972. This year, the Ministry of Foreign Affairs will enter into a new framework agreement with UNEP and will continue to provide substantial support.