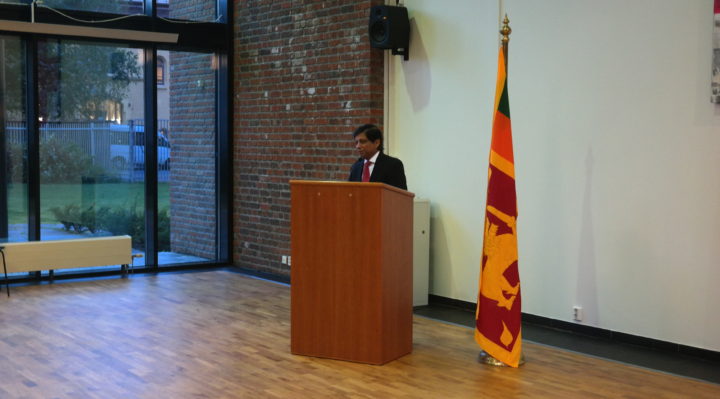 The first Sri Lankan Diaspora Dialogue in Norway was held at the Norwegian Red Cross Conference Center, Norway. Collection of a group of "Norwegian Sri Lankan" representatives of various associations from all over Norway enthusiastically participated in this initiative by the Embassy of Sri Lanka in Norway.
On this occasion, the entire team of the Embassy and Consulates, led by Ambassador Manjusri Jayantha Palipane, began a new engagement with the Sri Lankan Diaspora in an institutionalized manner. The diaspora was praised for the role it has played in becoming an integral part of Norwegian society and of the Norwegian economy, as well as for its efforts in bridging Sri Lanka and Norway. The Ambassador stated that this needed to be further worked on and extended. He also used the occasion to brief the diaspora on the Government of Sri Lanka's initiatives and asked for more fulsome contributions by catalyzing Norwegian friends.
The following is the full text of Ambassador Manjusri Jayantha Palipane's speach at the inaugural session of the Diaspora (Eid) Dialogue Held in Oslo, Friday 30 September, 2016.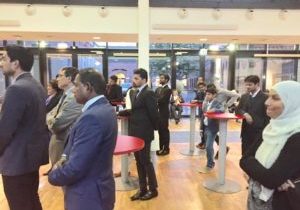 You might not know that we had a visit of the Sri Lankan foreign minister, Mangala Samaraweera, here in June, and it was during his visit that the proposal or an idea of an Eid get-together to be organized by the Embassy was mooted, and the foreign minister agreed to host the Eid. I also would take this opportunity to convey the very best wishes and greetings of foreign minister Mangala Samaraweera to all of you and, in fact, he suggested during that time that there would be an event in Sri Lanka to acknowledge, recognize, and celebrate the achievements of all of you who are not only in Norway, but abroad, living as Sri Lankan expatriates.
Friends, Ladies and Gentlemen, I would like to express a very special welcome to our Muslim brothers and sisters, who celebrate Eid, and it is on their behalf primarily that we decided to host this event on Eid. So, a very special to our Muslim brothers and sisters.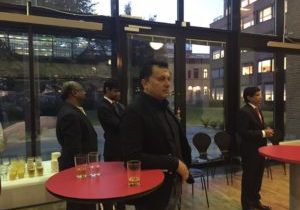 I have been here five months, and all of you have been here more than five months. So you all are veterans of Norway as well as the Norwegian lifestyle. I have been serving in many countries in my career as a professional diplomat. The closest that I came to the North Pole was Berlin, which I thought was quite cold, but I am warned here that it is much tougher, and I am twenty years older now, so I don't know how I am going to face the winter. So if I survive the winter, you might see me in January.
When we decided at a meeting the foreign minister had here in Norway in June, where he met a representative crowd, a small crowd of Sri Lankan expatriates, when the idea of the Eid to be hosted by the Embassy was, I think suggested by one Sri Lankan Norwegian , the foreign minister agreed to it and said that we would make it an occasion of the Sri Lankan get-together. So, in addition to the Eid, for us from the Embassy and from my Government, I can see that today, as a special day of having a collection of a group of Sri Lankans, and during that discussion there was a mention that some of them had never met, and some of them had never spoken to each another. So if we are making some ground on that scope, I am delighted, and I would like to have you attending our functions in the future.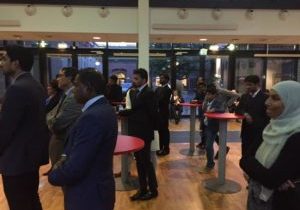 I would now like to mention a few words about the Government's … I would say the policy, and the policy towards countries abroad, people living abroad. Now this Government is a unique government in Sri Lanka. All of you know each and every detail about it. There is nothing that I can add because, in this world, everyone knows everything. But two things I would mention at this time: the Government is dedicated on economic development, which I think is our priority, and the second is reconciliation. Now this is something that we never had as a Government policy. So the reconciliation is invariably linked to that atrocious past that we had for the last two-and-a-half decades, conflict that raged on for more than twenty-five years, with destruction, animosity, devastation, tragedy, and many more. I am sure this crowd here, in some way or the other, would have been affected by the conflict we had in Sri Lanka. There are victims, there are people who suffered as innocents, there are combatants. So now our task is to forgive and move forward. This is the message that Mr. Mangala Samaraweera mentioned the other day, when he met the Sri Lankan in Oslo, and this is something that I would just leave as a thought with you.
So the Sri Lankan Government is open. You never wanted to go back to SL during the last twenty-five years. You didn't want to meet the Ambassador, you didn't want to shake his hand, you didn't want to visit the Embassy.
All that is history now. But, as far as I am concerned, until the last day I will represent my country as an ambassador, I will follow the policies of my Government, I will follow the rules of the Government, and I will not do anything that will violate any law. So there would have been ambassadors before who followed the policies of the previous governments. So, unfortunately or fortunately sometimes, the identity of the Government here is the Ambassador. But now we have a situation, and I am very happy about it, that we can talk about our Government as a reconciliatory government, extending a hand of good will to all the communities, particularly the Tamil community—all the brothers and sisters who suffered most.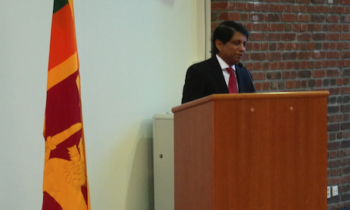 So therefore this occasion is a get-together, a celebration of Sri Lankans in Oslo. I know the numbers, we can't match, we have fifteen to twenty thousand. But I went by the list, the database that we had here in the Embassy. If we have missed anyone—that is not something that we could have avoided, we only had names and we had to send them by email. Here, nothing goes by post, you have to have an email address, otherwise we can't even send an invitation. So for the others, please carry the message that we welcome all of you back to Sri Lanka, and I know most of you here who go to Sri Lanka during the summer , Some have very bad experiences of the previous visits, but we are trying to overcome them, and we are trying to move forward as a nation together.
Now I am always mindful and very much aware that many of you are not Sri Lankans anymore by citizenship, but that does not mean that we cannot get together. You are mostly Norwegians, and as it seems that Norway does not have dual citizenship, you are not a Sri Lankan citizen, so you don't have to call me "my Ambassador", because you are Norwegians.
But for me, when I see a crowd like you, you were born in Sri Lanka or your parents were born in Sri Lanka, for me you are Sri Lankans. So in that spirit only, I welcome all of you. So our differences we will at least forget for now, and we will see how we can move forward.
Our Embassy is quite small. At the moment, I have no diplomatic officer, the officer who was with me returned and there was no replacement. So when we organized this, I only had four people in my embassy, myself, but we tried to do our best and to see whether we could host this event in a dignified way, with decorum. So I hope my attempts and the attempts of my staff would meet your satisfaction. And since we are celebrating Eid, we are inviting, I think, the secretary of the Sri Lankan Muslim Association to say a few words after me, and then we have a traditional biryani for you.
Ladies and Gentlemen, I think I don't have to say more, I think I conveyed what I really wanted.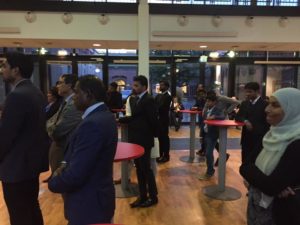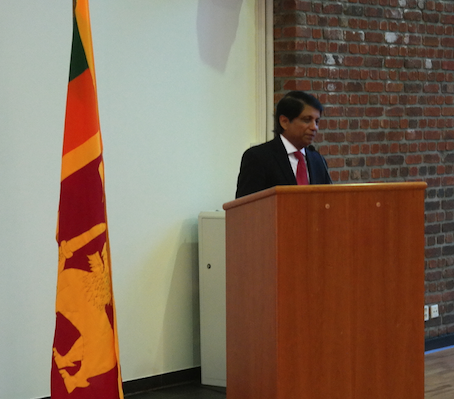 (N.Sethu)