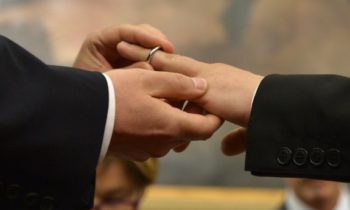 Norway's first gay wedding in a church has taken place, just seconds after the change in the rules came in to force.
Kjell Frølich Benjaminsen and Erik Skjelnæs tied the knot in the Eidskog Church in the South of the country just after midnight, making them the first same sex couple to have a marriage ceremony in a church.
Paster Bettina Eckbo, who led the service, said it was "great fun and really cosy to be part of".
"They already represent the values that marriage is about," she told news agency NTB. "Faithfulness and supporting one another on good days and bad."
The pair have lived together for 36 years – longer than their pastor has even been alive.
Same sex marriage was passed into Norweigan law in 2008, but couples were previously unable to get married in a church.
In January the Church of Norway approved a liturgy, or service, which included same-sex couples, which the changes coming into force in February.
Eighty nine members of the general synod at the Evangelical-Lutheran church approved the vote, with delegate saying it was "the day when a prayer and a dream have been fulfilled".
"No couple should be met with a cold shoulder," added Gard Sandaker-Nilsen, who registered his own civil partnership in 2008.
The newly weds had previous said after waiting so long to get married, they didn't have another second to spare.
Pastor Eckbo added: "In many ways, these two men have lived through a lot of the recent history of homosexuals. When they got together in 1981, it must have seemed very unreal for them to think that they would one day get married in the church."
The country is well know for it's positive attitude to the LGBT community and was recently named the best place in Europe for LGBT workers.
It was also the second in Europe to provide free HIV-preventing PrEP drugs through it's National Health Service in 2016 and trans people in the country can legally change their gender by signing just one form, in a scheme which is also open to children with the consent of their parents.
(pinknews)