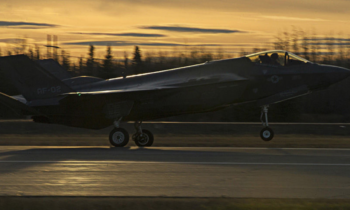 An F-35 fighter jet arrived at Eielson Air Force Base Thursday on an equipment-testing mission, according to a news release from the Air Force. It's the first F-35 to land at Eielson.
The F-35A Lightning II is here to test two main types of equipment: the airplane's ability to land on icy runways and a drag-chute modification of the plane that's been requested by the Royal Norwegian Air Force, an F-35 program partner.
It is the same model that will be based at Eielson in 2020. Eielson is scheduled to receive 54 F-35s along with about 3,500 airmen, civilian employees, contractors, and military family members.
During the testing this week, the Air Force will try to demonstrate that F-35s are capable of landing under conditions known as Runway Condition Reading 7. A reading of 23 is considered a dry runway, while a reading of 5 is comparable to landing on ice. The F-35A is now certified to land at a reading of 12.
The drag chute is a modification requested by Norway to help the F-35 land under Arctic conditions. Norwegian test pilot Maj. "Taz" Amdal is at Eielson to demonstrate the drag chute.
Eielson is hosting an event on Tuesday to explain to community leaders the F-35's mission in Alaska.
(newsminer)