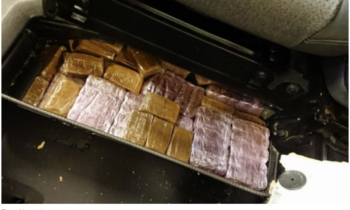 A Dutch retired couple have been arrested in Norway for trying to smuggle 100 kilos of cannabis into the country, according to Norwegian media reports. The couple, a man aged 68 and a woman aged 75, had hidden the drugs throughout their car.
They were caught following a tip-off trying to enter Norway after travelling by ferry from Denmark. Customs officials found 55 kilos hidden in the boot and further packages containing 20 and 25 kilos in secret compartments under the floor.
The haul is the biggest cannabis find ever made in Bergen with a street value of up to €11m, Norwegian media said.
The arrests were made on September 5 but have only now been made public. The Dutch foreign affairs ministry is looking into the case, RTL Nieuws said.
Read more at DutchNews.nl: Dutch pensioners arrested smuggling 100 kilos of hashish into Norway.
(dutchnews)