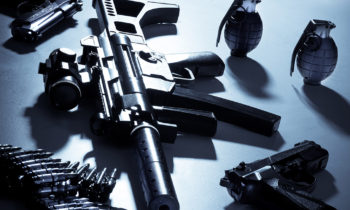 In 2015, Norway exported arms and military equipment for just over NOK 3 billion. This is an increase of four per cent from 2014.
Exports of arms and munitions accounted for around NOK 2.8 billion of the total and other defence-related products for NOK 300 million.In addition, there were exports of dual-use items, in other words civilian products with military uses, with a total value of around NOK 312 million. These figures were set out in the white paper on exports of defence-related products that was presented today.
These products have mainly been purchased by Nato and the other Nordic countries.
'There is broad political agreement that Norway should have a viable defence industry. This is important for maintaining jobs and our own defence capability; it is also important for driving technology development – both in the civilian and in the military sectors,' commented Minister of Foreign Affairs Børge Brende.
'Norway has a long tradition of transparency regarding its exports of arms and military equipment. The Government considers it important to maintain this level of transparency,' Mr Brende added.
Exports of defence-related products from Norway are subject to strict controls, and the Government continually seeks to provide a clear and predictable framework for the defence industry.
A total of 25 applications for licences to export defence-related products were refused in 2015.
'It is clear that the various armed conflicts and security threats worldwide create challenges for our export control. The Government gives serious consideration to the situation in vulnerable areas, and each export licence application is carefully assessed on an individual basis,' said Mr Brende.
The Ministry of Foreign Affairs has tightened its rules and guidelines for processing applications for the export of defence-related products in recent years. The requirement to obtain an export licence has also been expanded to include all products originally developed for military use.
The guidelines now include an overview of the political principles and criteria that form the basis for considering individual licence applications. It is therefore clear what factors are taken into consideration. The white paper also provides an overview of Norwegian legislation and the Ministry's guidelines, as well as an account of the extensive international cooperation on export control and non-proliferation, which Norway takes active part in.
Norway is leading important processes in this area, for example with regard to regimes for increasing control over nuclear and missile technology. We are thus shouldering a major responsibility for preventing the proliferation of weapons of mass destruction.
In 2016, further negotiations will be held on the international cooperation on control of conventional weapons and high technology that is relevant for defence-related products. Norwegian experts in various fields will be taking part in the negotiations. Norway is working actively to strengthen and further develop the Wassenaar Arrangement, which is multilateral cooperation on control of conventional weapons and dual-use items.