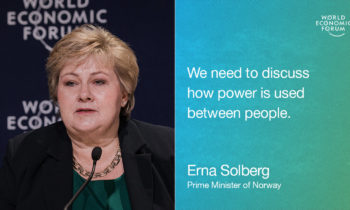 She's the Prime Minister of Norway, responsible for five million people and a GDP of over $400 billion.
But even Erna Solberg has been "mansplained" to. It's not a term she used herself, but in an interview at Davos, the politician described an experience early in her career that will make many women wince gently in recognition.
"I have met a lot of people who have maybe underestimated you, because you were a young girl in politics at the time," she said.
"I remember I was at a committee of finance in parliament, and one of the CEOs of a large banking organisation was trying to tell me, like a child, in a very child-like way, how the interest rate market functions, and then the leader of the committee leaned over and said, she's got the highest-level education in the committee."
"I think you need to have more women: the more women you get the more natural it gets," Solberg said. "You have to discuss things like #metoo, you have to discuss sexual harassment, you have to discuss how power is used between people … The biggest thing we have to understand is this is not about women and men, this is about using the whole talent of society."
(weforum)