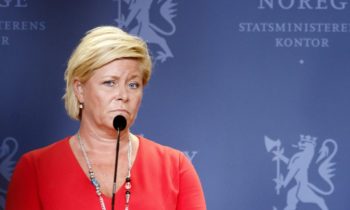 The Minister of Finance, Siv Jensen, today received a report on energy stocks in the Government Pension Fund Global (GPFG) from a commission headed by professor and rector Øystein Thøgersen.
"I am thankful for the report and for the work that has been put down in order to answer a comprehensive mandate. I look forward to reading the assessments of an imporant question for the management of our joint savings", says the Minister of Finance, Siv Jensen.
The Comission, which has been chaired by Professor and rector Øystein Thøgersen, was appointed on 13 February 2018 and asked to assess whether the GPFG should invest in energy stocks. The commission was appointed against the background of an advice from Norges Bank, stating that the vulnerability of the Norwegian state's assets for a permanent reduction in oil and gas prices would be reduced if the GPFG were not invested in energy stocks. Norges Bank emphasized that the advice was based solely on financial arguments, and did not reflect any particular view on the future movement in oil prices nor on the profitability or sustainability of the sector. In the terms of reference, it was emphasized that also the commission's assessments should solely be based on financial risk and return.
"The Commission has assessed a broad set of considerations. Together with the advice from Norges Bank and the public consultation of the Bank's advice, this report will constitute a solid foundation for decision-making. The Government aims to conclude on this matter later this fall", says the Minister of Finance.