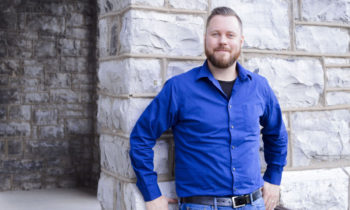 Lars Kristiansen teaches public relations in the School of Communication Studies. He was born and raised in Norway, and lived there until he was 24 years old. In 2005, he got his bachelor's degree in public relations from BI Norwegian School of Management. Because he likes to travel — he went backpacking for a year after high school — he decided to continue school overseas. Kristiansen then got his master's degree from Illinois State University and his Ph.D. from the University of Missouri. He taught at Monmouth College in Illinois for three years before moving to JMU in 2015. Kristiansen recently published a piece combining his interest in punk rock music with PR.
How does education in Norway compare to education in the United States?
If I were to do what we do there to our students here, they would hate me — absolutely hate me. And I'm not saying that what they do over there is necessarily a good thing. There are some good parts to it, but it's very socially Darwinistic in some ways. You make it or you break it. No one takes attendance, you have no assignments, you meet once every week for about three hours, someone will talk at you, you can ask some questions, but when they're done they walk out. If you come to their office hours they're going to look at you like, 'Why are you here? Why are you bothering me?' and you have one exam at the end of the semester. Whatever grade you get on that test is your entire course grade. It's a very brutal approach to education. So I like better what we do here — it's more kind to the student. There are opportunities for you to mess up and still be fine. Students get feedback continually and they are encouraged to do well and there's no penalty for messing up here and there.
How did you first become interested in studying public relations?
That was just a happenstance. My friend that I had known for most of my life at that point — I think we met when we were four — and we had always agreed when we were going to go to college we were going to live together. I asked him, 'So what did you apply for?' He's like, 'I want to study PR at this school,' and I was like, 'Perfect, I'll do the same thing. If I don't like it, I'll switch,' and I ended up sticking with it. It turned out to be like one of those blind darts thrown in the dark and like this was great, perfect. Hit the bull's-eye on the first one.
When did you decide you wanted to teach PR?
Once you start looking for graduate degrees, it kind of comes along with the territory. You start teaching in graduate school as a teaching assistant through a professor, and I realized I really like being in the classroom and talking to students about ideas. And it sounds like such a cliché, but like, when you see people have that 'Aha' moment, the light bulb goes on, it's like, that is incredibly rewarding. And money is interesting and all, but this is better than money.
What brought you to JMU?
I met my wife in graduate school and we got jobs in very different parts of the country. So I got a job in Illinois and she got a job here at JMU right out of graduate school. We weren't married at the time, but we did long distance for quite a few years. At some point we decided, well, either she has to move to Illinois or I have to try to find a job in Virginia. And having visited her for three years and like, meeting her colleagues and seeing this gorgeous valley that we live in, yeah, you're not moving to Illinois. You work in a wonderful place and she had been here for two months when she calls me and goes, 'I think I can retire here.'
(breezejmu)