Norway has film festivals in fall or in winter as summer is used for outdoor activities. But in Taiwan people may go to the cinema on summer weekends at noon when they feel too hot outside. Taipei Film Festival, held annually since 1998, has become one of the most important film festivals in Asia. This year it starts on Thursday June 25 when people in Taiwan get four days off celebrating the Dragon Boat Festival and can enjoy seven Nordic films, including three Norwegian films in Taipei.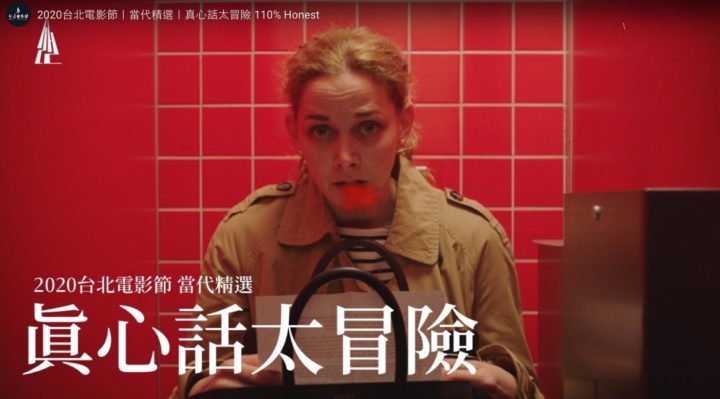 110% HONEST directed by Jannicke Systad Jacobsen will be screened at SPOT HUASHAN Cinema on Friday, June 26th.
– A satirical and thematically sensitive drama-comedy about a celebrated, Norwegian star athlete, who after a doping scandal has a whole nation turn against her. The publicly loved and qualified professional cyclist Kimberly choses, after a finished career, to reveal her previous use of doping. The revelation shocks the Norwegian sports world, and Kimberly is portrayed as a villain and loses both reputation and sponsors. What makes things worse is that Kimberly does not seem to show enough remorse. Jannicke Systad Jacobsen's dark comedy 110% Honest takes us behind the scenes of elite sports and highlights not least the obtuse relationship the public and the media have towards star athletes. (Introduction by the festival website https://www.taipeiff.taipei/filmCT.aspx?id=191)
BEWARE OF CHILDREN directed by journalist and dramatist Dag Johan Haugerud will be shown at Vie Show Hsinyi in the Taipei 101 area. It was shown at filmfestivals in Italy, Korea and Sweden. In Göteborg it was awarded Best Acting, Best Nordic Film.
– Beware of Children traces the dramatic aftermath of a tragic event in a middle-class suburb of Oslo. During a break at school, 13-year-old Lykke, the daughter of a prominent Labour Party member, seriously injures her classmate Jamie, the son of a high-profile right-wing politician.
When Jamie later dies in the hospital, contradicting versions of what actually happened risks making a difficult and traumatic situation worse. Was it only innocent play behind? Liv, the school headmistress and the secret lover of Jamie's father, must find the strength to confront a community in distress and her own highly conflicted emotions. (Introduction by the festival website https://www.taipeiff.taipei/filmCT.aspx?id=197).
Self Portrait.
SELF PORTRAIT is a new film this year, made by Margreth Olin, Katja Høgset and Espen Wallin. It got a lot of attention during the recordings as it is a reality movie about a young female suffering from severe anorexia. The film will be shown on Sunday noon June 28th at Spot Huashan in Taipei.
– 33-year-old Lene Marie Fossen suffers from severe anorexia. Since the age of ten she has been hiding from the Norwegian Health Care System. Then she taught herself the art of photography. During the last years, Lene Marie became recognised as a world-class photographer. She had a unique photo project, exposing the shame and confronting the disease. Her photo art is naked and honest.
In October 2019, Lene Marie died of anorexia. She watched the finished film before she passed away. Together with her parents, she decided that the film should be launched on schedule, as it was important for Lene Marie that her story could mean something to others. (Introduction by the festival website https://www.taipeiff.taipei/filmCT.aspx?id=207&fbclid=IwAR0AhmhmD8HYGXksQSL4mrVViNHRWhVcMTMy_vN3Rc-r2wSGs0STUM39ef0#)
Swedish film:
CHARTER . A film directed by Amanda Kernell. She was also the maker of the movie Sami Blood that was shown all over Taiwan at the European Film Festival last winter.
– When a panicked, late-night call from her young son, Vincent, is abruptly disconnected before she can ascertain what has gone wrong, Alice rushes north from her new home in Stockholm to check on the boy and his sister. She is distressed to realize, after months away, the extent to which her venomously bitter ex-husband has barred her (with the community's support) from their children's lives. Frantic and frustrated, Alice whisks the reluctant children away on an illicit trip to Tenerife, determined to reconnect with them and re-assert her role as mother and protector. (Introduction by Taipei Film Festival website https://www.taipeiff.taipei/filmCT.aspx?id=198).
Danish films:
UNCLE. Danish emerging director Frelle Petersen took home the Tokyo Grand Prix of the Tokyo International Film Festival with this film. Featuring an uncle and his niece who depend on each other, the story relates how a gently arising romance leads to contradictions between them, depicting the current situations of villages around the world, and the choice of leaving the homeland faced by the younger generation. (Introduction by Taipei Film Festival website https://www.taipeiff.taipei/filmCT.aspx?id=167)
A PERFECTLY NORMAL FAMILY directed by Malou Reymann.
– When Emma's father says that he wants to live the rest of his life as a woman, Emma is thrown completely off kilter. Thomas makes a rapid transition into Agnete: a woman in stylish dresses who suddenly has no more interest in football. Who is this new father? Can Emma even call Agnete that?
How will this sensitive girl deal with her confusion, sorrow and anger? Between intimate, tender and heart-rending moments, recognisable old home videos show the young family in seemingly simpler times. (Introduction by the festival website https://www.taipeiff.taipei/filmCT.aspx?id=196)
Icelandic film:
LAST AND FIRST MEN directed by Jóhann Jóhannsson
– What can we learn from the voice speaking to us from two billion years away? Last and First Men juxtaposes the science fiction story by Olaf Stapledon, a haunting musical score by the late composer and musician Jóhan Jóhannson and filmed images of futuristic, brutalist, otherworldly stone monuments erected during the communist era in the former Yugoslav republics, shot in 16mm black and white by Sturla Brandth Grøvlen.
Narrated by Tilda Swinton, the film beckons us into a world of surreal and phantasmagorical monuments where a future race of humans finds themselves on the verge of extinction. While the story of crumbling future civilisations is told, the spectral presence of an entity attempting to communicate with us emerges. ( Introduction by the festival website:https://www.taipeiff.taipei/filmCT.aspx?id=211)
TEFF (Taiwan European Film Festival) has been organized by European Economic and Trade Office yearly midwinter since 2005 with venues all around Taiwan, free entrance and Chinese and English subtitles available. Neither Iceland nor Norway are members of the European Union and therefore excluded from TEFF. But last TEFF showed the Swedish movie Sami Bood that was made in cooperation with Norway.
Norwegian film awarded in Taiwan.
In 2016 the Norwegian movie BROTHERS by Aslaug Holm was awarded around the globe included Taiwan. http://www.norwaynews.com/aslaug-holms-movie-brothers-awarded-around-the-globe/
Other Norwegian movies released in Taiwan: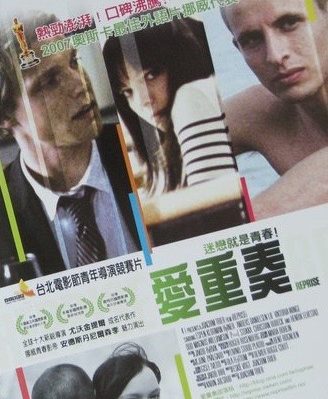 REPRISE is a Norwegian film from 2006, released in Taiwan on a film festival in 2007. It was directed by Joachim Trier who also directed the movie OSLO, 31. AUGUST released in Taiwan in 2013. It might be shown in Taipei again in August this year. REPRISE is about two competitive friends, fueled by literary aspirations and youthful exuberance, endure the pangs of love, depression and burgeoning careers. OSLO. 31. AUGUST is about one day of the young Anders´life. While recovering from drug addict he takes a short leave from the therapy center to interview for a job but catches up with old friends in Oslo.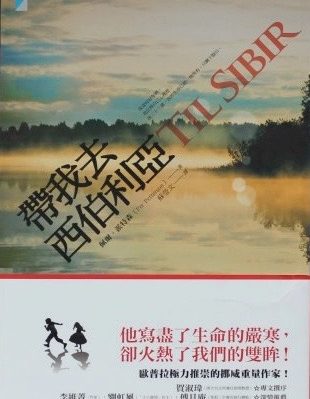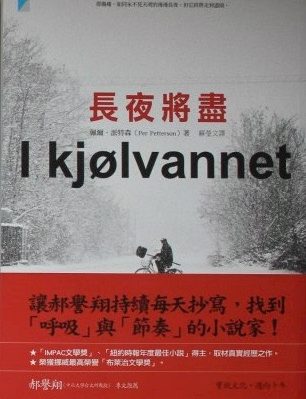 Per Petterson is a Norwegian novelist. 3 of his books are released in Chinese in Taiwan; To Siberia (Til Sibir 1996), In the Wake (I Kjølvanet 2000) and OUT STEALING HORSES (Ut og stjæle hester 2003), his breakthrough novel awarded with several literary prizes in Norway and abroad.
Large banner outside a cinema at Huashan Creative Park in December promoting Out Stealing Horses.
OUT STEALING HORSES, the movie based on the book with the same name, was released in Taiwan last Christmas. It is a 2019 drama film directed by Hans Petter Moland about a 67-year-old recalls the summer of 1948, the year he turned fifteen.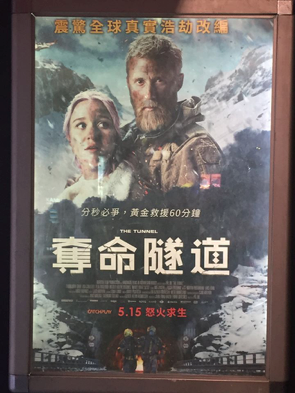 THE TUNNEL (photo to the right) directed by Pål Øye was released in Taiwan in May this year. The film is full of excitement and refers to several real tunnel fires in Norway.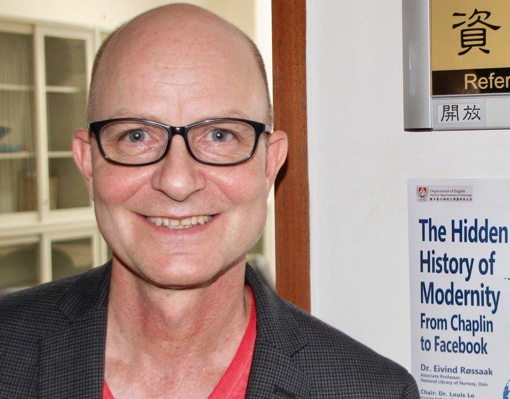 Dr. Eivind Røssaak (left photo) lives with his Taiwanese wife in Oslo where he is a lecturer in film and new media in the research department of the National Library. He has been a visiting professor at universities in Taiwan as well as universities in USA and Germany. As Nordic films are often shown in Taiwan, he could if invited hold interesting lecture on Scandinavian Film Style.