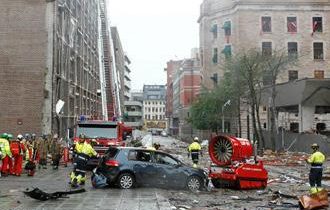 An Oslo court sentenced a Norwegian man to eight years in prison on Monday for fighting for Islamic militants in Syria, in the second case of its kind in the Nordic country. Ishaq Ahmed, 24, had pleaded not guilty to the charges and had said he travelled to Syria to do humanitarian work. He was arrested last year when he returned to Norway after being shot in the leg in Syria."The court finds it proven beyond any reasonable doubt that the defendant was an armed and active participant in armed forces belonging to both ISIL (Islamic State) and Jabhat al Nusra while he was in Syria," the Oslo District Court said.
Ahmed was convicted of "planning or preparing of a terror act" and obtaining a firearm while staying with militants in Syria, it said.
Ahmed's lawyer said he was considering an appeal. "My client disagrees and is disappointed by the verdict," Thomas Randby told Reuters.
In May, three men were sentenced to prison terms of up to four years and nine months in the first convictions under a new Norwegian law to crack down on militants returning from the conflicts in the Middle East..
Authorities in Norway, Sweden, Denmark and Finland estimate that hundreds of their citizens may have gone to Iraq or Syria to receive militant training. Western countries fear that radicalised fighters may come back to launch attacks at home.
Source: Reuters