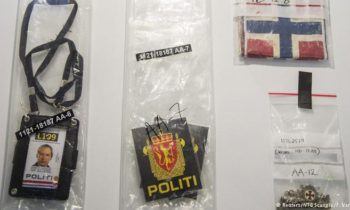 Norway's government has held a ceremony to mark the fourth anniversary of the worst terrorist attack in the country's recent history. A museum was also opened that displays items used by Breivik in the July 22 attacks.Some items used by Anders Behring Breivik to reap the deepest gash Norway has suffered in recent memory were put on display on Wednesday in the very building where the attack began, exactly four years ago.
The remains of the explosives-filled van Breivik detonated on July 22, 2011, are now on display in the July 22 Center – in the heart of the Regjeringskvartalet, Oslo's government quarter where Breivik's bomb killed eight people. The museum also displays faked identification documents he used to fool unsuspecting teens before his rampage later at Utoya Island resulted in the murder of 69 people.
"This will always be our darkest day," Prime Minister Erna Solberg said at Wednesday's ceremony, adding that Norway would always remember the 77 victims in the attacks "with love."
"It's the pictures that evoke the strongest emotions," Jens Stoltenberg, now NATO secretary general, was prime minister of Norway when the attacks happened, said referring to images of the victims hanging on the walls as part of the highly controversial exhibition at the July 22 Center.
Attorney John Elden, who represented 115 relatives and survivors present at Breivik's 2012 trial, rebuked the government ahead of the opening, saying that New York's Ground Zero Museum did not "go so far as to exhibit Bin Laden's possessions."
Solberg, however, said it was the "right thing to do" to show people exactly what happened four years ago, despite the "deeply painful" emotions that the items evoke.
"It's physical and concrete evidence that is extremely important for us," said exhibition curator Tor Einar Fagerland, who heads the history department at the Norwegian Institute of Science and Technology (NTNU).
Speaking to public broadcaster NOK, Fagerland said the exhibition "doesn't dramatize" what took place. "These items are on display to show how the attacks happened, and this is exactly what is important on the collective level with regard to how trauma is dealt with," said Fagerland, who also teaches classes in memory studies at NTNU.
"This exhibition is not at all about the perpetrator," Fagerland told DW via email.
That sentiment was shared by Unni Espeland Marcussen, who lost her daughter in the Utoya shooting.
"This is NOT a Breivik museum," she wrote on her Facebook page. "This is about learning about what happened and about the consequences of extremism, which we must always oppose!" Dozens of Facebook users commented on Marcussen's text with a simple heart, the symbol that is used by Norwegian society to remember the attacks.
The fundamental question
The question of how much of Breivik's life to put on display harkens back to debates that raged during his trial in 2012.
The Norwegian people were divided as to whether the testimony given by the mass murderer – Breivik had confessed to the killings in advance at preliminary hearings – should be broadcast on national television and abroad.
"There were those who even said Breivik should be banned from speaking, because he'd already promised to use the trial to spread his views," said Frithjof Jacobsen, chief political columnist at VG, one of Norway's leading daily newspapers.
"'Why should he be rewarded,' they asked, and quite rightfully so," Jacobsen said. "But then there were also many Norwegians who wanted to know exactly what happened – to hear this man's words with their own ears so they could judge for themselves whether or not he was insane."
Given that Breivik had already confessed, the only legal issue at hand was whether the defendant could be held accountable for his actions. The court eventually ruled he was sane, convicted him of 77 counts of murder and gave him a sentence that will likely amount to life in prison. But the more fundamental question as to whether his far-right views of what he saw as a "Muslim invasion" should be made public dealt with Breivik's legacy and the extent to which he could alter Norway.
"Had he been banned from speaking, this would have changed the way court proceedings happen in Norway," Jacobsen told DW. "Norwegians were ultimately unwilling to grant him that influence – regardless of how painful his words would be."
What to do with Breivik
The debate as to Breivik's presence in Norwegian cultural identity even extended to the government's Environment Ministry, which is technically also responsible for overseeing the nation's cultural preservation.
Ellen Oeseth, state secretary of the Environment Ministry, told DW there was "no way" to ignore that Breivik had become part of Norwegian history. How much his legacy will become part of Norwegian heritage remained unclear, she said.
"I wouldn't say that he's part of our culture, but he is part of our history," Oeseth said. "What happened four years ago is burned into Norway's modern history. And no matter what we do with the building where the bomb went off, it will always be part of our history. Even things that are not nice are part of our history."
(DW)