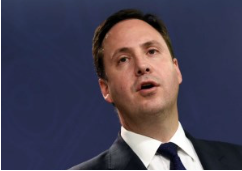 Australian Trade Minister Steven Ciobo will meet with World Trade Organization (WTO) Ministers in Olso, Norway this weekend to discuss a broad range of issues of importance to global trade.
Mr Ciobo said the meeting would provide an opportunity for Australia to discuss ways to reinvigorate WTO negotiations.
"Faced with rising protectionist sentiment around the globe, we need to strengthen the WTO and ensure a robust agenda for global trade negotiations that continues to drive growth and prosperity," Mr Ciobo said.
At the meeting the Ministers will set the agenda for the 11th WTO Ministerial Conference in Buenos Aires next year.
Mr Ciobo will also chair a ministerial meeting on the Trade in Services Agreement (TiSA).
"When concluded, TiSA will reduce red tape, boost business mobility and secure market access for Australian businesses," he said.
Australia-EU Free Trade Agreement
"I will also work with my counterparts toward the conclusion of negotiations for the Environmental Goods Agreement (EGA)."
When concluded, the EGA will reduce tariffs on goods that contribute to a cleaner environment and improve access to safe water, sanitation and electricity. Global trade in environmental goods is more than US$3 trillion and growing.
Mr Ciobo will also visit the Netherlands, Australia's second-largest merchandise export market in the European Union (EU) and an important source of investment.
He will seek support for the launch of negotiations for an Australia-EU Free Trade Agreement and to try to strengthen Australia's bilateral investment relationship with the Netherlands.