US Special Representative for Iran Brian Hook underlined a difference between the US and Europe in dealing with Iran. While he said that no government participating in the Warsaw conference has defended the Iranian regime, he affirmed his country's determination to tighten the grip on Tehran and its regional proxies.
Speaking to Media at the Middle East conference in Warsaw, Washington's special representative for Iran Brian Hook said there had been extensive discussion at the meeting of the war, which is now in its fifth year.
While Hook accused Tehran of being the biggest obstacle to peace in the Middle East, he urged the regime to play a positive role in the process that seeks to bring an end to the conflict in Yemen.
"This conference was a very useful opportunity for us to educate the world about the very dangerous role Iran has played and continues to play in Yemen," Hook said.
"We have a very good agreement that came out of Sweden, Stockholm, but we now need the will of Iran and Houthis to implement the agreement. That is the diplomatic role that we need to take and we very much urge Iran and the Houthis to take that role."
Hook said Iran had "organized, equipped and trained" the Houthi militia, which seized the capital Sanaa in 2014 to spark the conflict.
"Iran has intensified, prolonged and widened the conflict in Yemen," he said. "They have allowed this war to go well beyond the course it would otherwise take."
Hook accused the Western media of missing the story of Iran's involvement in Yemen. Weapons shipments from Iran have been intercepted heading to the Houthis on dhows and ballistic missiles fired at Saudi cities from Yemen have been supplied by Iran.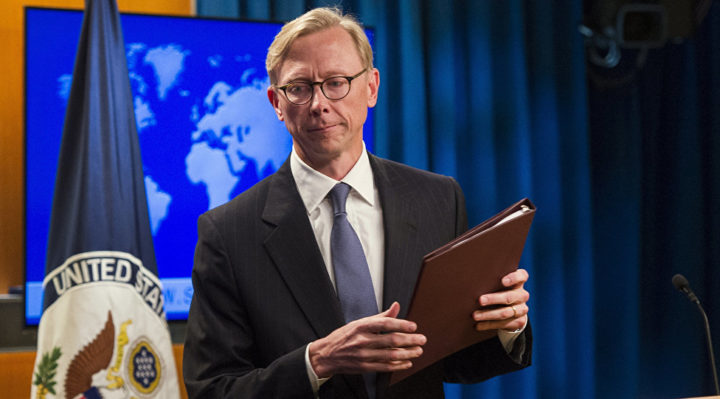 Below is a full rush transcript of a press conference by Brian H. Hook, Special Representative for Iran and Senior Policy Advisor at the Secretary of State.
Special Representative Brian Hook: Good morning from Warsaw. I thank everybody for joining the call.
Secretary Pompeo was very pleased with the Warsaw Ministerial in the last couple of days. It was an excellent forum for almost 70 countries from every region of the world to come together. We're all nations who are concerned about instability in the Middle East. They were able to share their assessments and security, and offer ideas on a better way forward. We had a very ambitious agenda, and we had sessions on regional crises, how we respond to those crises, missile development and proliferation, cyber attacks, terrorism, illicit finance. It was a very broad and ambitious agenda, but I think that very much reflects the administration's policy agenda in the Middle East.
We had a very high-level delegation from the United States which underscores the priority this administration is placing on our policy in the Middle East.
Secretary Pompeo said a number of times, but we recognize that every country attending is going to have different perspectives, and there will be times when their views conflict with our own. But we see this as essential to having a useful discussion, a useful debate. bringing together countries with some kind of interest in stability, stakeholders in the Middle East. The Middle East has a global impact, and I think that's why we wanted to have a global ministerial, to bring a lot of countries around the world together. And really, it was a great chance for us to think about some old and recurring problems in new ways.
We re building consensus so that we are stronger and more united in the actions that we are taking going forward, whether that is something which is done [with] United States policy but also sometimes through a group of like-minded countries or multilateral.
Question: With the Iran, Turkey and Russian presidents meeting on Syria as the ministerial was being held in Poland, what can the Americans and their Gulf allies realistically hope to achieve in reducing Iran's presence in Syria, Yemen, Lebanon, and the Middle East in general?
Special Representative Brian Hook: We did have an entire session at the Plenary dedicated to Syria. Secretary Pompeo led the discussion. We had a lot of key relations there, people who are very actively engaged in promoting an irreversible political process, and that included the Secretary's Special Representative for Syria James Jeffrey. We reiterated our policy of doing everything we can to diminish Iran's influence in Syria. It is very difficult to envision a peaceful and stable Syria with Iranian forces on the ground. I don't think , for the constructive role that Iran plays in Syria's future.
So we had a very long discussion about Syria. Very useful to hear the views of Arab Ministers from around the region. We also had Prime Minister Netanyahu there who spoke about what Israel is doing to prevent Iran from installing forward deployed missile bases.
What we notice is this pattern of behavior by the Iranian regime where they export missiles to other parts of the Middle East, and then either they or one of their militias fire those missiles onto countries that Iran has decided is an adversary. So whether it's missiles and rockets in Lebanon that fly into Israel or missiles and rockets in Syria that fly into Israel, or missiles and rockets that fly from Yemen with the Houthis into Saudi Arabia.
So it's the same kind of play book, and this is what in part this ministerial was designed to focus on, is to educate and to talk about the vast range of threats that Iran presents. I just described the missile aspect in Syria. It is the case that since 2013 Iran has spent $16 billion in Syria and in Iraq and in Yemen and no one is arguing that that is money well spent.
Question: U.S. ally Turkey did not participate in the meeting in Warsaw and has different opinions regarding Venezuela, Iran, and of course Syria. It's not aligning itself with the U.S. I would like to know how you evaluate Turkey's policies and what do you expect from Turkey?
Special Representative Brian Hook: Turkey was certainly invited to the meeting so you'll have to, I guess, direct your question Turkey as to why they decided not to attend. But we were very happy to invite Turkey.
The Secretary has very regular and frequent discussions at all levels with Turkey. James Jeffrey has been very involved in his role as the Special Envoy. So we have very regular dialogue with Turkey. That channel is wide open. And with respect to why they didn't attend, you'd have to ask Turkey.
Question: Prime Minister Netanyahu did an interview with Andrea Mitchell yesterday and said that in the Middle East Iran's aggressions have to be countered now. Do you believe that you are making headway with regard to the Europeans coming on board in terms of implementations of sanctions going forward?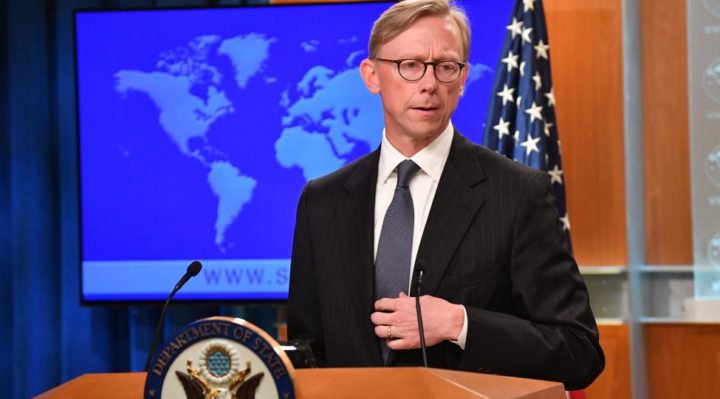 Special Representative Brian Hook: We have been very pleased with actions that Europe has taken on Iran, really at the time since the President has left the Iran deal. The President was out of the deal in May.
In June the Austrian, Belgian, French and German governments exposed the Iranian plot to bomb an opposition in Paris and they arrested several Iranian operatives. That same month the Netherlands expelled two Iranian diplomats in connection with the November 2017 assassination.
In July you had, Bavaria arrested an Iranian diplomat for his connection, his complicity with the bomb plots in Paris. September, French Foreign Minister Le Drian condemned Iran's attacks on U.S. diplomatic missions in Iraq. And then also the same month France announced that it had frozen the nomination of [their] ambassador to Tehran in relation to the Paris bomb plot. October, France froze the assets of and two agents in connection with the bomb plot. Belgium extradited an Iranian from Germany for his role in the Paris attacks.
October, Serbia revoked visa-free travel for Iranian citizens. In October, Denmark recalled its ambassador to Tehran and condemned an Iranian plot to assassinate members of a dissident group in Denmark.
In November the E3 sent a letter to the UN Security Council raising concerns about Iran's launching of short-range ballistic missiles on targets in Syria. In December France condemned Iran's medium range ballistic missile launch.
Then in December you have the E3 — Poland, Netherlands and the EU raised concerns regarding Iran's ballistic missile program at a meeting of the UN Security Council. I was at that meeting. Very pleased with the strong statements that those countries made about Iran's ballistic missile program in clear defiance of the UN Security Council.
In December, Albanian expelled Iran's ambassador and another Iranian diplomat for being involved in terrorist plots. In December the E3 sent a letter to the UN Security Council condemning Iran's testing of the medium range ballistic missiles.
In January, the European Union for the first time since adoption of the Iran nuclear deal imposed sanctions on Iran in connection with Iran's terrorism in both acts of terrorism and terrorist plots in Paris and in Denmark.
You had Germany in January announce that it is banning flights of Mahan Air. In January, you had German authorities arrest a German civilian who was working as a spy for Iran. In January you also had the Dutch, they announced for the first time that Iran was likely behind the murders of two Dutch citizens who were Iranian dissidents.
And that's just in the last seven or eight months. So I think we've seen, an answering your question about what kind of pressure have we seen Europe place on Iran, and I think that list underlines a lot of the work that the United States has been doing to build greater international unity to respond to Iran's acts of aggression and terrorism and the other threats to peace and security they present.
There is no question that we disagree with our European partners about the Iran nuclear deal, but when you look at the non-nuclear threats, the broad range of threats to peace and security that Iran presents, we share the same threat assessment with Europe and we've also seen Europe take a number of actions as all the initiatives that I've just described.
Question: Is the U.S. administration preparing countermeasures against INSTEX? And can you be specific?
Special Representative Brian Hook: This is a question I've received many times but I'm happy to answer it again. We don't see any corporate demand for a special purchase vehicle to evade American sanctions. I think any international corporation that has links to the U.S. financial system is always going to choose the American market over the Iranian market. I think we've made clear, everybody understands that we will sanction any sanctionable activity. I think that point has been made very clear. We've backed that up. Since that time our sanctions have been reimposed. Treasury has issued sanctions against individual and entities who have violated our sanctions. And we're doing that because we're committed to our campaign of maximum economic pressure on the regime. It's something which is a necessary thing to do if we want to deny the Iranian regime the revenue it needs to conduct its foreign policy, terrorism, and sort of its expansionist foreign policy that introduces a degree of sectarianism that would otherwise not be there.
Secretary Pompeo in May announced a new Iran strategy. We have made clear the kind of changes in behavior that we are expecting. Those 12 objectives reflect a global consensus prior to the Iran nuclear deal. If you look through that list it's not too much to ask.
I think Iran has been behaving like an outlaw regime for so many decades that we've become desensitized to their activities, and we shouldn't normalize Iran's foreign policy. We shouldn't accept it as just the natural order of things in the Middle East. And at this ministerial we were very pleased with the frustration that was expressed by so many countries from all over the world with Iran's foreign policy and its regional aggression and its missile program, its missile testing, its missile proliferation, down the line. So we're very pleased with the discussion we had here.
Question: President Trump last month appear to support President Erdogan of Turkey's plan to establish a safe zone in Syria in territory now controlled by the Syrian Kurds. Could you tell me, is the U.S. still backing that policy by Turkey? And more broadly, what stage of discussions are you at with Turkey about your withdrawal from Syria? can you tell me what steps you are taking to ensure that the weapons intelligence and expertise that you've supported the Kurds with over the past are not going to be transferred to the Syrian regime once you withdraw, given that the Kurds are in discussions with Damascus at the moment?
Special Representative Brian Hook: You've asked two very good questions. We were originally scheduled to have my colleague, Ambassador James Jeffrey, on this call. Because of logistical complications we had to move the call time. So I'm going to stay in my lane and not answer a question in his lane. But maybe there's a way that we can get your question to Ambassador Jeffrey and then we will have him follow up with you directly.
Question: Warsaw was the first international forum that includes Arab and Israeli leaders. Do you think it achieved any kind of progress and normalization between the two sides? And what kind of progress if any?
Special Representative Brian Hook: Yes, we did. We did see progress. Iran's foreign policy has done an excellent job of driving Arab states and Israel much closer together. And when you look at the most urgent and pressing threats to the Middle East, if you want to get serious about the future of peace and security in the Middle East with what you've seen at this ministerial, you have to increase our focus on the threats that Iran presents. We heard that from key Arab states and we heard it from Israel. And we also heard it from countries from every region of the world.
There is a growing international unity, especially among Arab states and Israel, to resist Iranian aggression. And to restore deterrence against Iran's expansionist foreign policy. Iran [turns] into a country, dissolves national identity, creates parallel systems of security and governance, and undermines regimes. We saw that first in Lebanon, and they have been trying to replicate that playbook around the Middle East to create a Shia corridor of power. You see that certainly in Bahrain. Iran has been undertaking efforts to overthrow the government in Bahrain since 1981. In 1979 with the Revolution, it introduced into the Middle East an entirely new dynamic. I don't think the Middle East has recovered from it ever since. There is a, at this conference you heard a deep frustration with that and a desire to resist Iran's hegemonic ambitions and to counter as best we can together Iran's violent foreign policy and its foreign policy of terrorism and creating a climate of fear.
We heard coming out of this Warsaw Ministerial a real desire to not make this a one-off. We heard this from Arab states and from Israel. That we hope that this can create a foundation for greater coordination and cooperation and certainly you would organize that around the most pressing threats. The most significant security threat we face in the Middle East today is the Iranian regime. And it's important to bring allies and friends together to talk about it and to deepen our cooperation. I think that's a very important outcome from this ministerial. We want to, and we will have follow-on meetings from this. We want to create a foundation that can focus in a very timely fashion on these threats that Iran presents. That foundation of working together can create opportunities that could open the doors to other areas of coordination and cooperation that on the whole will promote a more safe and secure and prosperous Middle East.
Special Representative Brian Hook: Other than to say our deep appreciation for all of the 65-70 countries that came to Warsaw here. I think as some people know, this is the 100th anniversary of diplomatic ties between the United States and Poland. Poland put on an exceptional ministerial. It was a terrific gathering of nations that came together. Secretary Pompeo is very grateful to Poland for everything that they've done, and we look forward to building on the work that started here in Warsaw, and we're very pleased with all of the outcomes of the ministerial.