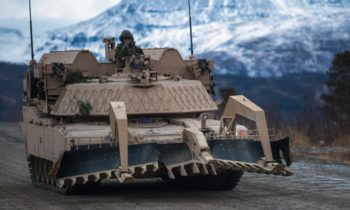 Nearly 300 Marines will begin operating this month in the Arctic as part of the Corps' push to establish a full-time presence in Norway, which hosts hundreds of U.S. tanks, artillery and enough firepower to move thousands more American infantrymen in case of a crisis, said the Marines' top commander in Europe.
"I call it the Marine Rotational Force Europe because I want it to go anywhere," said Marine Forces Europe boss Maj. Gen. Niel Nelson in an interview Friday at his Stuttgart headquarters.
The initial wave of troops will be arriving in Norway in the coming week, with the full 285-strong unit to be in place within two weeks. The rotations will last six months and build on a long-standing Marine partnership with the Norwegians. The Marines' decision to keep a force in Norway was both economic and strategic, Nelson said.
A steady presence, rather than flying back and forth for periodic training, adds efficiencies, he said. It also sends a signal of solidarity to NATO ally Norway and positions the Corps to better mobilize in an emergency, Nelson added.
In Norway, the Marines have long maintained large stockpiles of weaponry, which fill a network of caves with equipment to accommodate the roughly 14,000 troops in a full Marine Expeditionary Brigade.
"That (equipment) can go anywhere," Nelson said. "Any crisis in Europe, it will allow us to respond to that, down south, in the Mediterranean. There is an assurance to that."
The plan for a year-round presence of Marines in Norway has prompted an outcry from Moscow, which sees the initiative as a provocation. Since the Russian military's 2014 intervention in Ukraine, the U.S.-led NATO alliance has boosted its defenses along its borders with Russia.
Nelson, who assumed command in 2015, played down Russia's criticism, saying the Marines have been a factor in Norway for a generation.
"We have been there for 25 years," said Nelson, who joined the Corps in 1984. "We have been going to Norway for exercises every year since I have been a Marine."
The push into Norway is the latest in a series of efforts over the past seven years that has marked an upswing of Marine activity in Europe, which historically has been less of a focus for the Pacific-minded Corps.
Still, the Marines have carved out a niche in a region long dominated by a large Army presence. The Corps has focused on small-unit training, mobility and taking advantage of its airlift capabilities to quickly maneuver Marines around the Continent.
In 2010, the Marines set up the Black Sea Rotational Force, which bases hundreds of Marines in Romania to conduct missions across the region. A few years later came a Special Purpose Marine Air Ground Task Force out of Sigonella, Italy, and a crisis-response force out of Moron, Spain, which are heavily focused on Africa. The crisis responders were put in place in the wake of 2012 attacks in Benghazi, Libya, which resulted in the deaths of Ambassador Christopher Stevens and four other Americans.
On an average day, there are roughly 1,500 Marines operating around Europe, Nelson said.
Nelson, who also overseas Marine efforts in Africa, said the "new normal" is maintaining a state of vigilance to ensure U.S. embassies on the continent can quickly be secured if conditions deteriorate in a given country.
In the year ahead, Nelson's focus in Europe will be fine-tuning the new Norway operation.
When the first rotation arrives this month, the Marines will assemble at their Spartan camp in the coastal city of Vaernes. After getting acclimated, they will move into the Arctic for two months of cold-weather training in Porsangermoen, a zone on the periphery of Russia. Marines will train with United Kingdom and Norwegian forces, culminating with the Joint Viking Exercise. Then the Marines will circulate though the Baltics and Romania for more drills, Nelson said.
The primary focus is Norway, which will enable Marines to develop new skills for operating in the extreme cold, but the force also will play a role in other U.S. European Command efforts.
"In the six months they are there they will be very busy," Nelson said.
Come summer, another group of Marines will relieve the current cadre.
(stripes)