A Norwegian company developing the chemical recycling of waste tyres has chosen the UK port of Sunderland to construct its first facility.
Wastefront announced in the summer that it wanted to establish itself in the UK and has now identified the Port of Sunderland with construction set to begin next year and the plant being operational in the second half of 2022.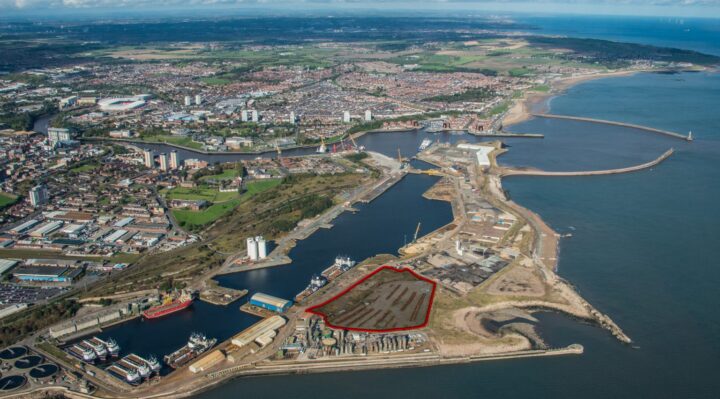 Using pyrolysis, the plant will convert locally-sourced end-of-life (ELT) tyres into liquid hydrocarbons and carbon black, which can then be reutilised in processes such as alternative fuel or ground rubber manufacturing. Construction is expected to generate around 100 jobs in the region and eventually employ up to 30 people full time.
Wastefront recently received funding from the Norwegian state-owned company and national development bank, Innovation Norway and it is supported by a government agency, the Research Council of Norway. The company will be raising investment from UK, Nordic and International investors in order to facilitate the construction of the plant. 
The plant will at full scale include 12 reactors to utilise pyrolysis to break down tyre materials at elevated temperatures. By sending tyres through pyrolytic reactors with a catalyst, Wastefront converts disused tyres into liquid hydrocarbons, carbon black and heat.
The full-scale plant will have a daily capacity to process 180 tonnes of ELT waste and to produce 60 tonnes of carbon black per day. In addition, the plant will be able to produce 90 tonnes of liquid hydrocarbons per day, which can be refined to produce ethane, propane, butane, diesel and gasoline.
The heat generated from Wastefront's processes will be repurposed locally within industry or can also be used to heat residential homes. Wastefront says it plant will be the first to combine conventional methods with the company's own proprietary technology and claims it will minimise the environmental impact typically associated with traditional tyre pyrolysis.
Wastefront's chief strategy officer and co-founder, Christian Hvamstad, is a former student in Sunderland and says the new plant comments marks 'a huge step' in the company's efforts to combat the global issue of ELT waste.
'Our ambition is to create a new circular economy for dealing with waste issues, and a crucial element of sustainable waste handling is to be able to do so locally. Wastefront's first plant in Sunderland will represent a valuable contribution to a cleaner future by dealing with a specific waste problem, where end-of-life tyres no longer end up in landfills in overseas countries but instead are converted into useful commodities that can be used within the region.'
Hvamstad adds: 'The UK is a global centre of industry which we want to be a part of, while Sunderland is the ideal location for our first plant due to geographical location, access to feedstock, strong local support and Sunderland's history as an industrial port.'