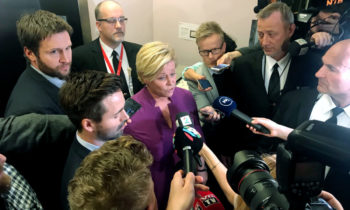 Norway is the best place to be a reporter, placing first for the second year in a row, while North Korea remains last, according to the Reporters Without Borders' 2018 World Press Freedom Indexreleased Wednesday.
The United States fell two notches to come in 45th in the report that tracks media freedom and harassment in 180 countries.
President Donald Trump has continually railed against the "fake news," calling journalists "enemy of the American people." But he is not alone in vilifying the media. Czech Republic President Milos Zeman has called journalists "hyenas," and President Rodrigo Duterte of the Philippines has said reporters "are not exempted from assassination."
"It means that we are not setting the example that we want to from home," and encourages other world leaders to shun or degrade reporters in their countries, said Margaux Ewen, North American executive director of Reporters Without Borders. "We need citizens to stand up for the rights of reporters because it protects their right to know."
Ewen's comments were part of a conversation held by The Washington Post and Reporters Without Borders on freedom of the press around the world. The event included a presentation of the index.
The index takes into account the number of reporters who were injured, killed and jailed for their work, along with looking at the broader media environment, including self-censorship, legislation and transparency.
For example, Cambodia has closed dozens of media outlets, Vietnam jails bloggers for up to 15 years for their reporting, and in Malta, an investigative reporter was killed in a car bombing. Syria still ranks the deadliest country for reporters because of the ongoing civil war, and it is where American journalist Austin Tice is still being held, Ewen said.
On the promising side, Ecuador, Gambia and South Korea experienced regime change over the past year, which has eased tensions between journalists and governments, she said.
Reporters Without Borders has published the index every year since 2002.
(pbs)