The U.S. placed sanctions on six current or former foreign government officials and various support networks in Europe, Asia and Latin America for alleged corruption, the Senior U.S. Government Officials said Monday.
The designations, which were imposed under the Global Magnitsky program, come as the U.S. ramps up the use of sanctions in an effort to combat global corruption and human rights abuse.
The Treasury designated a total of 17 individuals and 29 entities, including two Venezuelan government officials who were blacklisted for alleged involvement in corrupt dealings including the sale of passports.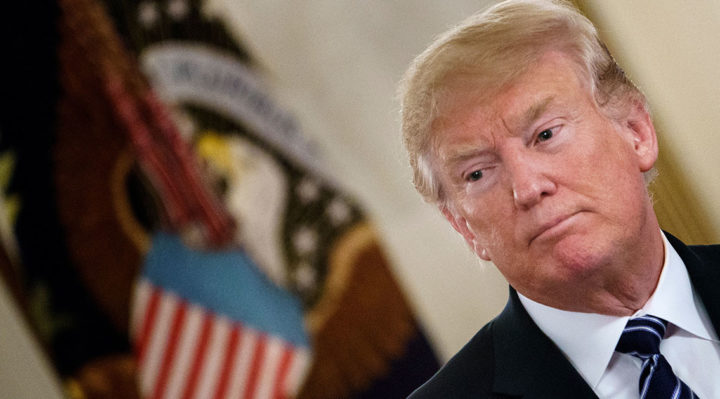 Below is a full rush transcript of the press conference with US Treasury Department, State Department, and NSC Officials on International Human Rights Day.
Senior Official #1: I'm from the Treasury Department, and I'd like to thank you for joining us today on International Human Rights Day.
There's a common misconception that serious human rights abuse is only prevalent in certain parts of the world. It is not. It is a global problem. Serious human rights abuse undermines the rule of law and leads to the death of innocent civilians, ethnic cleansing, refugee crises, sexual violence, political instability, the perpetuation of conflict, and deprivation of fundamental human rights.
The United States is the world leader in combating human rights abuse and human rights violence. As such, the United States is committed to upholding human rights for all people and will hold human rights abusers accountable wherever they are.
Today we are taking action against perpetrators and enablers of serious human rights abuse in Burma, Pakistan, Libya, Slovakia, South Sudan, and the Democratic Republic of Congo. Our action today focuses on those who have killed or ordered the killing of innocents, including journalists, opposition members, and human rights lawyers. Specifically, our targets include leaders of the Burmese military responsible for the murder of Rohingya villagers and other religious and ethnic minorities; a senior superintendent of police in Pakistan who repeatedly committed extrajudicial killings of civilians; a military commander who has ordered and carried out mass executions of unarmed detainees in Libya; a Slovakian businessman who murdered a journalist for exposing his corruption; five individuals responsible for the abduction and likely killing in South Sudan of two human rights activists in 2017; and members of the Allied Democratic Forces in the Democratic Republic of Congo, a group that uses rape, murder, and abduction of civilians as a weapon of war.
Treasury's actions are designed to impose significant and tangible consequences on those who engage in and profit from serious human rights abuse against innocent civilians, including journalists, unarmed detainees, noncombatants, and ethnic minorities. These actions encourage and support stability, the rule of law, and respect for human rights in the countries we will highlight today.
These designations taken today are pursuant to the Global Magnitsky Sanctions Program, which targets perpetrators of serious human rights abuse and corruption.
Between 2017 and 2019, Treasury has designated over 700 persons with a nexus to corruption or human rights abuse under a variety of sanctions programs, over 190 of which have been pursuant to our Global Magnitsky Sanctions authorities.
Now, let me talk in a few more – a little more detail about some of the actions we're taking today.
First, I'd like to focus on Burma, where we are targeting members of the Burmese military, which has committed widespread, systematic, and brutal acts of violence against ethnic minority groups across Burma, including Rohingya villagers and groups in the Kachin and Shan states. We are designating four Burmese military commanders for their roles in brutal military operations that include the rape, execution of, and systematic violence against civilians. The commanders include – the commanders designated today are Min Aung Hlaing, who is the commander-in-chief of the Burmese security forces; Soe Win, who is the deputy commander and chief of the Burmese security forces; Than Oo, who is the leader of the 99th LID, and Aung Aung, a leader of the 33rd LID – both of which were deployed to Rakhine state, where these divisions participated in brazen acts of human rights abuse, including the systematic rape of civilians.
Let me turn next to Pakistan, where Treasury is designating Rao Anwar Ahmed Khan, a senior superintendent of police in Pakistan. Anwar staged over 190 police encounters in the Malir district that led to the deaths of over 400 people, many of which were extrajudicial murders. Anwar was also in charge of a network of police and criminal thugs responsible for extortion, land grabbing, narcotics, and murder.
In Libya, Treasury is designating Mahmood al-Werfalli for ordering mass executions of unarmed detainees as commander of the Al-Saiqa Brigade, part of the Libyan National Army currently conducting an offensive on Tripoli. Since 2016, al-Werfalli has carried out or ordered the extrajudicial killings of 43 unarmed detainees in eight separate incidents. Many of these executions were filmed and published on social media.
Treasury is also designating a prominent Slovak businessman, Marian Kocner. Kocner threatened to kill a reporter, Jan Kuciak, who wrote more than a dozen articles exposing Kocner's scheme to defraud the Slovak people of millions of euros through fraudulent tax returns, as well as his corrupt dealings and connections with Slovak police and prosecutors. Kocner ultimately hired former Slovak intelligence service members to surveil Kuciak and hired a hitman that murdered the reporter and the reporter's fiancée, Martina Kusnirova. OFAC is not only designating Kocner for these actions but also is designating six entities owned or controlled by Kocner.
Turning to South Sudan, Treasury is designating five individuals responsible for the abduction and likely murder of two human rights activists in 2017. We continue to see the South Sudanese Government use extrajudicial killings as a means to silence dissent, limit freedom of press and speech, and enforce the political status quo.
Despite a UN-published panel of experts report detailing the allegations involving those designated today, we have not seen any indications that the South Sudanese Government intends to hold anyone accountable or take corrective measures. More broadly, we are concerned that the same environment of impunity extends to South Sudan's peace process. The South Sudanese leadership continue to drag their feet and extend the deadline for forming a national unity government all while the people of South Sudan suffer economic hardship and violence. The United States will work unilaterally and with international partners to hold all those responsible for human rights abuse and corruption accountable, as well as to take action against those impeding South Sudan's peace process.
Lastly, I'd like to turn to DRC, where Treasury is designating members of the Democratic Republic of Congo's Allied Democratic Forces, or ADF, which has repeatedly committed mass rape, killings, and abductions of civilians. The ADF was designated by OFAC and the United Nations in 2014 and has continued to perpetuate widespread violence and innumerable human rights abuse through 2019.
Today, OFAC is designating a leader of the ADF, Musa Baluku, for his command responsibility in these human rights abuses, as well as five ADF commanders who have materially assisted the ADF through recruitment, logistics, administration, financing, intelligence, and operations coordination.
In conclusion, today's actions by the U.S. Treasury Department expose those who perpetuate and profit from human rights abuse and cuts off their access to the U.S. financial system. The action today not only blocks all assets of these individuals and entities in U.S. jurisdiction, but prohibits U.S. persons from dealing with them.
With that, I'd like to turn it over to my colleague at the State Department.
Senior Official #2:  I'd like to point out that the actions the Treasury Department is taking today are being carried out in close coordination with the Department of State and reflect our foreign policy objectives in each of the countries mentioned, as well as globally.  
Our aim is always to identify human rights challenges and use American influence and power to move every nation towards better, more consistent human rights practices. And obviously a key component of that is promoting accountability, which we do – among other things – through the Global Magnitsky law.
In addition to the designations that were just mentioned by the Treasury Department, I want to mention two actions that the State Department is taking today in terms of visa denials. These are being taken under section 31(c) of the Department of State's Foreign Operations and Related Programs Appropriations Act of 2019.
That provision allows the Secretary of State to deny visas to individuals when the Secretary has credible information that a foreign government official has been involved in a gross violation of human rights or significant corruption. And that authority allows the Secretary to deny a visa not only to the perpetrator of the gross violation of human rights or act of corruption, but also to their immediate family members.
Today the Department of State is designating Mr. Mohammad al-Otaibi, a former counsel general of Saudi Arabia in Istanbul, Turkey, for his involvement in gross violations of human rights, specifically for his complicity in the murder of Jamal Khashoggi. This action today is another important step of ours in responding to Khashoggi's killing.
Secondly, we are also designating Mr. Aslan Iraskhanov, head of the ministry of interior affairs for the city of Grozny, in the Chechen Republic of the Russian Federation, for his involvement in gross violations of human rights. Specifically, in his prior position as head of the AA Kadyrov Police Unit, Mr. Iraskhanov was credibly alleged to be responsible for the summary execution of 27 men.
Senior Official #3: This is the National Security Council. Thank you, everyone, for joining us today for International Human Rights Day. The United States reiterates its commitment to the promotion and protection of human rights globally. All human beings are endowed with certain inalienable rights, and it is the duty of every government to protect these rights.
We acknowledge the truth that people around the world are empowered when human rights are protected by law. On December 10th, 1948, inspired by the U.S. Bill of Rights, the United Nations General Assembly adopted the Universal Declaration of Human Rights. Unfortunately, millions around the world still suffer from unjust imprisonment, religious persecution, and countless other human rights abuses.
The United States has long been at the forefront of addressing human rights. We will always stand up for individual freedom and against all forms of oppression. As part of this administration's efforts to protect human rights, in July, the State Department hosted the second Ministerial to Advance Religious Freedom. In September, President Trump was the first president to host a meeting at the United Nations General Assembly on religious freedom, calling on all nations to act to bring an end to religious persecution and stop crimes against people of faith.
In January 2019, President Trump signed into law the Elie Wiesel Genocide and Atrocities Prevention Act, continuing this administration's strong stance against the evils of mass atrocity and genocide.
In September 2019, President Trump launched the Atrocity Early Warning Task Force. This White House-led interagency task force leads the United States Government's efforts to prevent, mitigate, and respond to mass atrocities. As President Trump has said, "We will never, ever be silent in the face of evil again … And we pledge: Never again." Thank you.
Question: Can you detail U.S. Government efforts to prevent U.S. companies from unwittingly contributing to Chinese repression of the Muslim minority in Xinjiang? Do you feel European countries are doing enough to prevent this?
Senior Official #2: This is the State Department. Let me first note that several weeks ago the Department of Commerce here in the United States designated a number of entities who we deemed – the Commerce Department deemed complicit in the human rights abuses taking place in Xinjiang. And by designating those entities, we have signaled to American businesses, indeed to any business around the world, that doing business with such entities is problematic. The Secretary himself has previously indicated the reputational risk of being involved with Chinese businesses complicit in Xinjiang. And we continue to engage with American businesses in discussing with them what is going on in Xinjiang and encouraging them to take appropriate action so as not to contribute to the abuses taking place there.
Senior Official #1: I think that's great. From the Treasury Department perspective, we, of course, work with the State Department and with the Commerce and with the entire U.S. Government interagency on a whole-of-government approach to deal with the repression in Xinjiang.
Question: What do you think could be done in the case of South Sudan? Because to prosecute conflict in South Sudan many atrocities and human rights violations are committed. Do you think those individuals will be accountable for what they did?
Senior Official #1: Thank you for those questions. This is the official from the Treasury Department. As noted in the opening remarks, the U.S. Government is deeply concerned about the situation in South Sudan and is willing to use all tools at its disposal to call out, to highlight human rights abuse. In today's action, we've specifically highlighted an action involving the killing of two human rights activists in 2017. But the issues in South Sudan are of great concern to the U.S. Government, and we're looking at it from a very broad perspective.
The U.S. Government sanctions – the Treasury sanctions have power to block persons from the U.S. Government financial system, prohibit U.S. Government – the U.S. Government – U.S. persons from dealing with them, but they also play a role internationally in demonstrating to the world those individuals who engage in human rights, serious human rights abuse in South Sudan, and we would hope through a mixture of Treasury actions and diplomacy and outreach to highlight and get other governments to take similar action to impose the right amount of pressure on South Sudan. I don't know if my colleague at the State Department wants to add anything.
Senior Official #2: Yes. We've been very concerned about the human rights abuses taking place in South Sudan, that have taken place and continue to take place. We're also very concerned about the failure of the parties to finish the transition that they had previously agreed to. As you know, that transition was supposed to conclude on November the 12th and has now been extended. So leaders of those parties set that deadline, not the international community. Further extension of this deadline would be seen as a lack of political will and cause concern about the ability of the parties to implement the peace agreement.
I should say that the United States is prepared to consider all possible levers, including economic sanctions, visa restrictions, and additional UN sanctions, if necessary, to try to ensure that this transition agreement is carried out. We feel the people of South Sudan are on the edge of the abyss, and it is time for the elites to take responsibility and stop passing the buck. Thank you.
Question: Mr.Aivars Lembergs was designated on Magnitsky list as a corrupt oligarch who influences politicians. So I don't know if any of the agencies could give a little comment about that – that – yesterday's announcement of the Department of Treasury ?
Senior Official #1: This is the official from the Treasury Department. Yes, thank you for picking up on our action yesterday in which we highlighted on International Anticorruption Day a prominent Latvian oligarch, Lembergs, and designated several of his companies to impose pressure on him for the corruption that he is engaged in.
When we take an action like this, we strive to put as much information that we can make public into our press release. I would refer you to our press release from yesterday, which would be the most expansive amount of evidence or information that we could put in the public domain at this time, to explain our action.
Senior Official #1: I just want to thank everyone for listening to our remarks today and to note that, once again, that what a high priority exposing human rights abuse around the world remains for the U.S. Government.
Senior Official #2: We appreciate your interest in these issues, and we will continue to use the tools we described today to address human rights violations and abuses wherever they may occur.
Senior Official #3: This is the National Security Council, just to echo those two sentiments. Thank you to everybody for joining the call and taking the time to report on human rights issues. The administration remains dedicated to protecting human rights and holding violators accountable. Thank you very much.