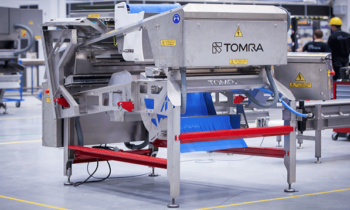 Recycling technology provider TOMRA celebrates its 45th anniversary. Since its launch on April 1, 1972, TOMRA has developed from a pioneer in automated recycling technology to a multi million Euro turnover company today offering a wide range of sensor based solutions.
Starting in a small shed in Asker, Norway, the brothers Petter and Tore Planke created a solution to a problem: a local grocer wanted an automated machine that could quickly and easily take back used, empty bottles for recycling, and so TOMRA was born. By the end of 1972, the company had installed 29 machines in Norway, and their successes quickly began to generate interest abroad.
During the first 30 years of its history, TOMRA focused on growing its reverse vending business in markets with deposit systems for beverage packaging. In the year 2000, the company began developing a more comprehensive business platform. Through a number of 'strategic' acquisitions during the past two decades, TOMRA has become a major provider of optical sorting technology for a broad range of materials.
In 2016, TOMRA noted record revenues of Euro 710 million. TOMRA's sensor-based solutions are used today in reverse vending, recycling, mining and food sorting. Recycling applications include numerous waste streams and metals in which optical sorters support plant operators with recovery and sorting of valuable secondary resources.
'Our growth is due in part to the growing understanding that the world needs to utilise its natural resources in a better way to ensure sustainability', comments TOMRA's ceo Stefan Ranstrand. 'We are proud of the success our company has achieved so far, and look forward to building on this in the years ahead as we continue to develop cutting-edge solutions for helping our customers meet their business needs and contribute to a better and more sustainable future.'
(recycling international)