After two years of stalling, it's time for the USA administration to get its own leadership in place at the U.S. government's global media complex.
After a few cliffhanging and nail-biting developments in late 2018, the Senate is positioned to move forward with the nomination for the top job at the U.S. Agency for Global Media.
The nomination of filmmaker Michael Pack to be the agency's chief executive officer was resubmitted last month to the Senate Foreign Relations Committee.
The job as CEO of the U.S. Agency for Global Media requires broadcasting experience, understanding of U.S. global media and their mission, and executive skills.
Pack has ample qualifications for the job. He is a former U.S. Information Agency Worldnet executive and a maker of documentary movies, broadcast primarily by PBS.
Pack was until recently president of the Claremont Institute, a leading public policy organization dedicated to the principles of the American founding. He would bring all those assets to the job.
The U.S. Agency for Global Media is the government's primary public diplomacy tool and is funded to the tune of $685 million by U.S. taxpayers. It dwarfs any other expenditure by the government on international outreach, including educational and cultural exchanges, embassy outreach, and American centers at foreign universities.
The sooner the Trump administration can get its own leadership in place, the sooner the U.S. Agency for Global Media can become the asset for U.S. global leadership that it was always intended to be.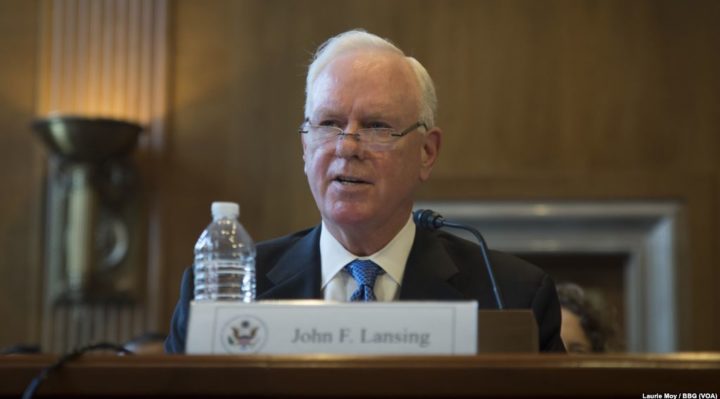 Below is a full rush transcript of a press conference by John F. Lansing, U.S. Agency for Global Media, CEO and Director.
Mr. Lansing: Thank all of you for your interest in our new initiative, VOA 365.
By way of background, I'm the Director and CEO of the U.S. Agency for Global Media, an independent federal agency supervising all U.S. government supported civilian international media. With the mission to inform, engage and connect people around the world in support of freedom and democracy our five networks — the Voice of America, Radio Free Europe, Radio Liberty, the Office of Cuba Broadcasting including radio and TV Marti, Radio Free Asia and the Middle East Broadcasting networks, Alhurra TV and Radio Sawa — all have a measured audience of 345 million people, unduplicated in more than 100 countries and in 60 languages.
A statutory U.S. firewall prohibits interference by any U.S. government official in the objective and independent reporting of news, thereby safeguarding the ability of our journalists to develop content that reflects the highest professional standards of journalism free of any political interference. And that's by statute.
Of our top priority markets around the world, none has more of our attention right now than Iran. Given the dynamic political situation, it's more important than ever that Iranian citizens get the facts about U.S. positions, responsible informed analysis and discussion about important developments bilaterally and regionally.
As you may know, USAGM has two networks that broadcast in Farsi "Voice of America and Radio Free Europe/Radio Liberty" with a measured weekly audience of over 23 percent that's roughly a quarter of all adults in Iran. So we're reaching 14 million Iranians across digital mobile TV and radio platforms.
Based on our most recent survey data, a strong majority of RFE/RL's Farda and VOA Persian audiences trust our programming. Over seven in ten say they find the content of Radio Farda and Voice of America Persian trustworthy.
Our skyrocketing audience in Iran is aided by our internet freedom tools which allow citizens there to circumvent Iranian government censorship. For example, our coverage during the wave of protests that rippled through Iran in late 2017, early 2018 was in such high demand that USAGM sponsored circumvention technology averaged 800,000 users per day and ranked in the top three downloads among all apps.
Our coverage of President Trump's announcement of the U.S. withdrawal from the Iran deal also saw enormous engagement across all platforms.
VOA reached Persians in Iran and around the globe with a live special report on satellite TV channels, simulcast on four digital platforms. This included simultaneous translation in Farsi of the announcement and live reactions from Diaspora representatives in Los Angeles and Paris.
In fact, VOA's Persian service piloting of simultaneous interpretation of live political events including hearings on Capital Hill, White House press conferences and other major political events to give the Iranian people unfiltered access to American democracy in action. It's unique and something we're very proud to deliver.
On social media, videos of President Trump's remarks translated into Persian were viewed more than two million times. More broadly, we're looking at all major and emerging platforms as part of a distribution strategy. Last year content from VOA generated over 40 million engagements on Instagram. That's a 74 percent increase from the previous year. Instagram also produced almost 140 million video views for VOA — a 228 percent increase.
Now while we're pleased with the numbers we've seen and we're actively looking for ways to sharpen the impact of VOA Persian, and RFE/RL's Radio Farda. Further, the administration has placed high emphasis on confronting the disinformation efforts of the Iranian regime and enhancing U.S. efforts to speak directly to the Iranian people and the global Persian Diaspora during a pivotal time in U.S.-Iranian relations.
So our new initiative called VOA 365 is a 24×7 Persian language global network. It will build upon the successful model set by our 24×7 Russian language global network called Current Time. That's a collaborative project between RFE/RL and VOA as will this new network VOA 365.
We want to meet the market demand among Persian language audiences for multi-faceted and dynamic programming. The network will be distributed in Iran and importantly, everywhere around the world wherever large Persian Diaspora audiences can be found — from Paris to Dubai to beyond.
The new network produces high quality news, debate, magazine content and breaking coverage and cultural programming, all delivered in a clear, contemporary and compelling style. Specifically the four pillars of the content for the network are first, news and information produced in a high-quality contemporary style. Second, long form talk debate magazine programming. Third, high quality acquired and commissioned programs on culture and science. And fourth, an immediate and robust breaking news coverage of events in the U.S.
Now that's a huge differentiator among other broadcasters.
The network will take advantage of all platforms available satellite, digital, mobile and the promising option of OTT, over the top, and video on demand. Audiences in Iran and elsewhere see USAGM programming as a key source of objective news during moments of uncertainty as well as in their everyday lives. With this new global network VOA 365 we continue our commitment to bring unbiased, accurate and comprehensive news and information to the people of Iran and Iranians and Farsi speakers around the world.
We continue to make great strides to improve the delivery and content of our programming to Persian-speaking audiences in Iran and to the worldwide Diaspora.
Question: Could you please tell us more about the public roll-out events?
Mr. Lansing: We are planning, a first event will be on Capital Hill next week. We'll be in the Rayburn House Office Building and we'll be announcing to staffers and members alike the creation and launch of the new network. And then later on in March and into April we're planning events in New York, Washington, DC and Los Angeles to inform the Diaspora and other interested leaders in the DC area not on Capitol Hill, and we would welcome the participation of the Washington Post at any and all of those.
Question: Nadarajah Sethurupan ask about journalists' safety and how does the U.S. promote journalists' safety around the world when there are many places in the world that are promoting state terrorism against journalists including in Iran and Russia ?
Mr. Lansing: That's a very important question. I'm glad it was raised.
Journalist safety is the top priority of our agency. Of course we have experienced some tragedy through the years including last year we lost three journalists from Radio Free Europe/Radio Liberty at the bombing in Kabul. So we take seriously the journalists who work for us and their safety every day. That includes stringers and anybody associated with any of our five networks around the world.
We're also in the process of developing a new USAGM Foundation that will allow us to raise money, to have funds available for the families of fallen journalists, and we hope to, that's actually new, and we'll be announcing that at our upcoming board meeting next week.
Question: If you could give us some more information about how this new Network VOA 365 is different from other networks that you may have had. What makes it sort of new and exciting?
Mr. Lansing: As I said in my opening remarks, it's patterned along the same model as Current Time, our Russian language network, and generally the strategy of the shift away from strictly targeting geographic areas into targeting languages around the world. So in the past, for example, our Russian language content at VOA and RFE/RL was distributed within Russia for Russians which is fine. But the new network, Current time, as will be the case with VOA 365, we're expanding now to a language-based strategy. So our target is not just Iranians within Iran, of which we are reaching 25 percent, but the large Diasporas of Farsi-speaking people around the world. Our thinking is that if we can reach Farsi speakers in key areas around the world, then their use, their personal use of social media will act as a force multiplier for our content as they share it both between themselves and back into Iran itself.
Question: Is there any chance you can get into ? Iran, what kind of programs they really want to know in terms of themes, subjects, issues they want to have linked with VOA 365?
Mr. Lansing: Thank you. We do have some recent research out of Iran and have been able to stylize our content strategy based on what we're learning from audiences within Iran.
Number one is, a fair and journalistically honest report on issues important to Iranians that are happening in the United States and in the government of the United States. And also coverage within Iran of stories that otherwise aren't being covered by state media.
I think back to the protests that erupted at the beginning of 2018. Much of that coverage was not seen around rural Iran, and we were able to provide coverage of that [inaudible] and Radio Farda.
Those are two news pillars. And then beyond that cultural news, science, entrepreneurialism, business, different subjects that carry the dimensions of this network beyond being just a news network.
Question: I used to follow the BBG when I was based in Washington, DC, now I'm back in Russia, and I'm afraid that I'm out of the loop a little bit. I was not even aware of the name change for the BBG. Could you give me an overview about how this actually works. For instance, in the old days the administration was giving guidance to the BBG I think through the Secretary of State , Under Secretary for Public Diplomacy and the board. So how does it work now? The political guidance.
Mr. Lansing: Thank you, Andrei. We still have a board of directors and there's a representative on the board of directors that represents the Under Secretary for Public Diplomacy.
The important thing to understand, though, is that by law and by statute our content, our journalism is protected as independent from any government interference. And the Secretary of State and the Under Secretary of State for Public Diplomacy both agree with that, understand it, and support that. So that hasn't changed.
The name was changed because we felt like BBG just didn't say what it was we did. It didn't articulate our mission. We wanted to have a name that not just articulated our mission, but also represented our commitment to move beyond radio and TV to be on every platform possible to reach audiences.
In terms of our Russian audience, Current Time plus VOA Russian plus RFE collectively now reach about 7.5 percent of Russians on a weekly basis. Increasingly we're seeing the fastest and greatest growth on social media networks inside Russia. Videos on social media from Current Time are very much the fastest growth category for us in Russia. And then as I said earlier, Current Time now is targeting Russian speakers everywhere. So we are distributed in Jerusalem, and we're distributed in Madrid and anywhere outside of the U.S. where there's a large Russian language Diaspora, we're also distributing Current Time.
Question: So at the moment we can see some cooperation between Radio Farda and VOA Farsi. For example we can see the [logos] of both channels on the screen. Is the next phase going to be a complete merger between the two entities? And is there any expansion plan in terms of resources and number of journalists?
Mr. Lansing: The answer to your first question is no, we're not planning a complete merger of VOA and RFE/RL. They really have distinctive missions. VOA's mission is to tell America's story to the world, and in this case America's story to Iranians, Persian-speaker. And it's really the role of RFE/RL to act as surrogate journalists within Iran to cover stories that state media would choose not to have covered.
So the combination of RFE/RL and VOA allows us to blend those two missions into one 24×7 global network, and that's really the full breadth of that strategy.
Yes, we were able to, in terms of resources we were able to garner more support from Capital Hill for the launch of this new network, and that has allowed us to hire more journalists and to put more time, energy and money into the production quality of our television content. Studio sets, graphics, music, etcetera.
Question: I have a follow-on question regarding the reach in the audience. 25 million Iranians listening to radio programs and podcasts every month. Are these separate individuals, or is this the total of the number of people listening where there might be of course a repetitive listener?
Mr. Lansing: It's unduplicated individual listeners on a weekly basis.
Mr. Lansing: I would just like to thank you and thank those that participated. We really appreciate your interest.
But this launch of a 24×7 global network for Iranian speakers not only follows in the path of a successful launch of Current Time for Russian speakers, but it paints the path forward for how we look to grow in the future by growing in global languages and global networks around the world. So keep an eye out for further stories coming out of USAGM and once again, thank you very much.