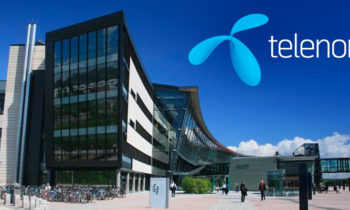 Norway's Telenor Group has reported year-on-year organic revenue growth of 1.1% for the twelve months ended 31 December 2016, with revenues standing at NOK131.427 billion (USD15.7 billion). According to the company's financial filing lower handset sales of NOK1.5 billion across the group were more than offset by increased subscriber numbers and higher traffic revenues in what it referred to as 'emerging Asian markets'. Meanwhile, foreign exchange movements were said to have impacted revenues positively to the tune of NOK1.3 billion.
In FY 2016 Telenor recorded 5% y-o-y growth in EBITDA, which rose to NOK46.483 billion, with NOK400 million of the NOK2.3 billion increase attributed to positive currency effects; the main contributors to the organic EBITDA growth were the group's units in Myanmar, Bangladesh and India. Meanwhile, Telenor's reported net income for 2016 was NOK2.832 billion (FY 2015: 3.414 billion), though adjusted for VimpelCom, impairment losses, other items and currency loss on the repayment of an internal loan, the figure was NOK14.3 billion.
Telenor's capital expenditures in 2016 totalled NOK26 billion, up NOK1.1 billion from a year earlier, with lower spending in the group's broadcast business more than offset by the acquisition of a new spectrum licence in Pakistan and higher investments in Norway, Bangladesh and Sweden.
Looking to the year ahead, Telenor has said that it expects organic revenue growth of between 1% to 2% in 2017, while the group's EBITDA margin is forecast to be around 36%. CAPEX to sales ratio excluding licences is expected to be 15%-16% in FY 2017.
At the end of December 2016 Telenor Group's consolidated mobile subscriber base numbered 213.876 million, up from 202.606 million a year earlier. Notable gains were made in Bangladesh and Myanmar particularly, with the group's units there adding 4.87 million and 4.57 million customers, respectively.
(telegeography)