Serbia maintains good, stable relations with Norway, Serbian Deputy PM and Serbian FM Ivica Dacic said Tuesday, noting Norway was an important partner of Serbia and that bilateral economic cooperation should be boosted.
Speaking at a press conference after meeting with Norwegian FM Borge Brende, Serbian FM Dacic announced he would pay an official visit to Norway in April to discuss further strengthening of cooperation with the friendly country.
Foreign ministers of Serbia and Norway are to look into greater investment in Serbia, visiting Norway's foreign minister Borge Brende said here Tuesday.
At a joint press conference after his meeting with Norwegian Foreign Minister Borge Brende in Belgrade, Dacic announced he would travel to Norway in April, where he would discuss "further strengthening of cooperation with this friendly country."
Dacic said Prime Minister Aleksandar Vucic and he informed their guest about the strategic goal of Serbia – membership in the EU – as well as the desire for Serbia to be "an exporter of stability in the region, while open issues should be solved through dialogue, without any unilateral moves."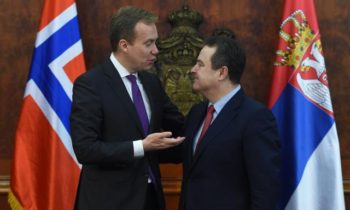 Norway, said Dacic, is an important partner of Serbia, while Norway, according to its officials, sees Serbia as its "partner plus" in the region.
Serbia will support Norway's desire to become a non-permanent member of the UN Security Council, he said, noting that regardless of the fact this issue will be on the agenda in 2020, "Serbia mist think long term."
Noting that Norway is one of the largest bilateral donors to Serbia, Dacic said that this country has in the past 15 years supported Serbia with more than 250 million euros worth of various humanitarian and development projects, reforms in various sectors, and helped repair the damage caused by the 2014 floods, and with the migrant crisis.
Dacic said that the volume of trade with Norway is low compared to the opportunities and amounted to "50, 60 million euros" last year – "but can be much better."
There are various areas for Norwegian investments in Serbia, Dacic said, adding, "we are interested in Norway's experience."
Brende told reporters that his country has "a strong partnership" with Serbia, supports its path towards the EU, and wants Serbia wants to be an exporter of stability in the region, given the "fragility and sensitivity," especially when it comes to Bosnia-Herzegovina.
"A responsible leadership in Serbia is important in this sense," said the Norwegian minister.
According to him, recent years have seen more and more investment from Norway, while the intention is to increase this further. Further strengthening of cooperation and increasing investments by Norwegian companies in Serbia will be discussed during Dacic's visit, he said.
Noting that he visited Serbia for the first time during the floods, Brende said his country is "a friend of Serbia who has helped it."