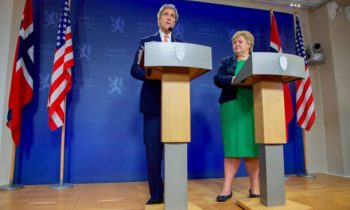 PRIME MINISTER SOLBERG: Good afternoon. I am very pleased to welcome Secretary of State John Kerry to Oslo. We last met in Washington, D.C. in May during the U.S.-Nordic Leaders' Summit. Secretary Kerry's visit here today serves to further underscore the close bilateral cooperation between the U.S. and Norway. We are close allies in NATO, we have a close bilateral defense cooperation, and we cooperate on a wide range of global issues where we share the same goals.
Norway and the U.S. are allies and partners in the fight against violent extremism and terrorism. And let me use this opportunity to express my deep condolences after the horrific attack in Florida last Sunday. Our thoughts are with the families of the victims and on the American people.
I am pleased that Secretary Kerry will visit Svalbard during his stay in Norway. (Inaudible) It will be an excellent opportunity to discuss the Arctic and to get the firsthand impression of the effects of global warming. We have just concluded a productive discussion on a broad range of foreign security policy issues. The security challenges we face and the way ahead were at the top of the agenda. So we discussed the developments in Russia, Ukraine, the Middle East, North Africa, and of course, at length also the situation in Syria.
We also had a useful exchange of views on the upcoming NATO Summit in Warsaw. We, from Norway's side, believe that maritime security should be an important priority for NATO. Transatlantic unity will remain a key to successfully address these challenges. Europe must take a larger share of the burden. Norway takes its responsibilities seriously. Our defense budgets have and will continue to increase substantially.
We will continue our substantial contribution to the national efforts to fight ISIL, and we believe that there is a wide range of tools that are necessary in this fight – both economically and humanitarian, and political and military. The training of the Iraqi Security Forces and local Syrian groups by anti-ISIL coalition is an important part of this effort. We take part in the coalition's efforts to stabilize areas liberated from ISIL and will contribute to stabilization and determining efforts in both Syria and Iraq in 2016.
So I would like to express my sincere appreciation to Secretary Kerry for his tireless work and dedication on international security, on climate change issues, and on ocean stewardship. I am impressed by your tempo and your traveling and your activities in working to, in fact, make the world – this world – a little bit better place to live in for all the people. And I look forward to our continued close cooperation as we move forward. Thank you.
SECRETARY KERRY: Well, Madam Prime Minister, thank you very much. Thank you, first of all, for a wonderful welcome. Thank you for a great lunch. Thank you for your expression of condolences with respect to Orlando. We are very much appreciative and we know that Norway knows only too well the price of this kind of event, so we're very grateful to you for your expression of solidarity for the citizens of the United States. And I know my fellow Americans and President Obama appreciate that expression.
We were delighted to welcome you recently to Washington with the other Nordic leaders. It was an excellent meeting and, frankly, gave us a great opportunity to talk about many of the issues that we were able to revisit here today. I'm also, on a personal level, happy to be back in Oslo where I spent some time as a young kid when my dad was in the Foreign Service, so it's nice for me to have a chance to revisit.
My staff recently reminded me that today, Wednesday, is actually named for the Norse god Odin, just as Thursday is named for Thor. So I want you to know that Odin traveled with a flying eight-legged horse, a couple of wolves and ravens, and a spear that simply couldn't miss. I, on the other hand, am here with Ambassador Sam Heins alone, but I'll tell you I wouldn't trade with Odin for anything. So – and by the way, Sam Heins, no relation, I want you to know. (Laughter.)
I thank Ambassador Heins for his efforts. I really thank the prime minister and my dear friend Borge, who is sitting over here. Borge Brende, the foreign minister of Norway, is a great counterpart, a great colleague, and a good friend after the years we've been working together. And I thank Norway for all that Norway and Norwegians have done to help cement an extraordinary partnership with the United States and to help contribute to the peace and the security of the world. We are all indebted.
The truth is we are very, very grateful of Norway as a NATO ally, and I thanked the prime minister at lunch for the important work that NATO has done with respect to the Northern Flank, shoring up our efforts, reassuring partners that NATO is strong, and that we will confront challenges in the Euro-Atlantic region and across the globe together.
I want to thank Norway also for more than that. Norway provides training to the Afghan police forces every single day. Norway has put more than $1 billion pledged in aid to Syria and to its neighbors over the next four years, and our Norwegian friends are always the first in line when urgent action is required to help people in need. In addition, through the Norwegian Defense International Center, Norway provides its international partners with training for complex, multilateral police operations, including those conducted by the United Nations. And so the United States really welcomes Norway's invitation to extend that training to U.S. military officers. And we look forward to working with the center to develop exactly such a program.
President Obama and I have also valued Norway's partnership in helping to rid a war-torn country of Colombia of land mines. And Borge and I have the privilege of chairing the committee that will work to do exactly that. Last month in Washington we agreed to broaden our nations' efforts by joining with other Nordic leaders in order to address this enormous humanitarian challenge on a global basis. There are young kids who wander into fields or play somewhere in various countries in the world, who die, who are blown up because of unexploded ordnance or mines that are left in place because of conflict. This work is critical, and our partnership with respect to it could not come at a more important time.
As evidence of our shared commitment, the United States and Norway are today announcing an initiative that will take us closer to the broad regional partnership that was envisioned at the Leaders' Summit. And I am pleased to announce today the United States intends to provide an additional 10.8 million this year to clear mines from territory in Iraq that has been liberated by terrorist occupation[1]. And as the prime minister mentioned, Norway in turn is providing an additional 9.8 million for de-mining projects with a particular focus on Iraq and Sfor yria.
I would just mention to people, to underscore the importance of this, just yesterday I was reading some reports coming from Ramadi, which was liberated, where, while thousands of people have been able to return, a hundred people lost their lives when they opened their closet door or opened drawers or opened a refrigerator. And our effort is an effort to try to eliminate that potential and eliminate that fear.
Cooperation between the United States and Norway, obviously, we feel, serves our best interests. But we are also convinced that it helps provide a service to people in many other parts of the world who are in great need. For example, we are both steadfast in our commitment to do something about climate change.
Just yesterday, Norway's parliament agreed to the ratification of the Paris Agreement. And we are deeply grateful for Norway's leadership on this. As President Obama has said, the United States will join soon, this year, and together we're going to work to bring this agreement into force as quickly as possible. And neither of our countries are going to wait around for that to happen. We're pursuing ambitious climate action right now. And later today, I will join Minister Helgesen to sign a joint statement that outlines the deeper collaboration between the United States and Norway on climate change, and specifically on deforestation.
Tomorrow I will have the privilege of joining Foreign Minister Brende when we will go to Svalbard, where we will highlight our partnership through the Arctic Council, which we work very closely on. We're going to see firsthand the impacts of climate change on our Arctic, and we're going to learn more about the remarkable work that our scientists are doing to help the world understand how these changes in polar regions are going to affect every single one of us.
So this September I also look forward to welcoming Foreign Minister Brende, who was one of the first to step up to be willing to lead a Norwegian delegation and to become what we call an ocean champion, as he will come to the third ocean conference we will have in Washington on September 15th and 16th. The foreign minister and I have long shared a deep interest in protecting the oceans. Why? Among other things, the oceans provide 50 percent of the oxygen that we breathe, they are critical to the supply of our food – literally a third of our fisheries are overfished, and fully two-thirds of them are at maximum. So the challenge as the population grows will be to maintain the oceans as sustainable. And with climate, with increased acidification, with increased amounts of pollution going into the oceans, again, life itself on the planet is threatened.
So Foreign Minister Brende will come and he is determined to ensure that the conference results in specific action. And we will also deal with illegal, unreported, unregulated fishing, in which some people go out and fish using practices that have been banned – literally strip-mine the ocean, discard a third to two-thirds of the catch, and leave no accountability for what is left behind. So I'm proud to say that at the first conference and with a large pledge by Norway, $4 billion was put forward towards ocean conservation and committed to safeguard almost 6 million square kilometers of our oceans as marine sanctuaries. We hope to increase that this September, and we're hoping the conference will lead to even more people joining in in dealing with this problem of multi-billion-dollar illegal fishing.
So on behalf of President Obama, let me again thank the prime minister and all of our Norwegian hosts, not just for welcoming me here for a visit, but more importantly, for what they do for everybody else in the world. We're very, very grateful. Thank you.
MODERATOR: Thank you. Thank you very much. And now we have time for two short questions. First, (inaudible), Norwegian TV.
QUESTION: Hi. Since you didn't have time to answer one of my questions earlier today, I'm going to ask you two quick questions right now, if that's okay.
SECRETARY KERRY: Okay, all right. I told you I'd be here.
QUESTION: First of all – (laughter) – are you happy with Norway's current defense budget, considering NATO's 2 percent goal?
And the second, are you concerned about the safety situation in the world if Donald Trump becomes president?
SECRETARY KERRY: Well, let me give – first – the first question: We're extremely happy with what Norway is doing. Norway is a huge contributor to the NATO effort in many different ways, and NATO – and Norway is increasing, and we know that they're doing so at a time when there are difficult budget constraints – lots of you have faced that. What's important is they're committed, they're moving in the direction, and so the bottom line is yes, President Obama and I and the Administration are extremely, extremely pleased with Norway's contribution to this alliance.
With respect to Mr. Trump and the election, I am not allowed by our laws to get in the middle of the race, and so I can't answer that question directly.
QUESTION: But you're in Norway now, so —
SECRETARY KERRY: Yeah, well, I'm in Norway now, but I think there's a little thing called TV over here. (Laughter.) But I give you great, great high grades for trying.
Let me – I will say this, though: What candidates say in an election is critical – any candidates, on either side, or from wherever they come politically and ideologically. And nothing is more important to the world right now than American leadership. So I believe that the people of America need to weigh and will weigh very carefully who is going to keep our country safe, who is going to keep us on a direction of building relationships – not breaking them – and who is going to be able to connect to the values and the hopes and the aspirations of people around the world. Americans, I've learned personally, are pretty darn good at making those judgments, and I'm confident in the American people. So they will decide in November, and you will have a lot of opportunity to hear and see the candidates debating, and making up their minds.
So I'll let it rest at that.
MODERATOR: Yes. Matt Lee, AP.
QUESTION: Hi. Mr. Secretary, I'd like to ask you about your meeting with Foreign Minister Zarif this morning. Just this week, both he and the supreme leader again complained about the pace and scope of sanctions relief that they're getting and accused the United States of not following through on its commitments under the JCPOA. So I'd like to ask you, one, are you as a result of the meeting this morning prepared to further clarify or ease some sanctions to respond to those complaints?
And then secondly, in your comments at the Oslo Forum just now, you mentioned that you're – and based on your conversation with the foreign minister, you thought that there was a possible way forward in Syria that would give the cessation of hostilities and a political transition a prayer. And I'm just wondering if you can elaborate a bit on it.
SECRETARY KERRY: Well, let me – with respect to the JCPOA, the United States of America has done absolutely everything that we were and are required to do according to the letter of the agreement. We have lifted the sanctions we said we would lift, and we have completely kept faith with both the black-and-white print as well as the spirit of this effort. In fact, I have personally gone beyond the absolute requirements of lifting the sanctions to personally engage with banks and businesses and others who have a natural reluctance after several years of sanctions to move without fully understanding what they are allowed to do and what they aren't allowed.
And so a lot of clarification has been necessary, more so than I think any of us imagined when we made the agreement. I think it is a matter of good faith in order to make sure that Iran gets the benefits that Iran is entitled for having joined in this agreement and taken major steps to denuclearize – steps of undoing their centrifuges, destroying their calandria core of the plutonium reactor, reducing their research and development, and other major steps Iran has taken. And if banks are reluctant of their own caution or misunderstanding, then I think it is important for us to appropriately clarify things in a way that can allow what is entitled to, in fact, happen and to flow. And if you don't do that then you wind up actually putting your very agreement at risk. You – there are two sides to an agreement always, and I think it's unfair for us to simply sit there and say, "Okay, we got our side, now the other side can't get theirs."
So we are working hard to make sure banks know they are entitled to do business. Banks can open accounts – European banks can open accounts. They are allowed to do business. They are allowed to fund projects. All of these things are allowed under the agreement. And I think that the supreme leader and Prime Minister Zarif are pressing to make sure that that happens as clear as possible and as rapidly as possible, and we're going to follow through.
Now, where there are things that we can't do we've been very clear that it's not under our control and we're not able to do this, and we've been crystal clear with them about that. I think there are some things where the United States could actually help to clear up misunderstandings. I think there are places where the United States could give confidence where there is doubt. And I feel that it is important for us, if we're going to have future dealings, or we want a reputation for good faith in the negotiations we conduct anywhere, it's important for us to show good faith in executing this agreement. And I intend to see to it that we do that.
Now with respect to the ceasefire, we simply had a very brief conversation because this is not Foreign Minister's Zarif's portfolio, and we don't go into it in great depth. But I had a sense in talking to him, as I asked him about the procedure, that there may be some possibilities. But I don't believe in advertising possibilities before they're real or certainly before people have had a chance to explore them.
I will say this about this cessation of hostilities that's important, I think, for people to understand. The United States of America joined with other countries, particularly the other members of the Permanent Five of the United Nations, as well as other parties that are interested in working on the coalition to deal with Syria, and we signed up to a cessation of hostilities, which is now enshrined in UN Security Council Resolution 2254, and it doesn't call for a selective ceasefire, it calls for a nationwide ceasefire. And it applies to the Assad regime just as it applies to the opposition. As I have said previously, from day one there have been challenges in Aleppo particularly, and Latakia, to having even one day of the regime actually live out that cessation. So we've made it very clear that unless we get a better definition of how this cessation is going to work, how it will be enforced, who it applies to, how it is applied, we are not going to sit there while Assad continues to offensively assault Aleppo and while Russia continues to support in that effort.
We believe there is a way to provide this clarification. We believe we can achieve enforcement on both sides. We believe that is the only way to get to the table in Geneva to begin to negotiate a legitimate transition. So there is a way forward, and that's what I was referring to. But it will require a good effort in the next week, in the next days in order to achieve it. And the United States is not going to sit there and be used as an instrument that permits a so-called ceasefire to be in place while one principal party is trying to take advantage of it to the detriment of the entire process. We're not going to allow that to continue. So Russia and others have to make the decision whether or not they care about the course of events in Syria and whether or not they're serious about implementing the UN Security Council resolution.
MODERATOR: Yes, thank you very much.
QUESTION: And would you say that Norway has become a more important country strategically because of the conflict between the West and Russia?
SECRETARY KERRY: No. I would say that Norway has always been important strategically, and I think its importance has always been extremely high because it's been one of the most reliable and important members of NATO, and consistently been supportive with respect to the northern area and Russia.
PRIME MINISTER SOLBERG: And I thought that was such a good comment, but I'm going to get you out of that door before they ask more because you have (inaudible). (Laughter.)