North Korean leader Kim Jong-un sent a "very interesting" message to U.S. President Donald Trump in his latest personal letter, South Korean President Moon Jae-in said Thursday.
Speaking after a summit here with Norwegian Prime Minister Erna Solberg, Moon also reaffirmed his willingness to hold another meeting with Kim regardless of its timing, venue and formality.
"(We) discussed concrete ways to take the two countries' relationship a step forward," he said. "First, (we) have agreed to strengthen future-oriented, substantive cooperation to prepare for the fourth industrial revolution era," he said during a post-summit joint press conference.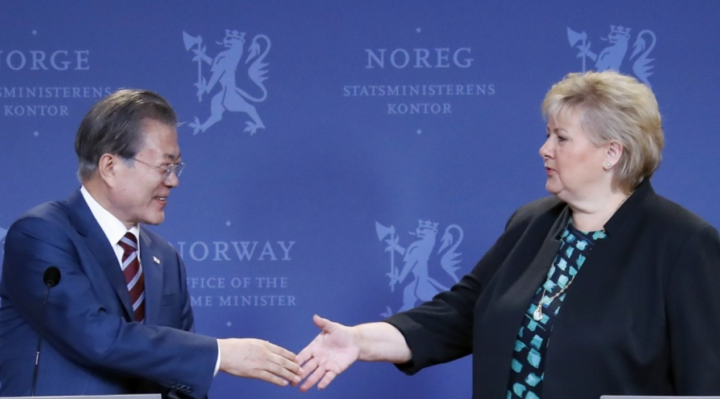 The global shipbuilding powers will work together to develop "future-type, environment-friendly autonomous ships" and they will also cooperate closely on new technologies for the production, use and storage of hydrogen.
To that end, they have decided to launch a joint science and technology committee in 2020.
"Learning Norway's wisdom, South Korea will pursue cooperation with neighbours more actively," Moon said. "I am convinced that my trip this time will become an important landmark in relations between the two countries and peace on the Korean Peninsula," Moon said.
"Norway is a longtime friend that provided help when South Korea was in need," the president said.
Norway dispatched a 623-member medical support team to Korea and operated a field hospital, known as NORMASH, during the 1950-53 Korean War. More than 90,000 soldiers and civilians in Korea received treatment from it.
"There's a very interesting part that President Trump did not announce," Moon said during a joint press conference with Solberg.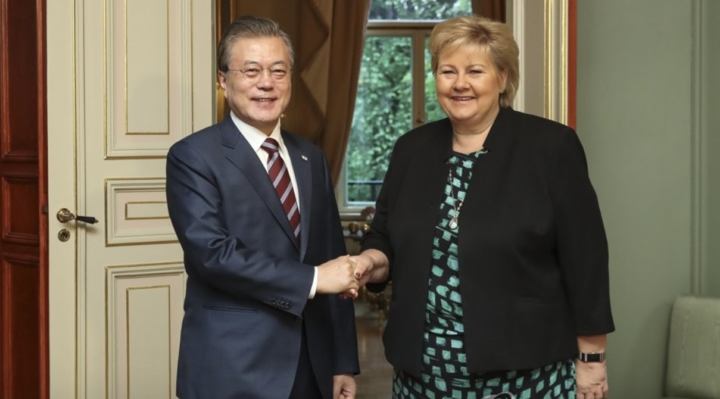 U.S. President Donald Trump is expected to ask South Korean leader to purchase more F-35A stealth fighter jets. Korea's English-language newspapers, The Korea Times, quoting defense analysts, reported that Trump is expected to ask President Moon Jae-in about the purchase of additional F-35As at his planned summit during this year's G20 summit.
He refused to reveal more than what Trump said, however.
Moon stressed that he's ready to meet again with the North Korean leader at any time.
"Accordingly, the timing is up to Chairman Kim," he said.
South Korea and Norway reached a summit deal Thursday on promoting partnerships in response to the fourth industrial revolution, especially on autonomous ships and hydrogen energy use. President Moon Jae-in said he and Norwegian Prime Minister Erna Solberg have reaffirmed the "deep friendship" between the two sides and had discussions on a future vision.
The Norwegian prime minister agreed that North Korea's nuclear and ballistic missile programs are a potential "destabilizing factor" in regional and global security.
That's why security situations on the Korean Peninsula are a focus of global attention, she said.
Solberg added that she and Moon agreed that the denuclearization of Korea is an "extremely important" goal not only for the region but also for the whole world.
South Korea and Norway will jointly develop key future technologies in fields including robotics and eco-friendly, autonomous vessels.
Seoul's Trade, Industry and Energy Ministry said on Thursday that four MOUs on cooperation were signed between Korean and Norwegian industries as President Moon Jae-in is in the northern European country on a state visit.
Industry Minister Sung Yun-mo urged the two countries' industries to continue joint research and technological development.
Norway has advanced technologies in future ship-related sectors and Seoul expects the latest agreements to generate synergy for both sides in shipbuilding.
South Korea won more than half of all ship orders placed by Norway last year.