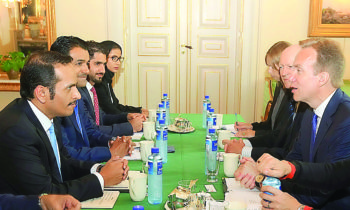 Qatar Foreign Minister H E Sheikh Mohamed bin Abdulrahman Al Thani yesterday met Norway's Minister of Foreign Affairs Borge Brende in Oslo and discussed relations between both countries, especially in the field of energy, education and economy.
Sheikh Mohamed expressed Qatar's commitment to enhance cooperation in various fields.
Brende thanked Sheikh Mohamed for accepting his invitation to visit Norway and highlighted Qatar's role in promoting peace and enhancing stability.