Nobel Prize winners Dr. Denis Mukwege and Nadia Murad urged world leaders to end sexual violence around the world.
The laudable accomplishments of Nobel Prize winners Dr. Denis Mukwege and Nadia Murad are worthless without global action, the pair said Sunday, 24 hours before accepting their awards in Oslo.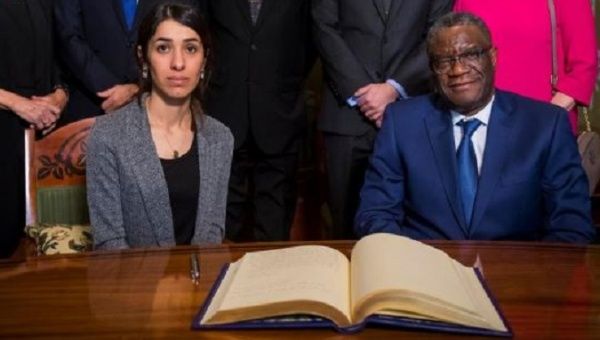 "This prize, one prize cannot remove all the violence and all the attacks on pregnant women, on children, on women and give them justice," said Yazidi women rights advocate Murad, who narrowly escaped an Islamic State camp where she was held prisoner and sexually abused like thousands of others in her community.
Murad was 21-years-old in 2014 when state militia attacked her Iraqui village and she was taken into captivity and sold repeatedly for sex as part of Islamic State's slave trade.
She eventually escaped captivity with the help of a Sunni Muslim family in Mosul and became an advocate for the rights of her community around the world.
Mukwege, a gynecologist from the Democratic Republic of Congo, urged the international community to intervene, "We can't stand idly by while people just destroy our humanity."
The son of a pastor, Mukwege, was awarded the peace award for his dedication to sexual assault victims and treatment of some 50,000 survivors.
"We cannot say that we didn't act because we didn't know. Now everyone knows. And I think now the international community has a responsibility to act," he said.
The pair of laureates said they don't consider their prize as a "victory," but as the beginning of a new struggle which they hope will "open doors" to repair" the judicial system, bring the perpetrators to justice, and resolve the regional violence.
When news of the prestigious prize reached him, Mukwege was in surgery, caring for one of his many patients in the Democratic Republic of Congo.
"I just feel that to treat the consequences is not the solution. We should treat the root causes and the root causes are war, the root causes are the minerals of Congo, the root causes are people who want to do business in Congo and don't pay tax," he said.
"Indifference creates consequences for you and for me. It is a kind of complicity. We have to stand up to it," said Mukwege.