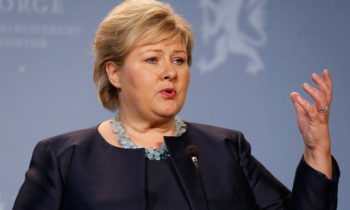 'I would like to congratulate Donald Trump on his election victory. The US is our closest ally and our cooperation is based on shared values and interests. We will seek to cooperate constructively with Donald Trump and with his administration once it is in place,' said Prime Minister Erna Solberg.
At a press conference today, Ms Solberg said that Norway has always given priority to its cooperation with the US, through changing times and different administrations. 'We will continue to do so. Cooperation with Europe and the US is the main pillar of Norwegian foreign and security policy.'
'We hope to establish dialogue with the new administration as soon as possible. The Norwegian Government's primary aim is to safeguard Norway's interests. The US is important for the Norwegian economy, for our jobs, and for the security of our country.'
'The international community is facing a number of challenges, and there are many difficult issues that can only be resolved by working together. Here, we need the leadership of the US,' Ms Solberg said.
(PM-Office-News)